Raise the roof of each autonomous community and demonstrate that diabetes and sport are not mutually exclusive, on the contrary, physical exercise, although it may sound shocking, is able to help control the disease. That's the challenge of Arturo Carvajal, a 30-year-old from Aragon who suffered a major blow in 2019 when his doctor told him he had type 1 diabetes.
After overcoming the initial shock and going through a period of mourning, as he himself describes it, this man from Barbas decided to turn the tables and show that he would be the one who would have the upper hand and not the disease. She accepted it, internalized that she would have to deal with it in her day to day and through sport she has become an example to others who are in her position.
To give it more visibility and notoriety, Carvajal, raised at the foot of the Aragonese Pyrenees and lovers of the mountains, has created the challenge 16 tops with diabetes, that is, climbing the roof of each autonomous community before the month of July, something that the diabetic Spaniard has not documented. All this is linked to his work as a farmer.
On January 21, he climbed with three friends in the midst of a storm of snow, cold and low temperatures to Peñalara peak, the top of the Madrid community. This past weekend he attempted the 1,551m Eketige in the Basque Country.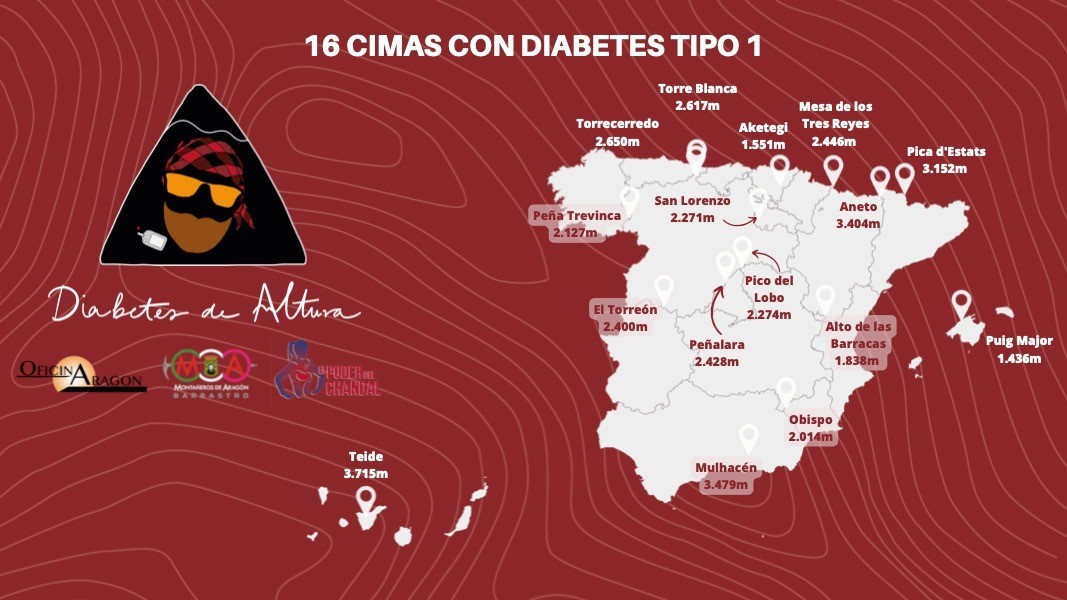 Until July comes, when he ends his challenge by climbing the 3,404m of Aneto surrounded by friends, he will climb Puig Major (Balearic Islands, 1,436m), Ato de las Barracas (Valencian Community, 1,838m), Pico Obispo Will climb (Murcia, 2,014 m.), Peña Travinca (Galicia, 2,127 m.), Pico San Lorenzo (La Rioja, 2,271 m.), Pico del Lobo (Castilla la Mancha, 2,274 m.), El Torreón (Extremadura, 2,385 m. .) .), Mesa de los Tres Reyes (Navarra, 2,446 m.), Torre Blanca (Cantabria, 2,617 m.), Torresredo (Castilla y León, 2,650 m.), Pica d'Estats (3,152 m.), Mulhecen (Andalusia, 3,479 m) m.) and Tide (Canary Islands, 3,715 m.).
"I do it to give visibility to type 1 diabetes", comments this physiotherapist, who explains that one of the risks of the disease is a drop in sugar or hypoglycemia: "At first it is dizziness, cold sweat, restlessness, Appears as etc. If it is not corrected with sugar, it can lead to coma and death.
He says sport is "going very well to control the disease" but insists they have the double face of facing a fall in Chinese. "You have to be aware and in the beginning it is very complicated when you are diagnosed to regulate everything. For this reason, there are many people who stop doing sports to avoid the risk", he indicates Let's give
"With great persistence I managed to see how it works"
Carvajal does not hesitate to talk openly about his case and how, through the simple, but always effective, trial and error method, he has managed to control himself. "A lot happened to me in the beginning that it took me to adjust. It scared me, but with great persistence I managed to see how diabetes works in the mountains. So I do these challenges to show that both things can be done," he says, adding that he hopes to help both those who have just been diagnosed with the disease and those who are Suffering from it since time immemorial.
In the weeks after it was discovered, it began climbing peaks more frequently. She did it with friends and with bars, sugar cubes, and fast-absorbing carbohydrates and sugar food to avoid sugar cravings.
Those first times he overfed: "We should have levels between 70 and 120 and the first time I went over 200. With these numbers, you usually see a lot of thirst, the urge to urinate, heaviness, etc. It's very difficult to play the game with those numbers. Many times I went with friends, I didn't feel good and had to turn".
"So I wrote things down and started adjusting. An endocrinologist also taught me how to manage it and meeting other people with diabetes helped me clear my doubts", she says.
His knowledge and command of the situation has reached a current level where he is able to do it alone without any problems and knows what to do at all times. Even in his family, he says, they are aware that the joy the mountain brings them and the way it helps them control the disease far outweighs the potential risk.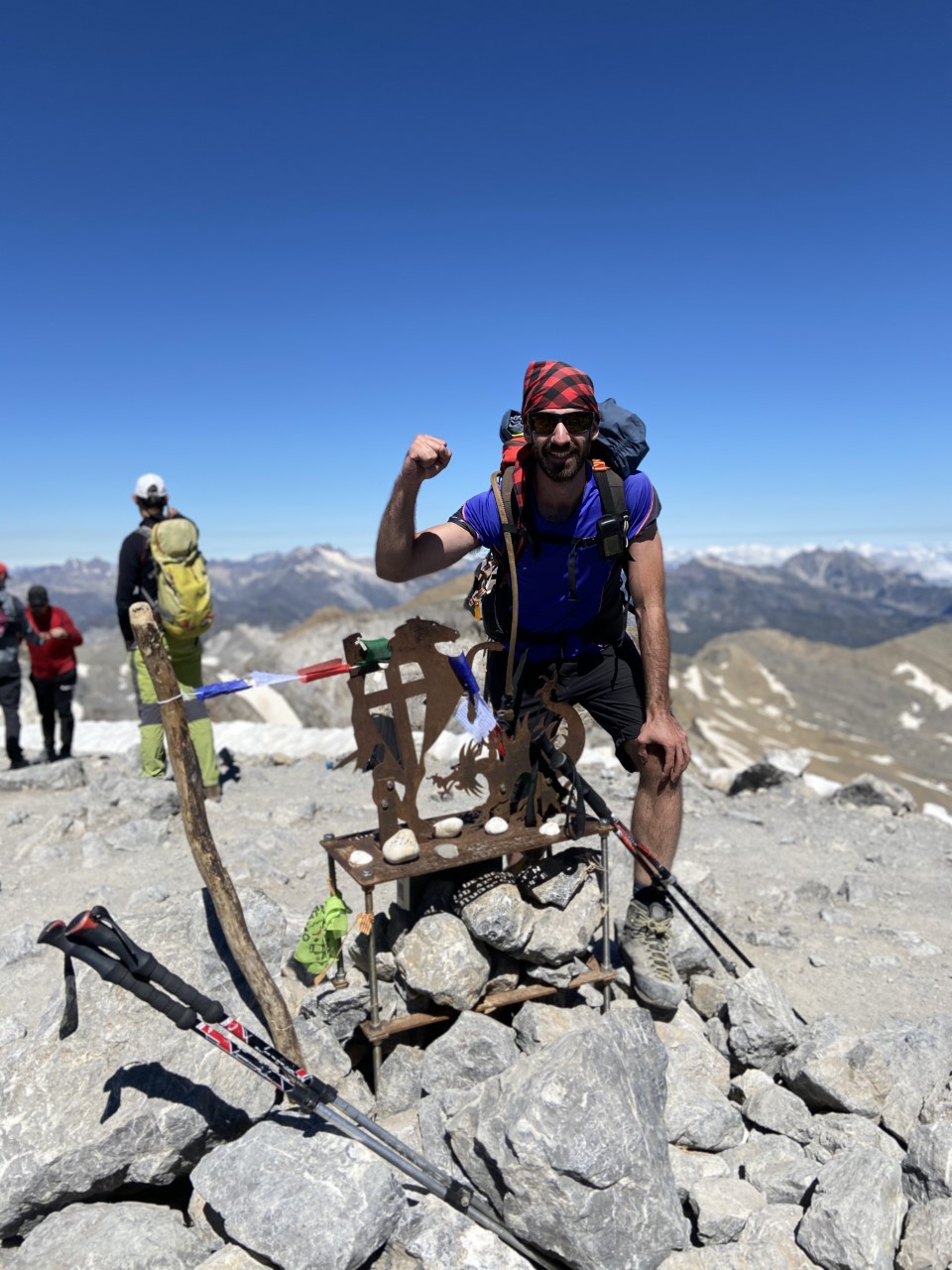 In addition, thanks to the Diabetes Day Altitude Instagram account, where he publishes his projects, he receives gifts that move him, such as when they write to him telling of personal matters that he has directly affected. Have done It helps you keep going.
"For example, I once received a message from a father who loved the mountains, who told me he was crying when he wrote to me because his four-year-old son had been diagnosed with diabetes. And seeing me doing these activities gave him hope that he could do the same with his son in the future. These things excite", he sentences.
Taking Diabetes to the Top of Africa
Carvajal, who has undertaken various long-distance trials in the Pyrenees, lived a unique experience last June when the NGO El Poder del Chandal invited him and two others to climb Kilimanjaro, the Roof of Africa (5,895 metres). .
Having previously been on a solidarity mission working with children with disabilities in Tanzania, they climbed the massif together with several doctors and endocrinologists. "There was a study that was presented at a conference of the Spanish Association of Endocrinology," he says.
Although at first he had the tinge of never having been to that point, "everything went well despite the attitude and the coldness". "Altitude scared me. I didn't know how it would affect me because the symptoms are similar to low blood sugar. So, I thought if I felt bad when I was up there and the glucose sensor didn't work If I were there, I wouldn't know the cause or what to do. Plus, with altitude sickness your stomach shuts down", he explains.
This happened to him when he got over 4,000 metres. "We did a day of acclimatization which was to go up to 4,600m and go back to 3,800 where we were. That day my blood sugar started to rise and I couldn't bring it down with insulin. It returned to its normal range when I reached the bottom. It was the only time I got a little bothered."
But thankfully they didn't have any problem now. "Also, the endocrinologist helped us both on a medical and human level. He asked us things and it was great. It was wonderful and a great experience", he confirms now, more than half a year later.
In 2022 he also visited the area of ​​Mount Fitz Roy in the Argentine Andes. "We celebrated a day of solidarity at a rehabilitation center where I talked to doctors and patients about diabetes and the mountains, and then we took a tour around the area."
The doors are not closed for the future. He confesses that climbing to the roof of each continent would be a dream, even if he would need big sponsors to do so. Whether he's successful or not, he's accomplished something more important and exciting: inspiring people and showing that you can go mountain climbing with diabetes.