The consulting firm Federico González & Asociados conducted a study in which he consulted to two thousand Argentines between September 18 and 24. The purpose is to evaluate the economic proposals of presidential candidates.
The most prominent findings reveal that, however a reduced support for the dollarization plan suggested by Javier Miley 20% of those surveyed think that, if implemented, one Argentine peso has a value equal to one dollar: the famous 1 to 1.
Given the probability that the economy will be dollars with an equivalent of un Argentine peso for one dollar and 71.8% answered negatively, while 20.1% said they believed it was possible.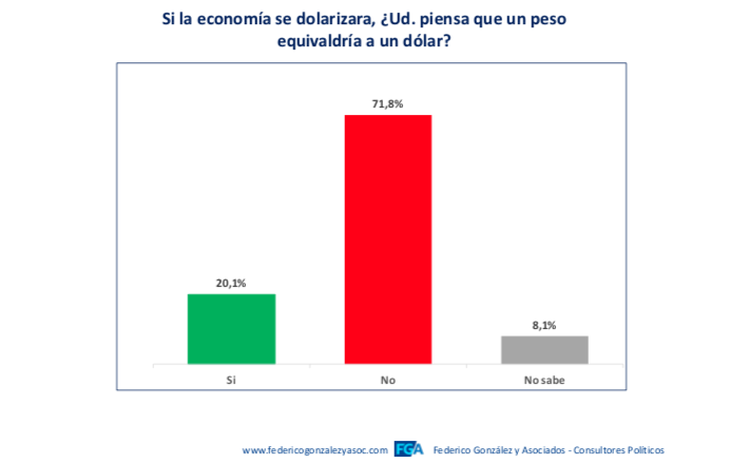 The survey asked about the economic proposals of Patricia Bullrich In relation to a bimonetary economy, the dollarization plan initiated by Mercy, and the posture of Sergio Massa about the continuation of the Argentine peso.
The results show that the opinion of Argentines is divided into three: un 33.1% consider that the best option is that of Unión por la Patria, 32.8% prefer the proposal of Together for Change and 30.6% chose Advances in Freedom.
Dollarization Versus Wages
In addition, 54% of participants In the survey, he thought his salary in dollars would be lower than it is now if there was a dollar economy. On the other hand, 27.4% believe it will remain the same number while 10.7% believe it is higher.
Besides, 37.2% believe that the national economy will grow with the proposed Milei flag; 29.4% that it will decrease and 19.6% believe that the economy will stagnate with dollarization.
Screenshot 2023-09-26 at 09.16.17.png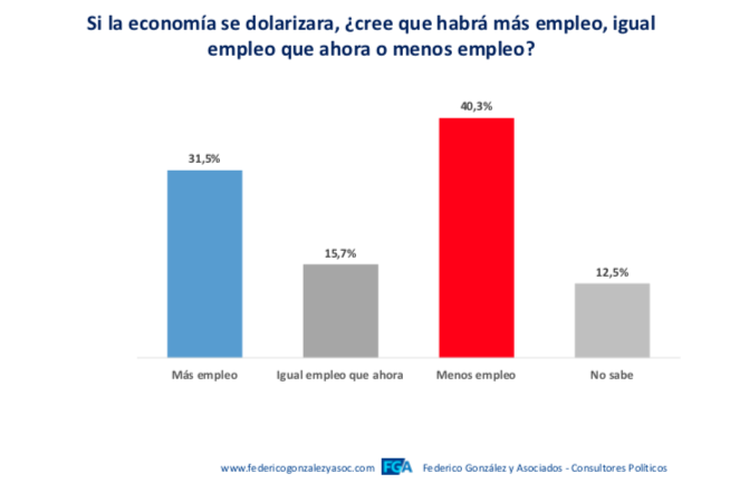 As in inflation, when consulted if, do you think inflation is higher, lower or the same today? With possible dollarization, 31.3% answered greater; 14.2% will be less, 41.1% the same as now and 13.4% do not know how to answer the question.
Dollarization and employment
When asked: "Do you think there will be more jobs, the same jobs now or less jobs?" the Argentines replied: with 40.3% less work; with 31.5% more work; 15.7% have the same job now and 12.5% ​​"don't know".