With training camp less than a week away, it's time to break down the Celtics roster to give you an idea of ​​what the team's depth chart will look like for the 2023-24 season.
Instead of classifying players with the traditional 1, 2, 3, 4, and 5 position tags, we're taking a page from President of Basketball Operations Brad Stevens' book by placing each athlete in one of the following categories:
Two days ago, we announced our Roster Breakdown Series with Boston's bigs. Today, we present their perimeter-based counterparts – the wings.
Wings are usually the most versatile players on the floor and are trusted to take on a heavy scoring load. Defensively, they are often tasked with suppressing the elite scorers of opposing teams. Depending on their skills, they can also be assigned ball-handling duties or they can slide into the frontcourt to take on opposing bigs.
Here are the seven players who will share the work listed in order of minutes played per game last season:
Jayson Tatum
Perhaps the best round wing in the entire league lives in Boston, and his name is Jayson Tatum. He can score anywhere on the floor, he can defend any position, he can rebound, he can make plays for himself and others, and the list just goes on from there.
Tatum is coming off a historic season in which he became the first player in Celtics history to record a 30-point-per-game season, and he did so while also leading the league in total points. More than that, he led the team in rebounds, 3-point makes and free throws, and was second in assists and steals.
This season, JT will look to continue to lead in those areas, while also potentially taking on more ball-handling and leadership responsibilities now that Marcus Smart is gone.
Over the past two seasons, Tatum has emerged as an MVP candidate as he approaches his first NBA championship. If he can continue to improve like he has in each of the last six years, maybe a lucky No. 7 is his year to be the MVP of the league and champion.
Jaylen Brown
Having two All-NBA players in the same position group on the same team is almost unheard of, but that's exactly what the Celtics have with Tatum and his wingmate Jaylen Brown. JB is also coming off a career year in which he averaged 26.6 points, 6.9 rebounds, 3.5 assists, and 1.1 steals per game while shooting 49.1 percent from the field, earning him All-NBA Second Team honors. that honor.
Together, those two averaged 56.7 PPG, while no other duo in the league (minimum 65 games together) reached 50.0 PPG. The scary part is that both of them are just entering their prime playing years.
Entering his eighth year, Brown now holds the distinction of being Boston's longest-tenured player, and he, too, will be trusted to help lead this team. The 27-year-old prospect has a little more incentive this season now that he has a nice new contract extension, and he's ready to help the C's reach their championship goals.
Lamar Stevens
We are moving from the longest serving player to the newest member of the team. Signed a week before the start of training camp, Lamar Stevens has a chance to prove himself as a viable backup for the Jays.
Stevens is a completely different type of player compared to Brown and Tatum in the sense that he is more of a defensive dog than a high-volume scorer. But every team needs defense dogs.
Stevens played his first three seasons in Cleveland after going undrafted in 2020, and has seen his role increase each year. His rushing defense earned him 25 starts last season for a 51-win Cavs squad.
The Celtics recently got a taste of Stevens' impact during a game on March 6 in Cleveland where he grabbed six offensive rebounds in the fourth quarter and overtime, and also made a go-ahead and a game-winning basket in overtime, during overtime. a 118-114 Cavs victory.
It's great to have him on Boston's side now.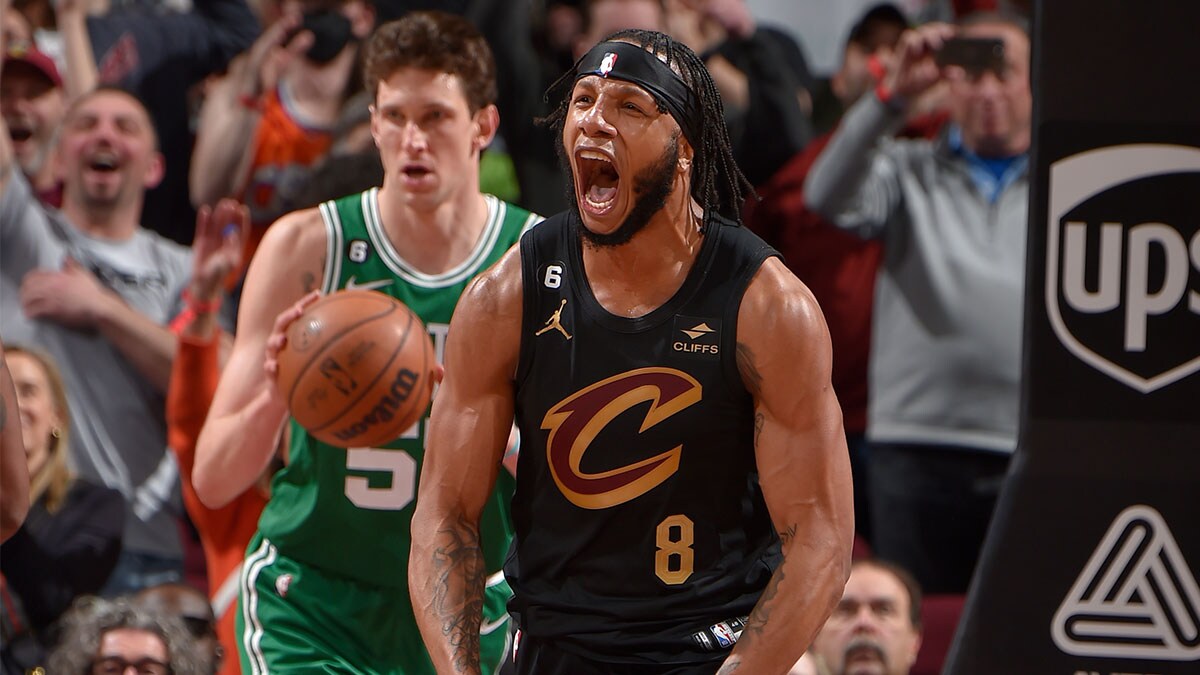 Oshae Brissett
OK, so we're doubling down here because Oshae Brissett is a special case. He's not a typical wing, and he's not a traditional big either (we also listed him as one of our Bigs Breakdown), but he plays a little bit of both.
Brissett is a slashing 4, so he's not the type of wing that often camps beyond the arc. On the other end, he's a very versatile defender, so he can guard guys on the perimeter and in the paint.
The 25-year-old from Toronto spent his last three seasons in Indiana, where he averaged 8.1 points and 4.5 rebounds per game in 153 games, including 43 starts. He has a strong rebounding presence on both ends and his 5.4 offensive rebound percentage last season came in at 83.street percent.
Brissett should be a solid addition to the frontcourt and his versatility will allow him to play a hybrid big/wing role.
Sam Hauser
While Brissett and Stevens can provide depth to the defense at the wing position, Sam Hauser aims to provide scoring punch.
Hauser worked his way into the rotation last season and gave the Celtics 6.4 points per game off the bench while averaging 16.1 minutes in 80 games. He made 140 3-pointers at an impressive 41.8 percent clip and made 40 of his 61 attempts from inside the arc.
Hauser also played a small role on the defensive end. Teams often downplayed him and targeted him in individual matchups, but that approach generally didn't pay off, as Hauser led the league with a 106.4 defensive rating.
When given more minutes, Hauser is a major scoring contributor. He averaged 15.5 points per game during his eight starts, ranking third on the team behind Tatum and Brown among players with at least five starts. That included back-to-back, career-high, 26-point efforts to end the regular season. So he will look to pick up where he left off.
All Mykhailiuk
The C's added another sharpshooter in early September by signing five-year veteran Svi Mykhailiuk. The Ukrainian wing spent last season split between New York and Charlotte and shot 42.4 percent from long range combined for both clubs.
Like Hauser, Mykhailiuk also put up big numbers when given more of a role. He started the last seven games for the Hornets, where he averaged 17.3 points, 4.3 rebounds, 5.3 assists, and 1.4 steals per game.
Those are all nice numbers, but the most important one he put up all season was his 50.0 percent clip on open 3-point attempts, which was second in the NBA behind Luke Kennard's mark of 51.9%. A shooter like that should thrive on a team with elite spacing like the Celtics.
Jordan Walsh
Much of the Jordan Walsh draft talk has centered on the 19-year-old's NBA-ready defensive skill set. However, the second-round pick may have more to offer than that, as his Summer League performance showed.
Walsh led the Summer League squad with 18.0 points per game, which included a 25-point outburst against the Lakers. He's also the team's most prolific 3-point shooter, knocking down 11-of-27 from deep for a 40.7 percent clip — a big improvement from the 27.8 percent clip he logged in his nag -single year of college.
It will take more than a special summer for Walsh to crack Boston's rotation, but he's certainly an option Joe Mazzulla will call upon.
Jay Scrubb
Jay Scrubb also had a great summer for the Celtics – enough to earn him a two-way contract with the organization. He was the team's most consistent scorer in July, logging between 15 and 18 points in each of their first four games in Las Vegas.
Scrubb had the eighth-highest scoring average in the G League last season at 22.3 points per game and was also one of six players to make at least 100 trips to the free-throw line. He also has an interesting story, being one of the few Junior College players to be drafted and play in an NBA game.
The 23-year-old from Louisville will split his time this coming season between Boston and Maine.