Tobacco advertising is banned in Switzerland where it can also reach children and young people. It was decided by the voters. But what brings such a restriction? A look at Australia.
Australia is one of the countries with strict anti-smoking restrictions. Advertising has been banned for years – completely. This means that there are neither posters nor advertisements of tobacco products. "Absolutely nowhere," confirmed SRF correspondent Urs Walterlin. "Not on the street, not on TV, not in the print media or through sponsorship of events," he explains. "And cigarettes are hidden behind shutters in stores."
price hike worked
This was the result of a process that lasted two decades. But Australia has a second, very important pillar in the fight against tobacco use. Besides the advertising ban, it's the price, Walterlin knows: "Today you pay about 35 francs for a pack of 25 cigarettes. Ten years ago it was 18 francs. In the next ten years it should be 70 francs." "
There are parents who buy cigarettes and in return let their children starve.
There are many studies that show what the advertising ban has achieved – that is, whether fewer young people have actually started smoking. However, it is with varying degrees of clarity. But you really don't have to fool yourself, Walterlin says: "A key point on the way to quit smoking in society is the price." CHF 35 per packet is a good reason to stop smoking.
Buy something to eat or a cigarette?
"Today smoking in Australia is an addiction of economically disadvantaged, socially disadvantaged sections," the correspondent continues. Now this may seem contradictory. "But unfortunately it is the case that some people prefer to save the food from their mouths rather than relinquish this pleasure." This sometimes has tragic consequences: "There are always examples of parents who buy cigarettes and let their children starve."
So this advertising ban is less in Australia than other restrictions that prevent people from smoking. "It is very difficult to be able to smoke in Australia, because it is completely banned in public buildings," explains the journalist. It is unthinkable to light a cigarette even in private homes.
"Uncool" boring package with scary pictures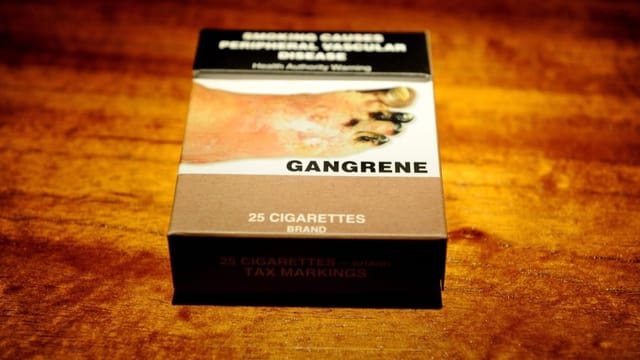 However, according to tobacco experts, the clear cut in marketing has worked very well for the youth. An important role was played by the fact that since 2012 packages can be sold only in brown-gray, really boring packaging.
It says that the brand is in boring typeface and unbranded too, and underneath it is a health warning and a picture of a cancerous lung or something. For many young people, smoking was no longer a good idea.
According to Walterlin, the tobacco industry has practically said goodbye to Australia, "as there is hardly anything left to reach". For years she fought hard against strict non-smoking laws and went to court. "But that was useless, the lawsuits were dismissed at all levels." The industry eventually gave up and began to focus on countries where smoking is still tolerated. These include Indonesia, for example.
"The fear of Australia sending signals to other countries has long become a reality," the journalist explains. Many countries now have similar laws – especially in New Zealand. "The government there wants to ban anyone who is 14 or younger from buying cigarettes in 2027."