On Saturday evening, both HC Erlangen and Rhein-Neckar Löwen kept their clean sheets and are now 8-0 points. The derby in Stuttgart was particularly rich in goals.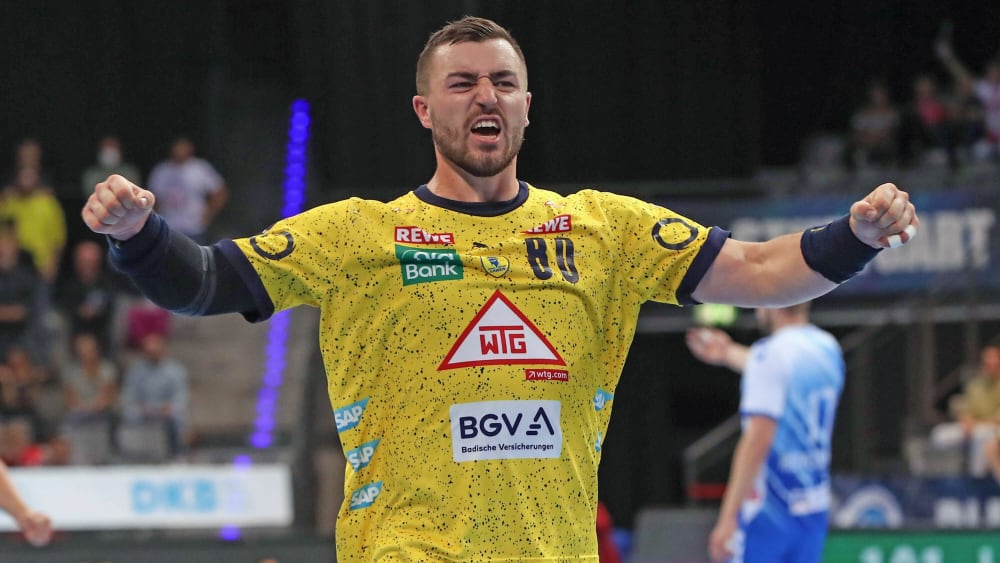 He drove a sovereign derby victory with the lions: circle runner Jannik Kohlbacher.
imago images
The Rhein-Neckar Löwen and HC Erlangen are among the positive surprises of the still young season. Both teams still have a clean record after the fourth matchday. The lions achieved their fourth victory with a commanding 43:30 (21:16) at TVB Stuttgart, as did the middle Franconians, who prevailed at promoted ASV Hamm-Westfalen with 32:29 (20:15).
On Sunday, however, record champion THW Kiel in Minden and champion SC Magdeburg in Göppingen can overtake the two leading teams with victories.
The guests from Mannheim made it clear right at the start of the second half that they were not willing to drop points. The lead quickly grew to more than ten goals, and in front of 3779 spectators everything was decided. The safest shooters in coach Sebastian Hinze's team were captain Patrick Groetzki, Benjamin Helander and Halil Jaganjac, each with seven goals. The same result was recorded by TVB Adam Lönn.
In Hamm, Westphalia, coach Raul Alonso's away team made a 4-0 start and were able to maintain their lead throughout the season. Erlangen was never in serious danger and had its best thrower in pivot Tim Zechel (eight goals), Nico Büdel, Christopher Bissel and Simon Jeppsson each scored five times. Hamm's Tim Weiling and Savvas Savvas each scored six goals. The hosts are still waiting for their first point after their fourth game in the top flight.
TVB Stuttgart – Rhein-Neckar Löwen 30:43 (16:21)

Goals for Stuttgart: Lönn 7, Hanusz 6, Fernandez 5, Pfattheicher 5, Forstbauer 2, M. Häfner 2, Zieker 2/1, Röthlisberger 1
Goals for the lions: Groetzki 7, Helander 7, Jaganjac 7, Lagergren 6, Knorr 5/3, Kohlbacher 5, More 3, Forsell Schefvert 1, Gislason 1, Kirkelökke 1
Referee: Jannik Otto (Kiel)/Raphael Piper (Kiel)
Viewers: 3779
penalty minutes: 4 / 4
Disqualification: – / -
ASV Hamm-Westfalen – HC Erlangen 29:32 (15:20)

Goals for Hamm-Westphalia: Savvas 6, Wieling 6, von Boenigk 5, Huesmann 4, Orlowski 4, Bauer 2, Patrail 1, Schulze 1
Goals for Erlangen: Zechel 8, Bissel 5, Büdel 5, Jeppsson 5, Zehnder 3, S. Firnhaber 2, Olsson 2, Bialowas 1, Steinert 1
Referee: Suresh Thiyagarajah (Gummersbach)/Ramesh Thiyagarajah (Gummersbach)
Viewers: 2086
penalty minutes: 6 / 4
Disqualification: – / -