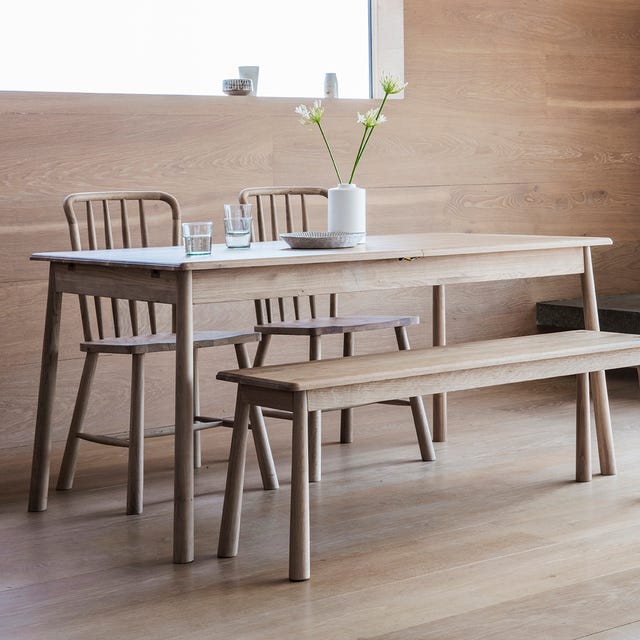 House Beautiful Marketplace
What do you get when you mix the functionality of Scandinavian design with the warm minimalism of Japanese interiors? The answer is Japandi design and décor.
Whilst Japandi design is pared-back, it is also welcoming and informal. This comes from the use of organic textures, natural materials like wood, and neutral tones. This hybrid style complements the Japanese concept of wabi-sabi particularly well and is growing ever popular in recent years.
House Beautiful Marketplace has many Japandi-inspired pieces of furniture to choose from, so trying out the trend couldn't be any easier.
1
Juni Round Coffee Table in Wooden
housebeautiful.co.uk
£467.00
The Juni Coffee Table is the perfect example of Japandi décor. Sleek black legs support a circular wooden body, with a handy compartment for tucking things out of sight. Practical as it is stylish, we particularly love the contrast of metal and wood used to create it.
2
Disa Lamp Table
housebeautiful.co.uk
£128.00
Concealed storage makes the Disa Lamp Table ultra-practical, while the rattan detailing adds some extra visual interest. The light wood finish is a hallmark of Japandi design and would complement most neutrally decorated interiors.
3
Talia Sideboard in Natural
housebeautiful.co.uk
£1,122.00
A winning example of form and function, the Talia Sideboard is pared-back in design but still packs a visual punch. It's the perfect place to display all your household essentials, as well as the ideal location to display your favorite ornaments and plants.
4
Orsola Accent Chair in Gray
housebeautiful.co.uk
£561.00
Featuring a tapered frame in warm-toned wood and a curved backrest, the Orsola Accent Chair is a simple way to make a statement. Add this chair to an empty corner and style with a minimalist side table to create a simple yet effective reading nook.
5
Disa Media Unit
housebeautiful.co.uk
£323.00
Rattan detailing elevates the Disa TV Unit from ordinary to outstanding. This is a perfect example of subtle detail making a huge impact. When combined with a simple but functional frame, the result is an all-around brilliant piece of design.
6
Odette Dining Bench in Oak
housebeautiful.co.uk
£374.00
Tapered legs, clean lines and a natural oak finish combine to create a Japandi dining bench that is a great addition to any kitchen or dining room. The clean design means that there's extra space for all your guests to take a seat, with no extra details to unnecessarily take up space.
7
Ada Chair x2
housebeautiful.co.uk
£430.00
With a comfortable curved back, woven seat and elm frame, The Ada wishbone chair is as good as it looks. Plus, it comes as a useful set of two.
8
Odette Round Dining Table in Oak
housebeautiful.co.uk
£524.00
Beautiful light oak and clean lines are the perfect matches for each other. Both functional and aesthetically appealing, the petite size of our Odette Dining Table is perfect for informal meals. We recommend styling with the Ada Chair.
9
Runa Chair in Beige
Runa
housebeautiful.co.uk
£444.00
We love the neutral seat and curved arms of the Runa Chair – it's both ultra-comfortable and ultra-sleek. The wooden frame brings warmth to the overall design, while the stripped-back silhouette is practical as can be.
This content is created and maintained by a third party, and imported onto this page to help users provide their email addresses. You may be able to find more information about this and similar content at piano.io
,