Air France-KLM Group airlines are adding a permanent aviation fuel (SAF) levy to ticket sales as they seek to increase its use – voluntarily in the case of KLM and mandated by the government when it is part of the French operations of business. The matter comes.
The decision could anticipate a trend within and outside the region, with the EU working on proposals for at least 2% aviation fuel on flights to and from the bloc to be sustainable by 2025, and the entire global industry growing in relation to this. Environmental footprint under investigation.
And the Franco-Dutch group is arguably a bellwether for action on sustainability, given the French government's recent willingness to take on the issue and the KLM's historically proactive approach on the subject.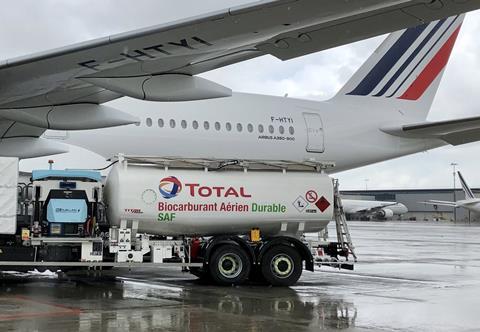 In fact, the levy announced on 11 January follows the French government's decision to mandate the use of SAFs at 1% on flights starting from 1 January 2022, up from 2% in 2025 and 5% in 2030. increases to . In the Netherlands, KLM's move to ensure 0.5% of its fuel is sustainable on flights to and from Amsterdam is a voluntary one, with the carrier saying it is "committed to bringing about an energy transition".
As a result, Air France, KLM, and Transavia will include a SAF surcharge in ticket prices for all flights departing from or transiting France and the Netherlands, the group says. A surcharge of €1 ($1.13) to €12 per ticket varies depending on the flight distance and seat class.
Proceeds from the levy will be used to fund the increased use of SAF in the fuel mix, while passengers will also have the option to voluntarily increase the amount of SAF by paying a higher fee. Such an option can be particularly attractive to corporate travel buyers, who have their own sustainability goals to fulfill.
The levy requirement reflects the higher price of SAF versus conventional jet fuel, which itself reflects SAF's lack of industrial-scale production. Energy pricing agency Argus, for example, rated the Amsterdam-Rotterdam-Antwerp SAF price on January 7 at $3,285/tonne and conventional jet fuel at $769/tonne.
"Today, worldwide SAF production covers only 0.1% of the aviation industry's total fuel use," says Fahmi Mahjoub, general manager of Air France-KLM in the UK and Ireland. "We need to ramp up production. And that is why we are now gradually adding SAF to our flights departing from France and the Netherlands by January 2022.
KLM separately states that it is "committed to bringing about the energy transition", citing its strong performance in the use of SAF and achieving a worldwide SAF ratio of 10% in 2030 as a part of Clean Skies in 2030. Referring to the ambition of alliance.
"We feel that the 0.5% standard mix on passenger tickets is a very small step, but an important step in the right direction and we expect other airlines to follow suit soon." KLM tells. "We have to work with all parties around us and come up with rock-solid solutions and innovation to further open up the market for SAF."
Air France-KLM's group decarbonization strategy is to accelerate SAF incorporation as production increases, aiming for 5% of total fuel use in 2030 and up to 63% in 2050.
This is largely in line with global industry association IATA's net-zero 2050 roadmap, which was announced at the AGM last year, where the 'base-case scenario' sees SAF utilization at 2% by 2025, which is across various miles. Increases from stone to 65% by 2050. ,
The industry has recognized a number of barriers to meeting that challenge, including the current high cost of SAFs, the need to quickly ramp up industrial-scale production – which also requires energy majors to step up – And the lack of infrastructure when it comes to actually delivering fuel to the plane. ,
But IATA Director-General Willie Walsh has previously insisted that aviation "has a history of realizing what was once considered impossible – and doing so quickly".