Protecting 'The Godfather' 400 bank Worldwide, 'The Godfather' Speaks Russian and specifically attacks bank applications in the West and the United States. total of 30 Banks in Spain He has become a victim of 'The Godfather'. This is a banking trojan that is targeting users in 16 countries to steal bank details from 400 entities around the world, including cryptocurrency exchange sites.
It is discovered by analysts Group-IB, they think it's the heir 'Anubis', Banking Trojan that was deprecated due to its inability to bypass new Android security. This is how 'BleepingComputer' has taken it forward. Most of the affected countries are European. Once 'The Godfather' infects a device, it has freeway To do everything that a user can do.
This trojan generates login screens overlayed on top of login forms of crypto exchange and banking apps. It tricks users into entering their credentials on well-designed phishing pages.
The method of initial infection is largely unknown at this time. Although Group-IB has found limited distribution of 'malware' in applications from the Google Play Store, the main distribution channels have not been discovered.
About half of the applications that perform 'The Godfather' attacks banking applications, Most are in the United States (49), Turkey (31), Spain (30), Canada (22), France (20), Germany (19), and the United Kingdom (17).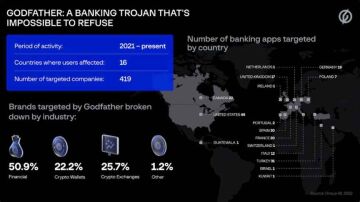 find russian
Once installed on a device, it requests access to the Accessibility Service system by posing as Google Play Protect, and asks for user approval. By saying 'yes', the malware gains access to all permissions on the device. You can read messages, notifications, write on external storage and check device status.
filter password google authenticator and steals the contents of the system's password and PIN fields. The origin of 'The Godfather' is unknown at this time, however when it is known that the language of the device is Russian, Azerbaijani, Armenian, Belarusian, Kazakh, Kyrgyz, Moldovan, Uzbek or Takio, completely inactive, They point out that the Trojan may be Russian.
It is recommended that it is a must download to stay safe from 'The Godfather' Google Play apps only And keep the device updated. You also need to make sure that Play Protect is activated and keep installed applications to a minimum.