In the natural heart of Córdoba, the route of the Guadalquivir through the Andalusian city, a small island of filth has emerged with thousands of wet wipes and mud that shows the inefficiency of citizens and its continuing impact on the environment. The recent rains and the river's current have exposed all the shame of a city that drags the same problem across the country, shutting down its sanitation network and letting nature through its toilets. pollutes.
"Approximately 50 cubic meters of mops and mud in World Heritage Areas such as around the mosque and in the Sotos de la Albolafia Natural Monument." This is how José Larios, president of Fundación Transición Verde, defines the islet that he condemned on his social networks last Monday. This ecologist walks daily along the cordovan banks of the Guadalquivir and contemplates the plague of wipes that have flooded the entire urban course of the river for years. "Only now it's more attractive because they cleaned out the two eyes of the Roman Bridge and someone had the wonderful idea to build an island where it didn't exist," he says, referring to this protected but permanently scarred natural enclave. important for management. From the Roman Bridge you can see a small mountain of dirt surrounded by muck and dead vegetation.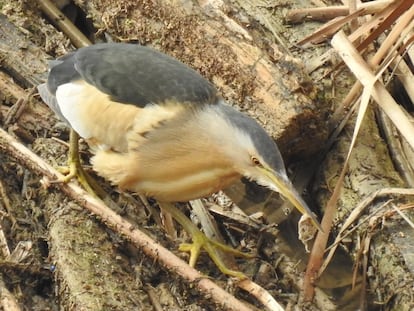 In Córdoba alone, the city council spends one million euros and removes 10,000 kilos of wipes every year, according to municipal sources. For the time being, the island of towels and sediment next to Torre de la Calhora will remain in place for days or weeks, waiting for the river level to drop, which has risen with the latest rains, and that currently prevents cleanup, which the Board and To be carried out by the Córdoba City Council. Meanwhile, in the area of ​​the river between the Roman Bridge and the San Rafael Bridge, this heron consumes the remains of a clean product, such as a slightly bitter, confused as food for this heron.
After years of expansion upstream through sewers, the scourge of throwing wipes down the toilet will change this spring, according to sources at Ecological Transition, when the government publishes a royal decree that develops extended product liability by companies. Is. In other words, the ministry will clarify how manufacturers will pay for the cleaning of sanitation and water treatment infrastructure, which is between 600 and 1,100 million euros per year, according to calculations by Aeopas (the Spanish association of public operators of supply and sanitation) ). The liability was already included in the Waste and Contaminated Soils law approved 10 months ago, but it was awaiting necessary regulatory developments to determine who would pay the fine.
Aeopas has long called for a ban on wipes or warnings with huge letters on their packaging to prevent them from ending up in toilets, but their absence could rattle the expected economic recovery sector and provoke its backlash. "We managed to reduce its consumption very gradually, requiring campaigns in maternity hospitals, schools and workplaces. It is not a choice of culture over economy, but of responsibility in consumption", said its manager Luis Babiano . "Waste legislation is an important measure that will reduce, but it must be complemented by, campaigns to raise awareness of the problem," he stressed.
Information is the first tool against climate change. Subscribe to it.
to subscribe
"It's a Monster"
In Córdoba, when rains go bad, sewage water mixes with rainwater and the cocktail it creates ends up in collectors that discharge into the Guadalquivir. Rafael Carlos Serrano, manager of the Amaxa municipal water company, criticized it on Thursday: "We cannot allow the damage caused by wipes to continue, we have to continue fighting to raise awareness. This is a problem that has been around for years." has been repeated in all cities and causes many problems at the environmental level, it is a scourge, a monster. In parallel, the representative of the Andalusian government in Córdoba, Adolfo Molina, recalled this Thursday: "We all Know that we shouldn't flush the napkin down the toilet, it's as simple as throwing it away."
After the problem of wipes, during the epidemic due to imprisonment, there was less civic awareness and the need for campaigns and civic education receded into the background. According to Eurostat data, Spain maintains a very low recycling rate, which stood at only 36% in 2020. Europe has set a target of 60% for all countries in 2030, a galaxy for homeland motion.
In full confinement, sales of wet wipes in Spain increased by 50%, according to Greenpeace data, and the evacuation and purging showed the problem more than ever. Use is more widespread among urban populations and is often associated with babies and tourism. "Wipes and other plastic ingredients are disintegrating into microparticles that end up directly in our estuaries, rivers and oceans, where it can take more than 100 years for the fibers to break down into even smaller pieces," he said. censors from Greenpeace, which affects 700 marine species. from plastic pollution.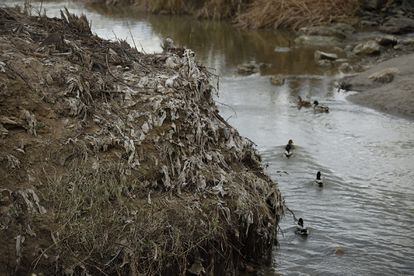 You can follow the climate and environment on Facebook why Twitterpoint here to get our weekly newsletter
Subscribe to continue reading
read without limits