It seems that Spanish driver Fernando Alonso is continuing to make space in his garage because after selling his Ferrari Enzo, he has now decided to put another one of his automotive gems up for sale. It is nothing more and nothing less than a McLaren Elva, a car perhaps unknown to many, but a true collector's item of which only 149 examples were made and which promises the most radical driving experience you have ever experienced behind the wheel of a car .
It will be at the next Abu Dhabi Grand Prix, more precisely on November 25th, when the Bonhams auction house will auction Fernando Alonso's McLaren Elva, estimated at between 2.34 and 2.81 million euros. And we are talking about one of the most exclusive and peculiar pieces that McLaren has produced in recent years, a car that also increased from an initial production forecast of 399 units to 149 cars, perhaps due to its high price, but in return it added: Plus exclusivity.
One of the most special McLarens ever built, but above all with the most radical handling
A direct competitor to cars like the Ferrari Monza, the Aston Martin V12 Speedster or the Lamborghini SC20, and therefore part of this new golden age of barchettas, the McLaren Elva offers a fairly radical approach to driving, as it doesn't even have a windscreen, which "forces" it ". required its occupants to use the helmets located behind the seats. Made from a carbon monocoque chassis and with a 4.0 V8 twin-turbo engine producing 815 horsepower, the Elva is capable of accelerating from 0 to 100 km/h in just 3 seconds, which is well over 300 km/h.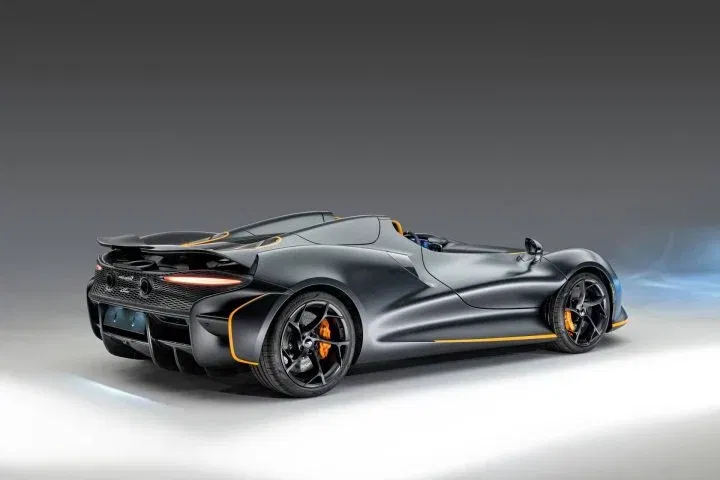 A whim of 815 hp and 2.3 million euros never enjoyed
McLaren Elva, Fernando Alonso's strangest toy
This example from Fernando Alonso is chassis number 114 of 149, it only has 5 kilometers on it, which means that it is a car that has not yet come onto the market. In its specification, custom-made by the McLaren Special Operations department, we find a combination of matt gray paint and orange details for the carbon bodywork, with black and orange combined again in the interior to give life to the cabin of a real racing car. A detail worth highlighting is that Fernando Alonso's signature is engraved on the headrests of the seats.
Fuente: Bonhams