This week, on the occasion of the IAA Mobility, Audi inaugurated its fifth charging hub in the city of Munich, a unique fast charging station with up to 320 kW charging power, which complements the offering in Nuremberg, Zurich, Berlin and Salzburg.
"With our fifth Audi Charging Hub, we are setting a new performance standard for charging in urban residential areas" says Bastian Geretshauser, project manager for the Audi charging hub in Munich. "In addition to providing up to 320 kW of power per point, we also guarantee constant charging power thanks to the 'charging hubs', modular containers that allow us to achieve an impressive energy capacity of 1.05 megawatt hours." Theoretically, this would be enough to power 60 vehicles to charge without interruption before the charging power increasingly decreases..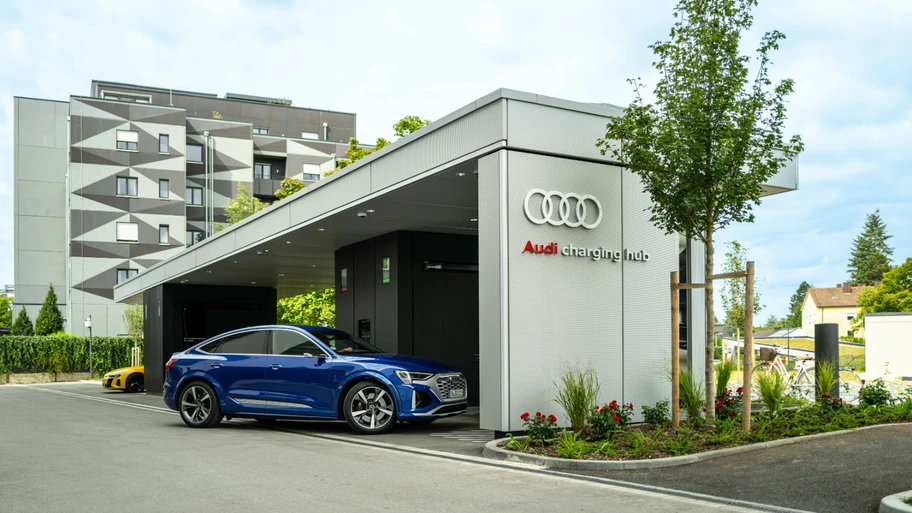 The Audi Charging Hub project was officially launched on December 23, 2022 in Nuremberg, and we were there to see first-hand the innovative fast charging solution that the brand offers not only Audi customers, but all drivers. Electric car.
In contrast to the public charging points installed in cities, which have a limited charging capacity (between 50 kWh and 100 kWh), or the electric charging stations on streets and highways that are aimed at long journeys, the Audi Charging Hub is unique Concept is aimed at electric car owners who do not have the opportunity to charge at home, but need a super-fast charge for time or convenience reasons. For this reason, these centers are located in residential areas within cities, close to busy roads.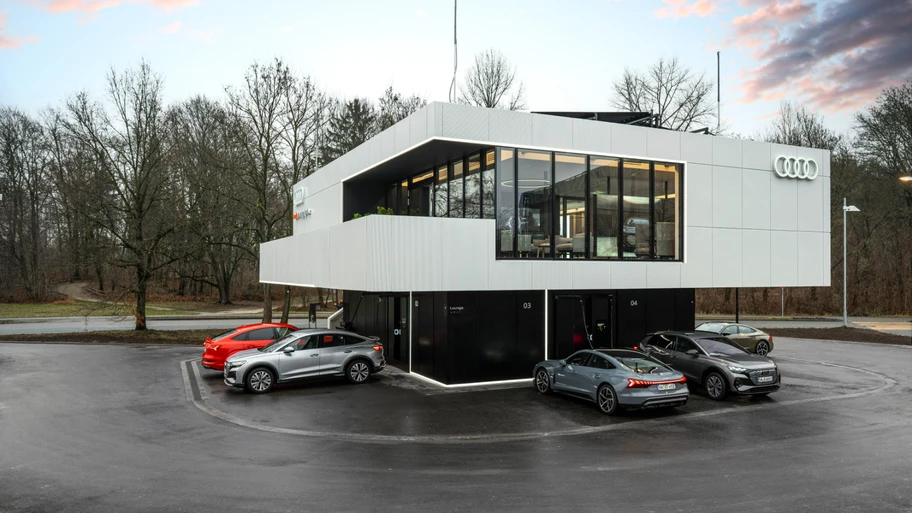 The Nuremberg charging hub.
These centers are modular and offer a first-class service in both scheduling and waiting processes, but also offer much lower charging costs than other locations. For example, Audi customers can pay between 0.31 and 0.35 euros per kWh for charging, a similar price to home electricity costs and 30% less than the price that users of other brands have to pay, namely 0.50 euros per kWh.
The principle of these centers is that Audi looks for rental space in areas with high user volumes and builds them with flexible container cubes that can be assembled and dismantled in just a few days and combined to create different station designs depending on the use.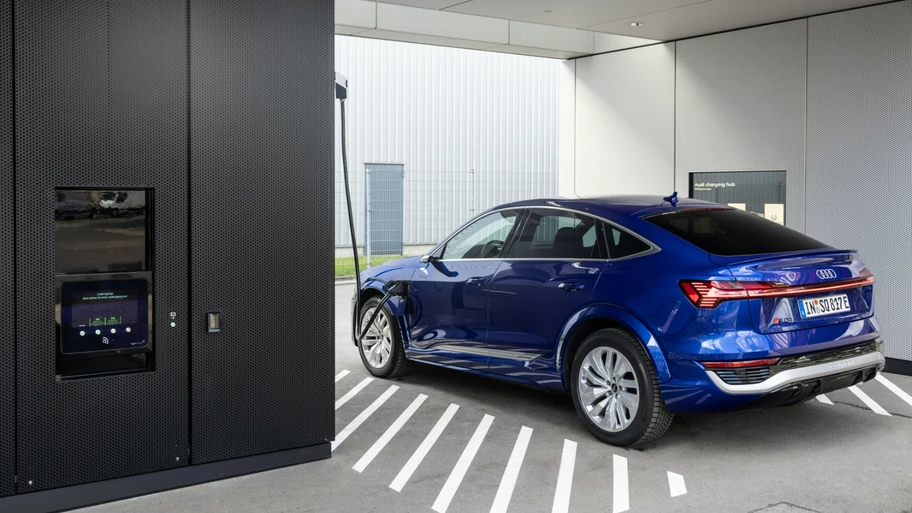 Each cube has its own storage system and offers two fast charging points outdoors, each with up to 320 kW of power. The key to the project is the use of lithium-ion batteries, which are used in electric vehicles and processed into energy storage systems. This reduces costs because there is no need for a complex infrastructure with high-voltage lines and expensive transformers.
In the case of the Nuremberg hub, there are three cubes with six charging points and approximately 2.45 MWh of storage, so that only a 200 kW connection to the public grid is required, which is sufficient for the operation of the center and the continuous filling of the storage modules .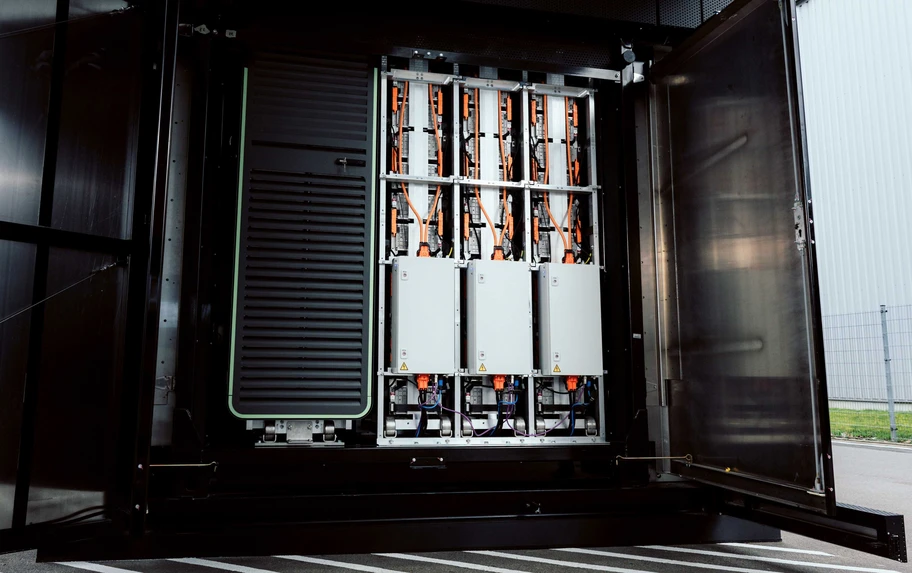 Storage cubes with secondary use batteries.
A total of around 80 vehicles can be charged here per day without reaching the capacity limits of the energy storage system. For example, the Audi e-tron GT1 achieves a charging capacity of up to 270 kW and can therefore charge enough energy for a distance of up to 100 kilometers in around five minutes and charge from 5 to 80 percent in 23 minutes. .
The process for users is extremely simple: simply reserve one of the six charging points using the myAudi app and make the payment once the process is complete. Customers can go to the 24-hour waiting room, where they can purchase a drink or grab something to eat while they wait the 20 to 30 minutes it takes to load.
Our experience in Nuremberg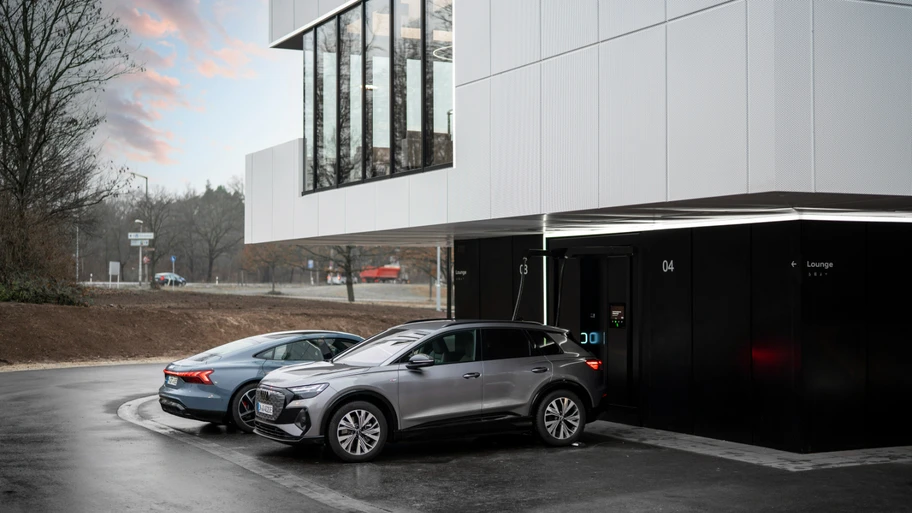 As part of our test drive with the new Audi Q8 e-tron and Q8 e-tron Sportback, we charged the batteries at the charging hub in Nuremberg. The brand had previously made a reservation for us, and so as we entered the center, the cameras recorded the license plates of both units, releasing the two reserved spots.
We handed out a special card for Audi customers that already had a payment method built in (for example, every customer has to provide a credit card), we plugged it together and the process began.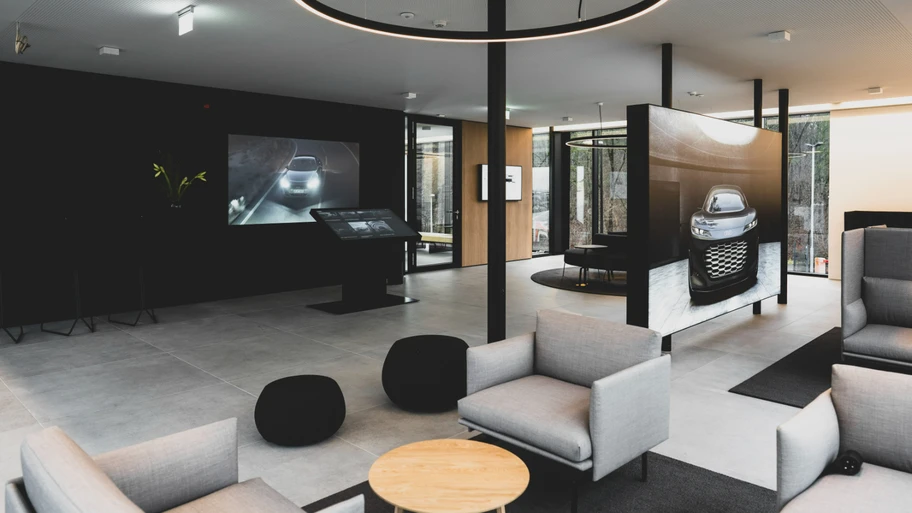 The center's managers invited us to go to the second floor, where we found a lounge that resembled a VIP lounge at an airport. Coffee, drinks and food were available to customers, but not free of charge. Comfortable armchairs waited for us to rest while we were able to follow our car's progress via a screen that provided information such as remaining time and battery charge level.
In 20 minutes we recovered 80% and were able to continue on our way.