Important On the day of March, during a peaceful march, the Aymara women were stopped in the street of San Martin. Photo: diffusion
The expressions of the Minister of Education, Scar Becerra, comparing the Aymara women with animals to take their children to go express not only a large racist and discriminatory component, but also a lack of knowledge of the entire Andean world and, above all. the bond which exists between a loving mother and her child, which he carries on his back wherever he goes.
Aymara professor of Andean languages ​​at the Pontificia Universidad Católica del Perú Roger Gonzales explained that part of Aymara women's daily life is to carry their children on their backs for all activities in the community.
"In our daily life we ​​see our mothers and sisters with their children in a Q'ipi or bed for carrying the babies. The Aymara woman's daily experience is to carry her babies in a blanket to carry out her various activities such as farming in the farm, in business, through the fairs where they actively participate in the trade with their baby brought back," he said.
He points out that Becerra's sentences show a bellicose and discriminatory attitude against the Aymara community and especially against women, who were victims of the police during a peaceful march, where the policemen threw them, throwing stomach baskets at them without adding any encouragement. from afar, short and tall of the face.
"What the Minister of Education, Scar Becerra, reveals is the violent attitude against our indigenous people, especially against women. The attitude that has been shown is racist. We feel insulted and we stand in solidarity with the Aymara mother, who raised us on our backs", they emphasized.
The image of the police attack on these women that will remain in our memory is how one of them runs to the police with open arms, before being stopped.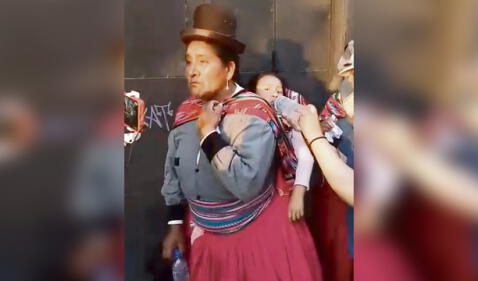 Q'ipio A blanket where Aymara babies carry. Photo: diffusion
"Opening his arms, he says that he only defends himself because it is his life and his body, and that his community is only from his side," he said.
The blanket is the belly
Aymara anthropologist Vicente Alanoca, principal professor at the National University of the Altiplano in Puno, reported that when a child is in the womb of an Aymara mother, this new being is considered to be connected to the community.
"When he is conceived in the womb, he is a collective being, to whom the whole community cares. When an Aymara woman gives birth to her child, she also joins the community and, while he grows up, his mother is the only person responsible and she cannot abandon him at all," he explained.
What is stretched out in childbirth becomes a kind of blanket for the womb, which covers the child.
"The blanket is like a mother's mother's, but already behind. Wherever, in the conditions and in the conditions where it is. She joins her activities, but the child is the priority," he added.
As for the Aymara woman's gesture of open arms, in this act she recognized her bravery, dedication and dignity, not only for her, but also for the community she represents.
"It means the spirit, the decision, the dedication of a woman to face such complicated situations, she is convinced that what she does is because she loves life, not only hers, but it is a collective matter. It is a matter of dignity. What is at stake here is a matter of collective dignity. His dignity represents not only the children but also the collective.
Minister Becerra's statement was "inconvenient" because with these comments he does not know what the Ministry of Culture has established, such as the existence of 55 indigenous peoples and 48 languages.
"Progress in intercultural matters ignored by the Ministry of Education. left This concept of women is shameful for the peasants. There is a lot of racism, hatred, discrimination and stigma against Andean women," she asked.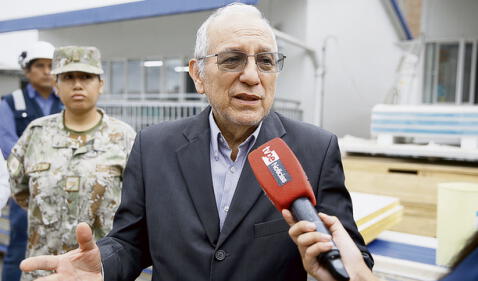 calf Aymara treated women like animals. Photo: diffusion
Becerra was fired to distinguish
Anthropologist Eduardo Ballón stated that what Minister Becerra said is very serious, even more so in situations where there is strong polarization in the country.
"It is unfair that it totally disqualifies him, it is unacceptable that he continues to exercise any type of public office, even more seriously in such a polarized context" and where the crisis is one of its most prominent elements, he said.
He said he would be fired immediately or resign. They let him go at once, if he had reported that he had heard him say atrocity. It is clear that for an executive who carries so many dead and who accumulates lies after lies, the words of this character are one more line of the tiger," said Ballon.
Information
Without clothes. Aymara mothers continue to demonstrate bravely in the streets of Lima, despite being insulted and repressed by this government. They continue to demand the resignation of Dina Boluarte after the death of eighteen people in Iuliaca due to police and military coercion.