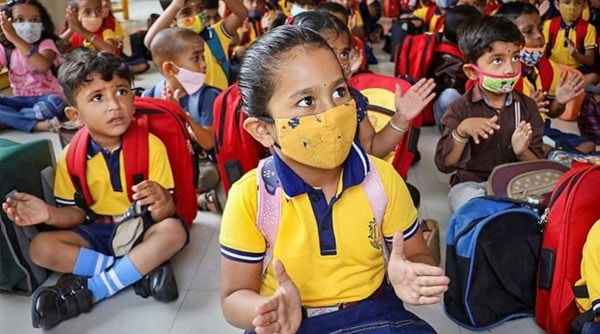 Students attend class after schools reopen in Bengaluru on Monday, May 16, 2022. (PTI photo)
The Supreme Court on Friday allowed mining companies to export their mined iron ore from mines in Ballari, Chitradurga and Tumakuru districts of Karnataka. A bench of Chief Justice NV Ramana and Justices Krishna Murari and Hima Kohli took note of the stand of the central government and lifted the ban on export of iron ore and asked the firms to comply with the conditions imposed by the authorities.
The pre-university department, in its latest syllabus released for the academic year 2022-23, has made it mandatory for the students to wear the prescribed uniform, barring them from wearing any religious attire. This step has been taken following the order of the Karnataka High Court in the wake of the Hijab controversy.
The Central Crime Branch (CCB) police in Bengaluru on Monday arrested an RTI activist for allegedly extorting money by threatening to file false cases against several clubs, officials said.
Police have identified the accused as AR Ashok Kumar Adiga (57), a resident of Basaveshwaranagar. He was produced in the court on Monday and remanded to 10-day police custody, they said. Adiga had earlier written a letter to Prime Minister Narendra Modi regarding the bitcoin scam in the state and brought the issue to national attention.
The Karnataka Textbook Society (KTBS) on Tuesday issued a statement saying that a controversy has erupted over Bhagat Singh replacing texts in Class 10 Kannada textbooks with speeches by RSS ideologue KB Hegdevar. And the lesson of Bhagat Singh has not been left. The body, however, said the revised textbooks also contain lessons on Hedgewar.
KTBS managing director, Medegowda said, "Though Bhagat Singh's lessons have not been omitted, the updated Kannada textbooks will have Hegdevara's lessons. Till now only 70% of the textbooks have been printed and we hope that the rest will be completed soon. A committee was also constituted under author Rohit Chakraborty to examine social science textbooks for classes VI to X and Kannada textbooks for classes I to X.
,