Few could say that they met Buckminster Fuller, lived in Rudolf Schindler's home, then helped save it, and then camped on a private atoll in the South Pacific to build a village house for Marlon Brando. In fact, there can only be one: Los Angeles-based architect Bernard Judge.
Judge, a designer intrigued by experimental and inexpensive designs that reused materials and lay lightly on the ground, died in his sleep on November 15 at the age of 90. The architect, in fact, breathed his last breath on a reward – a winning building of his own design: a treehouse-style house perched on four steel columns on the steep slope of the Hollywood Hills, which in 1977 was described by the Times designer as a "skylark house "And graced the cover of Sunset Magazine in 1978. His death was confirmed by his wife Blaine Mallory and daughter from an earlier marriage, Sabrina Judge.
Sabrina Judge described a curious person who was passionate about design that went far beyond architecture with a capital letter. "It wasn't just the buildings," she says, "but how people lived."
"It sounds trendy or corny," she added, "because a lot of people say it now, but he had a strong connection and had faith in the ability to live off the land. … He wanted to live peacefully on earth and be included in the environment. "
Throughout his unorthodox career, Judge has done just that.
While still an architecture student at the University of Southern California in the late 1950s, he met the architect Jeffrey Lindsay, assistant to the famous futurist Buckminster Fuller, who, like Fuller, also designed geodesic domes and who was living in Southern California at the time. (In the 1950s, Lindsay created a domed theater for the San Diego Zoo.) Lindsay provided Judge with a prototype dome, which the student then transformed into the cladding of a radical-looking Beachwood Canyon home.
Within its spherical contours, Judge placed a two-story core that contained an open-plan living room, dining room, and bedroom. The house was such a sight – especially in the evenings when it was lit up – that it hit the pages of Life magazine in 1960 as a symbol of Los Angeles' foresight even before it was completed. A 1962 newsreel described it as "something to do with space."
Although formally called the Triponent House, Judge's design became informally known as the "bubble," especially after it was completed in 1962. In the same year, he appeared on the cover of The Times Home Design Magazine in an otherworldly photograph by Julius Schulman. under the headline: "Plastic Bubble High in the Hollywood Hills."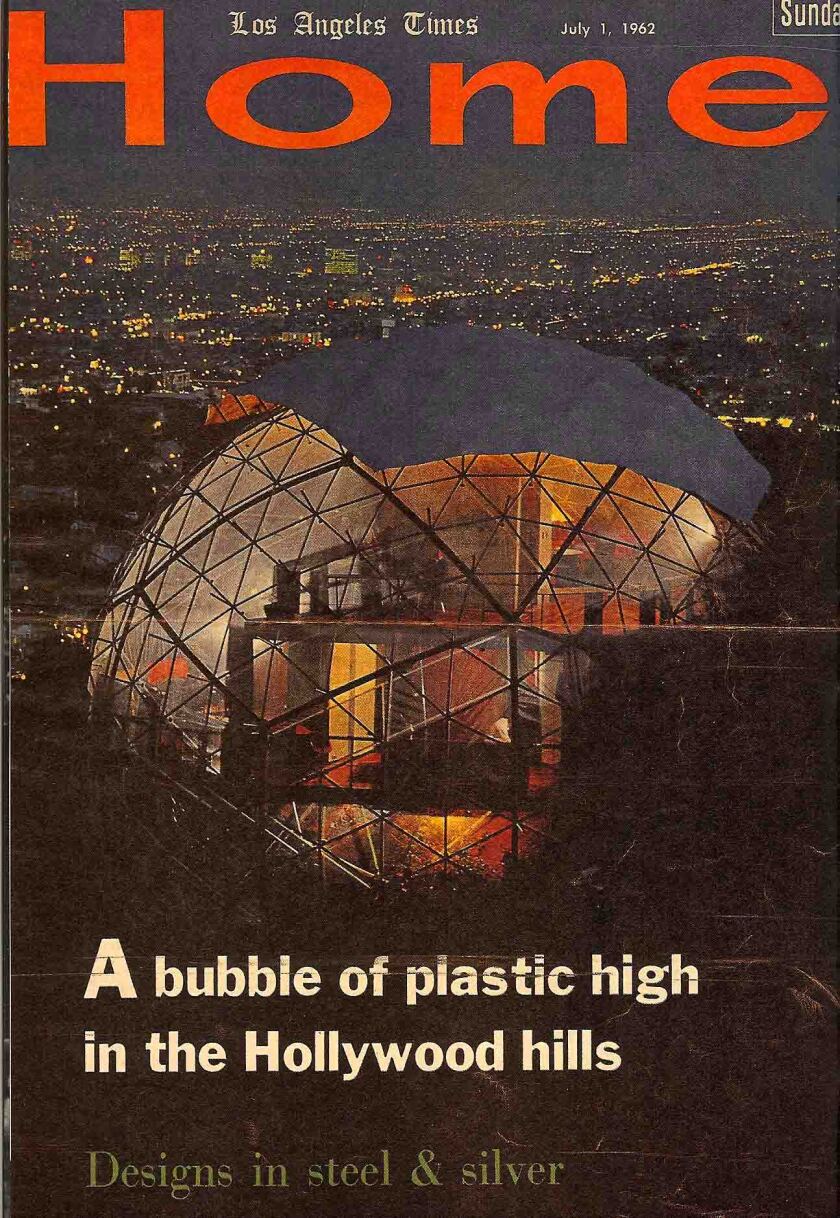 Judge saw it as a way to build housing quickly, cheaply, and easily. He and other students at the University of Southern California built it, and for a time he and his first wife, the ceramist, Dora De Larios, lived there.
"A person shouldn't spend most of their working life paying for a roof over their heads," Judge told Times design author Dan McMasters of his concept. "We have the industrial and technical capacity to build low-cost homes that can be exciting and enriching."
The house, however, was impractical – offering little privacy or climate control. "It was inconvenient," says Sabrina Judge (the architect's daughter from his marriage to De Larios). "It looked like a greenhouse."
The dome was eventually donated to the Smithsonian National Museum of American History.
Over the next decade, Judge became associated with Schindler's historic home in a most curious way.
In the 70s, he posted an ad that he wanted to live in a "garden-like atmosphere in the city center." He received a response from Pauline Schindler, who lived in a historic house on King's Road that her ex-husband, Vienna-born modernist Rudolf Schindler, had built for his home in 1922. Today it is better known as the Mac Art and Architecture Center. The home was conceived as an experiment in living together, designed to accommodate two couples living together, occupying a combination of private and communal spaces above two connected L-shaped structures, all tucked away in a spacious garden.
Over the years, the house was repainted and survived a fire. By the 1970s, Schindler lived here alone. As Judge told The Times in 1980, she conditionally responded to an ad: "I have what you want if I like your work."
She did. Judge and his young family have moved.
He remained associated with the site in one form or another for decades. In fact, for many years he ran his firm Environmental Systems Group from home. And shortly before Schindler's death in 1977, Judge and a team of architects and historians came together to found Friends of Schindler's House, a non-profit organization that acquired a structure with a focus on preservation. Judge also worked on the initial restoration project. This project has led to many others in Los Angeles.
Mallory Judge said her father was deeply inspired by Rudolf Schindler's designs. "He was crazy about Schindler and the whole idea of ​​interior and exterior walls as well as slab walls and the use of concrete," she says. In addition, he "admired Polina." "She was a little bohemian," she says. "They were cute in terms of their politics and their way of life."
It was during this era that Judge received one of his most curious architectural assignments: he designed a series of rustic bungalows on Tetiaroa, an uninhabited atoll owned by Marlon Brando in French Polynesia. Judge met the actor through a contractor and the couple hit it off.
Brando first saw the atoll near Tahiti after scouting sites for his 1962 maritime epic Rebellion in Bounty. The actor hoped to build some kind of housing that could accommodate friends, paying visitors, researchers and others. Development never got off the ground as planned.
Brando's financial problems and fears over the destruction of the fragile ecosystems of the atolls limited the scope of the project: only an airstrip and a dozen village bungalows were eventually built. And the conditions were – literally – wild. There was nowhere to live, no electricity, no trade. "It was such a Robinson Crusoe experience," says Sabrina, who was with him during construction. "We had to fish for dinner every night."
But her father loved every minute of it – he was very careful about recycling the trees felled during the construction of the runway as building material for the bungalow. All buildings were built in the open air in the Tahitian style.
"In Tetiaroa, it was about using what was there, not about bringing in anything extremely foreign," she said. "He wanted to stay in this landscape for building materials."
In 2011, Judge published a combined tome of memoir and coffee table about his experiences on Tietaroa entitled Waltzing with Brando: Planning Tahiti's Paradise. A book-inspired film directed by Bill Fishman, starring Billy Zane as Brando, is currently in development.
For Judge, Mallory said, Tetiaroa's project, like so many others, was about "the adventure of design, the success of design."
We can say that it was a profession that flowed in his blood.
Judge was born on June 9, 1931 in Brooklyn, the son of the artist Helen Chatelain and the architect Joseph Judge. His father's work extended to the family around the world, and as a boy, Judge lived in France, Nicaragua and Mexico. After high school, he served in the US Navy's Mobile Construction Battalion and then spent a year studying architecture in Paris at L'École des Beaux Arts.
Architecture eventually brought him to Los Angeles. Judge completed his studies at the University of Southern California, studying with Gregory Ein and Konrad Buff III and working on the bubble house, a project that will map it.
Years later, Judge fondly described the project. In a 2011 email interview with John Cross, author of The History of Southern California Architecture blog, he recalled that he was "always aware of the outside weather," whether day or night. "This is for a calming awareness."
Unfortunately, the transparency also prompted the curious to come and take a look. He recalled that it was annoying, but not all bad: "This is how I got my first client."
In addition to Mallory and daughter Sabrina, Judge is survived by his second wife, Ulrika Zillner; stepson Paul Ryklen; and two grandchildren. De Larios, whom he was married to until the 1980s, died in 2018.