Important facts:
By installing a plugin, Bitcoin can be used natively in MetaMask.
Litecoin, Dogecoin and Bitcoin Cash can also be configured in the wallet.
MetaMask, one of the most popular wallets in the Ethereum ecosystem, now offers native support for Bitcoin and its cryptocurrency. Thanks to a development by ShapeShift, an organization that develops multi-chain solutions, this feature is added.
The novelty is announces as part of MetaMask Snaps, announced by the company and reported by CriptoNoticias on Tuesday, September 12th. Snaps are plugins that install into the wallet and add various features developed by teams outside of MetaMask. One of the possibilities is to add support for new blockchains, including those that are not compatible with the Ethereum Virtual Machine (EVM), as is the case with Bitcoin.
In addition to Bitcoin (BTC) MetaMask can be configured to use specific cryptocurrencies with their respective networks. In this sense, Litecoin (LTC), Bitcoin Cash (BCH), Dogecoin (DOGE), Cosmos (ATOM) and Thorchain (RUNE) are included.
At the time of writing this article, it was discovered that The ShapeShift snap is now available and in fact it allows you to use addresses of the above networks to receive Bitcoin and cryptocurrencies.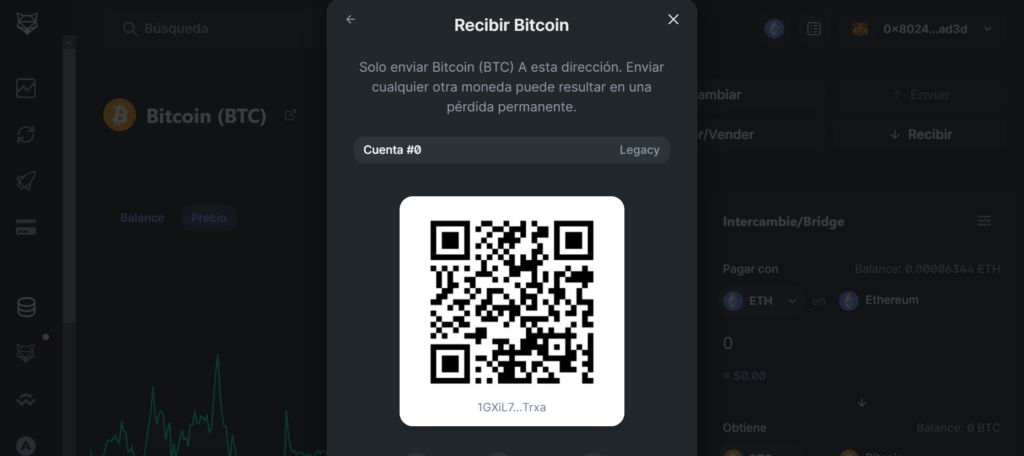 To use the MetaMask wallet in ShapeShift and store Bitcoins natively in it, you need to install a snap. As mentioned earlier, this is a type of plugin that was recently introduced by the wallet development team.
During Snap installation, ShapeShift asks the user for several permissions. Below, permission to control the cryptocurrency accounts created is requested. These permissions must be provided in order to use MetaMask to send and receive Bitcoin in this decentralized application.
For this reason, ShapeShift cannot be considered a self-sovereign solution for holding Bitcoin on MetaMask. This means that it is not the user who controls the private keys to access their funds, but instead leaves this power to the application, as can be seen in the image below.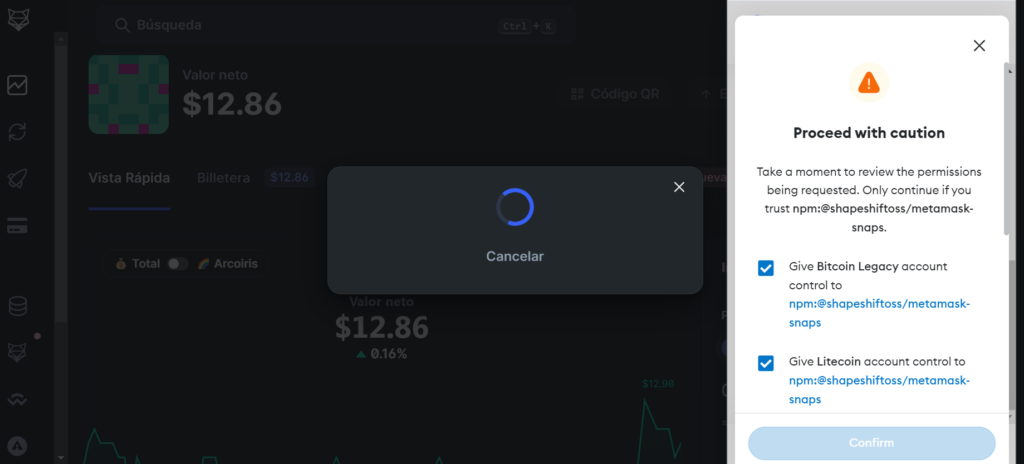 Since 2014, ShapeShift has been providing trading and storage services for cryptocurrencies, enabling exchanges between them within the same app. Even though the business structure dissolved in 2021, the company continued to operate as a decentralized autonomous organization (DAO) governed by holders of the FOX governance token. It also received investments from equity funds such as Venture.