Key facts:
There is fear among investors, according to the 'Fear and greed index'.
Short positions increase in futures markets.
This article contains referral links. Know more.
The price of bitcoin (BTC) traded between USD 25,000 and USD 26,000 for almost a month. At the time of this publication, as seen in the CriptoNoticias Price Calculator, each BTC sells for USD 25,100. Minutes ago it was less than USD 25,000.
In the following graph, provided by the TradingView platform, you can see that BTC has reached a price it has not touched for almost 3 months.

The bitcoiner community interested in the market is already talking about a "disappointment" part for the price of the digital currency created by Satoshi Nakamoto.
"This is part of 'desperation' and we have about 6 months before all the scams and nonsense come back. In fact, I'm happy with this part of the cycle because it eliminates a lot of noise in the market," commented, for example, a Reddit user. Another replied: "The stage of despair is always followed by the stage of irrational excitement. (…) I think the stage of excitement can only happen a limited number of times before the people will realize that there is a reason why people continue to have FOMO again and again and that we do not have a bearish cycle» .
The Fear and Anxiety Index (Index of Fear and Greedin English), also shows that the market, in general, is negative about BTC today. According to the analysis of the LookIntoBitcoin platform, the prevailing feeling among investors is fear.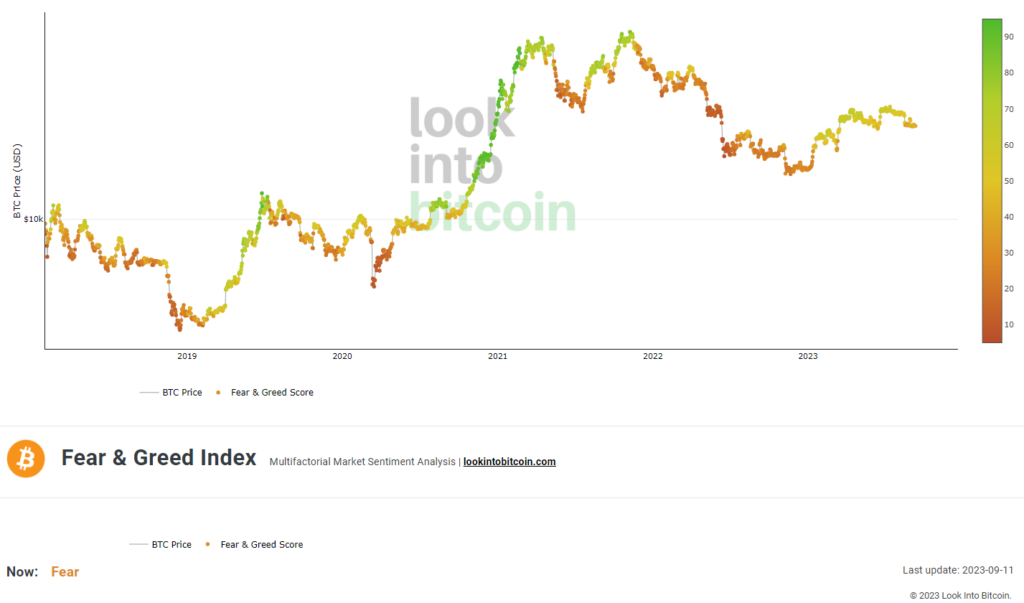 As a third sign that the feeling is negative, it can be mentioned that, this time, in BTC futures trading dominant position is 'shorts'. This means that there is a larger trading volume "betting" that the digital currency will go down in price in the coming hours or days.
According to a TradingView tool that combines various technical analysis indicators, this is a good time to sell BTC.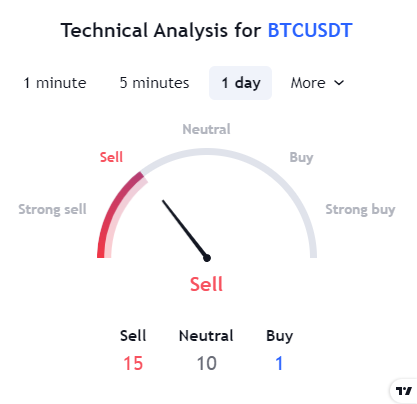 Cryptocurrencies are catching up to bitcoin
The altcoin market (cryptocurrencies that are not bitcoin) is also suffering from the fall. For example, Ether (ETH), is currently trading at USD 1,550 per unit, a number not seen for 6 months.
It is worth mentioning that BTC and the Ethereum cryptocurrency, days ago, formed the pattern known as "death cross" in their price chart. As CriptoNoticias explains, this can be interpreted as confirmation of a bearish trend.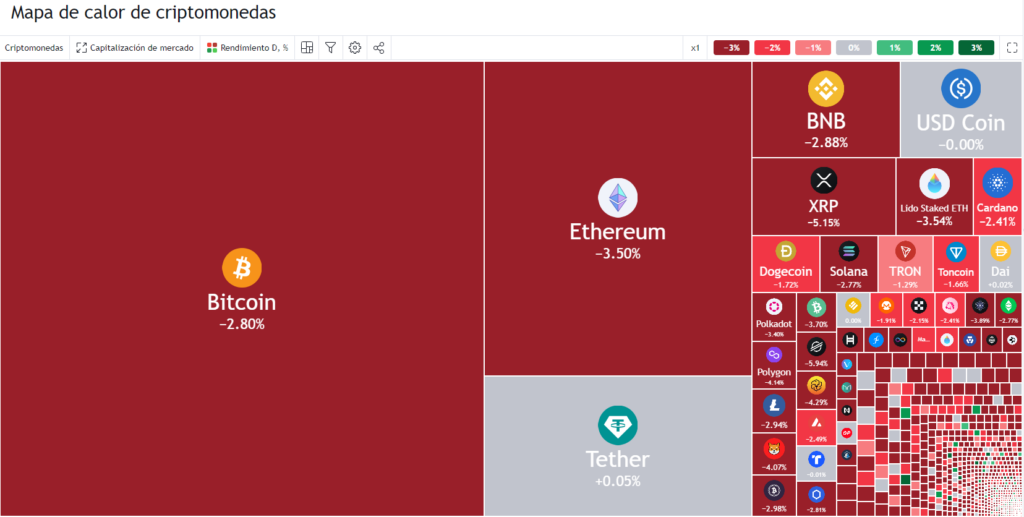 It is also important to clarify that, although in the short term sentiment may be weak, In the medium and long term, most estimates indicate that bitcoin will continue to rise. There are several fundamental reasons to believe that this will happen, including the possible approval of a spot ETF in the United States and the halving, an event that will take place in April or May of next year.