Possibly drawing inspiration from real-life dystopian horrors that have continued, "Black Mirror" has gone three years without releasing new episodes.
But the break is finally over, as the sixth season of the critically acclaimed hit anthology series is currently in development at Netflix, according to Variety, to once again hold a mirror to our own collective techno-paranoia.
A source told the outlet that the new season will reportedly extend beyond the Season 5 runtime, which will consist of only three episodes, but "will be in an even more cinematic scope, with each installment treated as an individual film."
No additional details about the season, including the release date, have yet been unveiled by Netflix.
The series, created by Charlie Brooker, has only gotten more complex and expensive throughout its run, with each standalone story moving forward with special effects and an increasingly star-studded cast.
After dropping the interactive installment in 2018 titled "Bundersnatch," which allowed viewers to shape the outcome of the story, the streamer released three new entries for Season 5 the following year: "Striking Vipers," "Smithereens" and " Rachel, Jack and Ashley Too," featuring actors Anthony Mackie, Yahya Abdul-Mateen II, Andrew Scott and Miley Cyrus.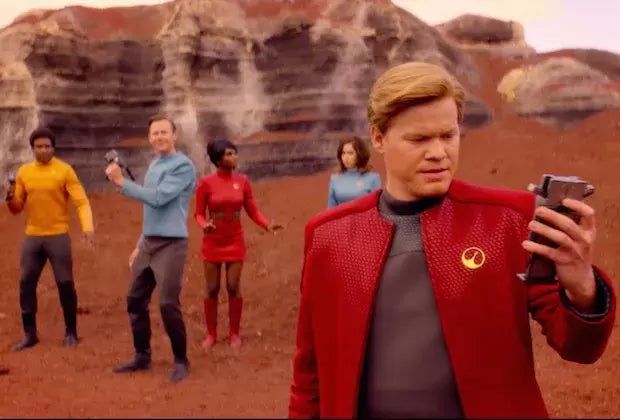 Since then, Brooker has expressed some doubts as to whether there was still an appetite for "Black Mirror", explaining in May 2020 that he was drawn to comedy at the time.
"At the moment, I don't know what the stomach will be for the stories of the breakdown of society, so I'm not working on either of them," he told the Radio Times. "I'm looking forward to revisiting my comedic skill set, so I'm writing the script with the aim of making myself laugh."
But when asked about another season of "Black Mirror," he secretly replied, "I've been busy, working. I don't know what I'm doing and what not. Yes, what can I say about that."
Behind-the-scenes intellectual property disputes may also have been responsible for the delay, as Netflix, which acquired the series after two seasons on Channel 4, recently renegotiated the licensing rights.
In January 2020, Brooker and producer Annabel Jones left their production company House of Tomorrow, which owns the rights to the series, to start their own venture, Brock & Bones, under the Endemol Shine Group. That company eventually reached a deal with the latter's rightsholder Banijay, which allowed Endemol Shine Group later that year to license the show to Netflix, allowing future episodes to be broadcast on the streamer.
Brooker and Jones also helped launch a pair of year-end specials for Netflix, "Death to 2020" and "Death to 2021" in addition to the interactive animated film "Cat Burglar."
,