Comment
The U.S. Treasury Department may have to recover approximately $1.4 billion to $4 billion in funds to help California (including its cities and counties) pay overdue rent and utility bills.
According to the Epoch Times analysis of data released by the US Treasury Department, only a small portion of the funds allocated to California is allocated to people who are in arrears in rent and utility bills.
This very unfortunate news was released after recent data showed that approximately 10.5% of California residents live in homes where the main tenant or mortgage borrower stated that they have "completely no confidence" that they can pay the next rent or mortgage because of the housing price. Throughout June, prices in the area continued to rise sharply-allowing more and more people to withdraw from the home buying market.
California was one of the entities that participated in the sponsorship of the U.S. Department of the Treasury later last week Roundtable Learn the best practices in other jurisdictions.
In the latest data released by the Standard & Poor's CoreLogic Case-Shiller Real Estate Index, house prices in San Francisco rose by 2.65% in June, San Diego rose by 2.56%, and Los Angeles rose by 1.93%.
In one year, the house prices in San Francisco, Los Angeles and San Diego have increased by 21.94%, 18.70% and 17.56% respectively from July 1, 2020 to June 30, 2021.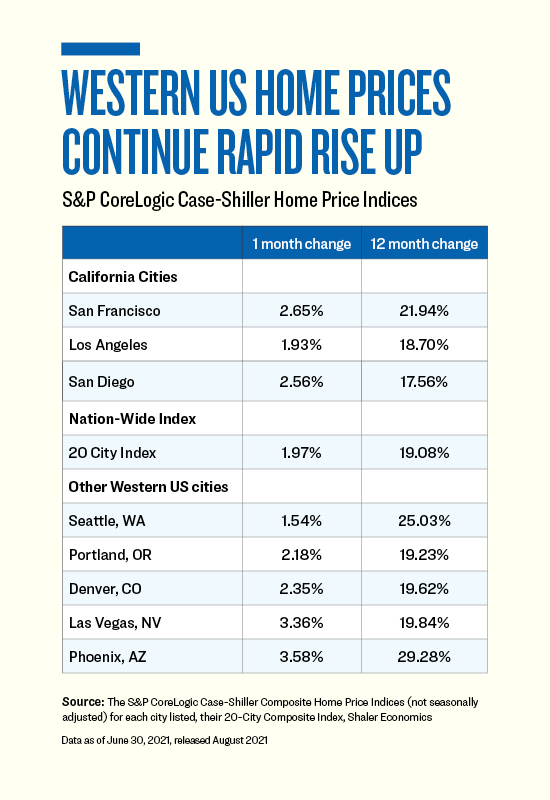 S&P CoreLogic uses the data set collected by CoreLogic and analyzes it based on Robert Shiller's economic theory, which won him the Nobel Prize in Economics. According to many real estate economists, including the author of this article, the S&P CoreLogic Case-Shiller Index is the best index to track changes in US housing prices. This data set looks at all house transactions that occurred in June 2021 and compares these prices with the last time the individual house was sold.
In the United States, house prices in the top 20 real estate markets tracked by Standard & Poor's CoreLogic rose by 1.97% in June and by 19.08% in the 12 months ended June 30.
In western states other than California, housing prices have also risen rapidly from July 2020 to June 2021. In Seattle, house prices rose 25.03% during this period. Housing prices in Phoenix rose even more: they rose by 29.28% during that year.
One reason states and municipalities have such difficulties in providing rent and utility bill assistance to those in need is that these entities may not have enough staff to review applications. The cost of pensions in many cities and counties has generally risen sharply, which means that they pay less to workers than at other times.
Retired California State Senator John Mullak told The Epoch Times, "Due to soaring pension costs, most cities have reduced hiring."
Projects that have to spend money on obligations rather than higher priority are called "crowding out." Projects that may usually have higher priority (such as providing funds to renters, landlords, and utility customers before the Ministry of Finance revokes funding) may not receive funding, or they may be squeezed out of funding projects with lower priority because the money must Flow to lower priority projects.
Compared with a few years ago, many cities and counties in California are facing the problem of rapidly rising pension costs because of their contractual obligations with union labor and the mediocre return on investment before the pandemic.
According to its website, "The Standard & Poor's CoreLogic Case-Shiller 20 City Composite Housing Price NSA Index aims to measure the value of residential real estate in 20 major metropolitan areas in the United States: Atlanta, Boston, Charlotte, Chicago, Cleveland, Dallas, Denver, Detroit, Las Vegas, Los Angeles, Miami, Minneapolis, New York, Phoenix, Portland, San Diego, San Francisco, Seattle, Tampa and Washington DC"
All five western cities tracked by S&P CoreLogic outside of California appreciated faster than the national 20-city index during the 12-month period.
.
This News Originally From – The Epoch Times