For more than 6 months, the singer's followers Taylor Swift camped around the Monumental stadium in Buenos Aires is a city, as it is a work. But the truth is that thousands of people are still sleeping on the streets because they have no other choice.
Because of this, the Foundations of Work Culture put up tents in a row with the legend "No one is a fan of living on the street," to see this problem. While we talk about the "swifty" and the adventure that living on the streets for a few months represents for them, those who are there for a longer time remain invisible.
This move also aims to attract media attention and put the housing emergency on the agenda. Also, find the support they need to continue helping those on the streets not by choice, but by necessity.
Footnote talked to Alexandra Carballo, co-founder of the Work Culture Foundation. It is a social organization that seeks to be a bridge that contributes to equal opportunities and access to work for all people who want and need to work. Therefore, it is a work intermediation program aimed at people in situations of socio-housing vulnerability.
A visibility campaign
"The idea for the campaign came from a proposal from the Wunderman Thompson agency. The project seeks to raise awareness and make visible the street situation by taking advantage of this moment of fury with Taylor Swift," Carballo described at the beginning of the note.
"Many women have camped for months to enter the recital but, when this moment of anger ends, each of them can go home. In other words, they are on the streets by choice," he added.
"There are many people in Argentinaexcluding the Autonomous City and the province of Buenos Aires, without a house, a fixed residence. You begin to get used to seeing them in the landscape, you throw them away, and you walk without looking. "It's a very difficult situation and a harsh reality," he said.
Of course, the socioeconomic context is not supportive. Currently, there are 18 million poor people, according to the Permanent Home Survey. Furthermore, he emphasized that when the concerts are over, his fans have a place to return to, unlike those who live on the streets.
Equal opportunities to access employment
"The Foundation has a mission to equalize the opportunities of access to work. Getting out of poverty, real inclusion has to do with the possibility that people have a job that allows them to support themselves, have a living, pay for their house, and everything that is explained within the system," said Carballo.
"If you are homeless, you are hungry, you are not well dressed, you are not sleeping well, you have no tools, you have no contact network, you have no support, somehow the situation you are in is getting worse," added he.
"If no one looks at them, if no one helps them, if no one holds them, if beyond the little direct help they receive if there is no deeper process of inclusion, people can't escape their situation of poverty. ," he declared.
From Work Culture, they provide opportunities for access to work. "We do this through places to shower, sanitize, change clothes, put together your resume. They are given a socio-labor profile and support to see how they can do the interviews."
On the other hand, Carballo explained that "they were also given a SUBE payment, their clothes were washed, their cell phone credit was loaded or they were given if they didn't have it. Also, those who have trades are given tools."
Job board with social inclusion
"The Foundation works as if it is a human resources consultancy. It offers free services to different companies and family households that hire personnel to solve their job vacancies," said Carballo.
They do this in a completely professional manner. "There is no type of hiring done through the Foundation that has anything to do with charity. On the contrary, they are all people who are fully qualified and in a position to get and keep that job," he said.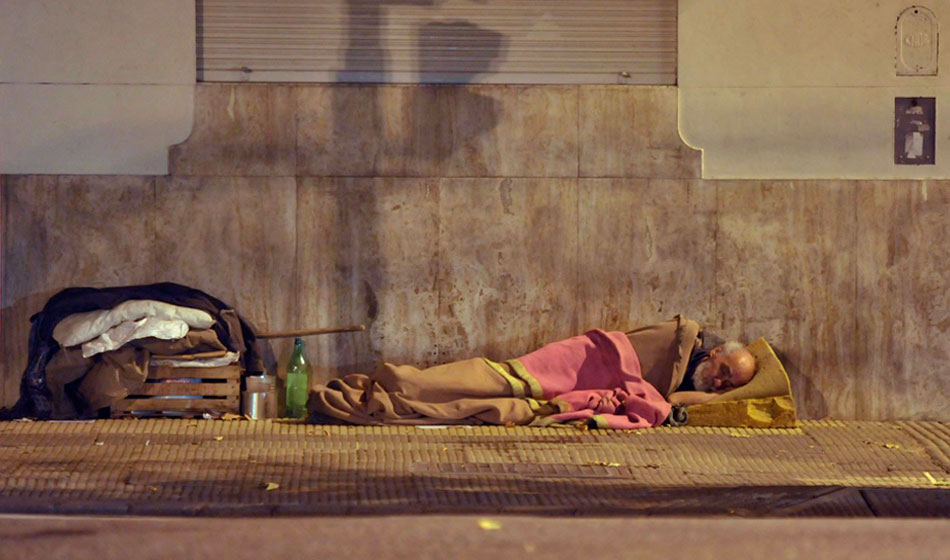 "People actively search and find work with us. It is not only through us but with us that the work is done. Once they get a job, they receive post-employment support to strengthen that inclusion," he said.
Living on the streets
"Since now, the issue of the street situation has worsened. Just going out to look at the streets, sorry for the redundancy. In addition, we find people in situations of extreme poverty that we can classify as being in a situation that could be middle class," he explained.
In some houses and hostels, 50-60% of adults have completed secondary school. "This shows us that the social and economic situation of the country has hit the weakest sectors the hardest. Those who tend to fall out of the system will fall and have no inner edges," he said.
Finally, he emphasized that "our work and needs have increased significantly in recent years, not just now."