In the US, people are gearing up for a fight, and not for political power. Rather, it is about fighting climate change. In the coming years, billions of US dollars will flow to meet the challenge of the transition to a low-carbon economy.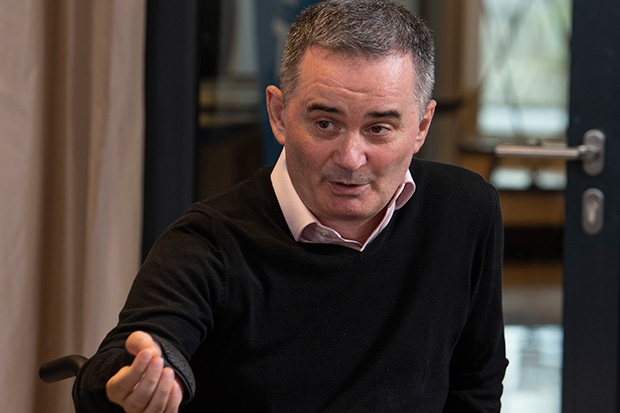 © Christoph Hemmerich / FONDS professional
"There are a lot of smaller companies involved in this mammoth task of fighting climate change in the US, and it is precisely this market segment that currently offers unusually high value potential. Can investors invest in these companies profitably and at the same time save the planet?" wonders Cormac Weldon, Head of US Equities at Artemis Investment Management and Lead Manager of Artemis Funds (Lux) – US Smaller Companies – and has the answers ready. "We think so. We'll show you how we implement the theme of ecological transition in our portfolios of smaller companies."
power generation
NextEra Energy Partners (NEP) is the largest renewable energy power operator in the United States. The Florida-based company is responsible for its own clean energy projects and is also involved in wind and solar energy projects throughout the United States. NEP is owned by NextEra Energy, the world's largest utility and also one of America's largest infrastructure investors. NEP focuses exclusively on renewable energy and thus – unlike the parent company – has access to additional financing. This offers the company greater growth opportunities.
nuclear power
"Already this year we have looked at the broader impact of geopolitical events on energy production and made it clear that nuclear power will soon be a less toxic element of the transition to alternative energy sources," Cormac Weldon continues. In California, for example, a legal basis is being worked on so that the last nuclear power plant in the state will not be shut down after 2025, but will be allowed to continue running. Nuclear power assets could thus prove to have a longer lifespan than market expectations." And further: "We recently established a position in Constellation Energy after Constellation decided to spin out from the parent company. Constellation Energy generates 10 percent of the US's non-fossil electricity and is a supplier of nuclear, wind, solar and hydroelectric power. It is acquiring other nuclear power plant operators on a large scale and is now responsible for around 20 percent of the nuclear power capacity in the USA."
Tax bonus through Inflation Reduction Act
The recently passed Inflation Reduction Act will invest $369 billion in climate and clean energy, including a tax credit for nuclear power producers. The government's minimum price for nuclear and solar power also removes a significant portion of the downside risk of investing in this company.
Infrastructure
The new power grid also requires a corresponding infrastructure. Utilities in regions prone to natural disasters need to improve their connectivity to the power grid. In California, for example, wildfires are a major hazard and are likely to become even more common in the future. Analysis by McKinsey shows that storm damage will cost US utilities an average of around $1.7 billion in additional costs and lost revenue over the next approximately 25 years. In California, a decision was made to relocate underground power lines that run through sensitive terrain. Weldon: "We are invested in Jacobs Engineering. This company carries out all the planning, takes care of the permits and then organizes the civil engineering work. These activities may not seem particularly complex, but they require a certain coordination and logistical expertise."
Valmont Industries is another company in Weldon's portfolio: "It provides the infrastructure to connect new solar or wind farms to the grid. A division of Valmont Industries also supplies irrigation systems with precision technology that help farmers around the world increase revenue per liter maximizing and reducing the consumption of precious water resources. It also reduces the use of chemicals and fertilizers." They have been invested in Valmont Industries for some time and have used the underperformance of the last few months to increase our position. An important note here: Many of these smaller companies are small by US standards, but large compared to many companies in other markets. Valmont Industries, for example, would easily make it into the FTSE 100 with a market capitalization of around USD 5 billion.
Small caps in the US have had a tough year
In the last three decades, as far as Weldon can remember, there have been at most two or three occasions when small caps have offered such good valuation potential relative to larger companies. "Our smaller-cap fund currently trades at around 15.5x P/E (12 months forward), roughly in line with the benchmark, the Russell 2000 (S&P 500: 24x). Similarly attractive relative valuations for US Small Caps haven't existed since 1999.
Historically, smaller companies have traded at premiums
This was because their projected earnings growth tends to be slightly higher than that of large companies. Active management allows the potential to be used even better, Weldon continues. The fund has a similar P/E ratio to the benchmark, but its return on equity of 17 to 18 percent is higher than that of the benchmark (5 percent). Historical earnings growth is 25 percent, compared to 15 percent for the benchmark.
About the relative valuation differences between large and small caps
The corona pandemic was a tough time for many smaller companies. Once out of this phase, they found themselves once again in difficult conditions with rising inflation and higher interest rates. This is making investors nervous. The Fed has now become the first central bank to start raising interest rates again in order to get inflation under control. It is feared that this will lead the economy into a painful recession. The macroeconomic environment appears to be improving. It looks like the negative expectations are mostly priced in, so valuation opportunities may be short-lived.
Extreme events remain
Unfortunately, the more general situation is not improving, as this year's extreme weather events show. However, companies that are helping to shape the clean energy transition are gaining momentum or a boost from other renewable energy sources. Weldon believes that as long as they can differentiate their product range and reinvest their profits in growth to maintain their niche, they should thrive and outperform the larger companies that would otherwise steal their business from them. "My guess is that the challenges of climate change are so great that this investment theme will remain relevant for some time to come." (kb)