With less than one month until puck drop in China, meet the five Canadian officials who will represent our country in women's hockey at the 2022 Olympic Winter Games
As the start of the 2022 Olympic Winter Games draws closer, Canada's Women's Olympic Team is busy preparing to compete, but those 23 players won't be the only Canadians on the ice in Beijing.
Alex Blair, Cianna Lieffers, Elizabeth Mantha, Lacey Senuk and Justine Todd have been chosen to represent Canada at the Olympics and officiate the women's hockey tournament. Before the puck drops next month, get to know the quintet who will wear black and white in Beijing.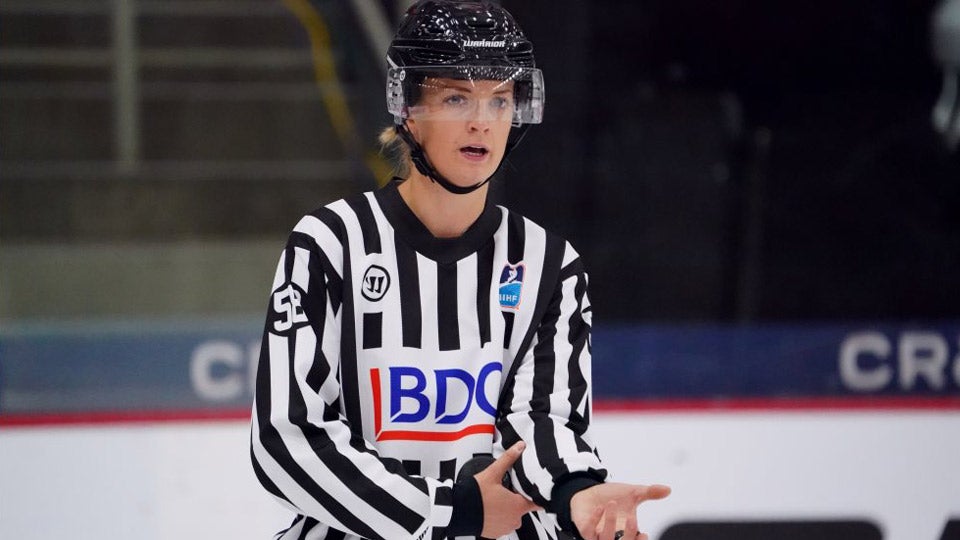 Alex Blair (Linesperson)
Hometown: Drake, Sask.
Blair began officiating when she was 11 years old as a way to spend more time on the ice. After she graduated from university, she restarted her officiating journey to stay connected to the game she loves.
"I think with anything in sports, it's all the people that you meet along the way," Blair says. "People don't understand that officiating is a team sport, too. You have your own teammates, and you build a lot of relationships with other officials throughout your journey."
Blair became the first woman to officiate in the Western Hockey League (WHL) in September 2021 and she is one of the first to officiate in the American Hockey League (AHL). Looking back on her journey so far, one of her most memorable games was officiating a Rivalry Series game between Canada's National Women's Team and the United States in 2017.
"That was my first international exposure, but it was to a sold-out crowd in Edmonton," she says. "That was where opportunity and officiating became a real-life thing for me."
Outside of hockey, Blair works as a financial lender for Credit Canada and has a two-year-old daughter. She is thrilled to have achieved her goal of working at the Olympics.
"As cliché as it is, it's just a dream come true."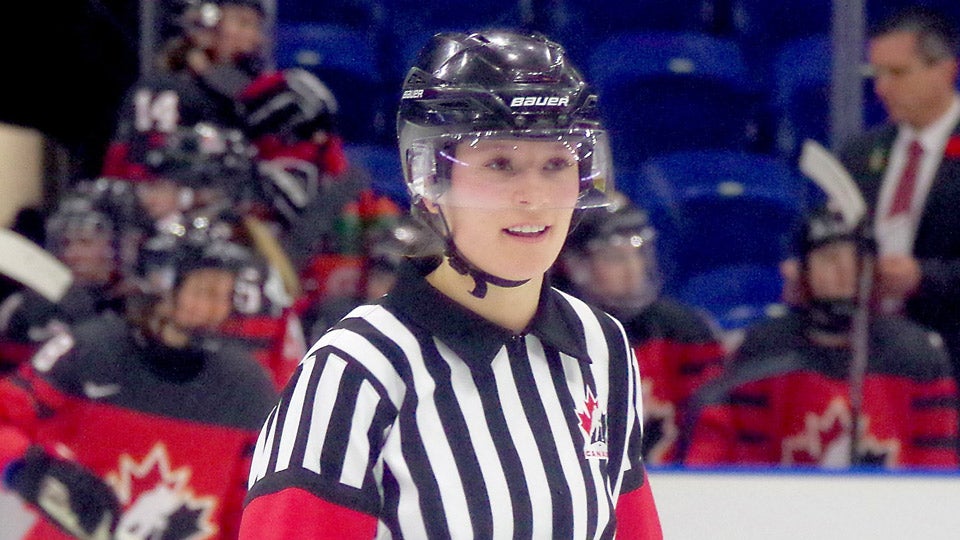 Cianna Lieffers (Referee)
Hometown: Cudworth, Sask.
Growing up in a town of about 800 people, Lieffers grew up playing many sports, including volleyball, track and field, and basketball. As the middle child and only girl, she was inspired to try hockey because of her brothers.
"I played on a boys' team with my younger brother. As soon as my older brother started to ref hockey, I had to follow in his footsteps," she says.
Now in her 11th season of officiating, Lieffers works with five leagues in Saskatchewan, including U SPORTS, the Saskatchewan Junior Hockey League and Prairie Junior Hockey League, as well as men's and women's AAA. As an international official, Lieffers has really enjoyed traveling and making new officiating friends in different countries.
"I've got to go to many countries that I would have never visited at this point in my life, and I owe that to hockey," she says. "Never did I think that I'd be officiating at the 2022 Olympics. But with my career, I've been really lucky to work my way up to this level."
Though she has traveled around the world, the most memorable tournament for her was back home in Saskatchewan for the 2018 4 Nations Cup.
"Saskatoon is now my home city, I grew up about an hour away," she says. "But it was the first time that my family and friends got to see me ref International Hockey live and in person versus on a 2 am live stream… That was pretty special to me."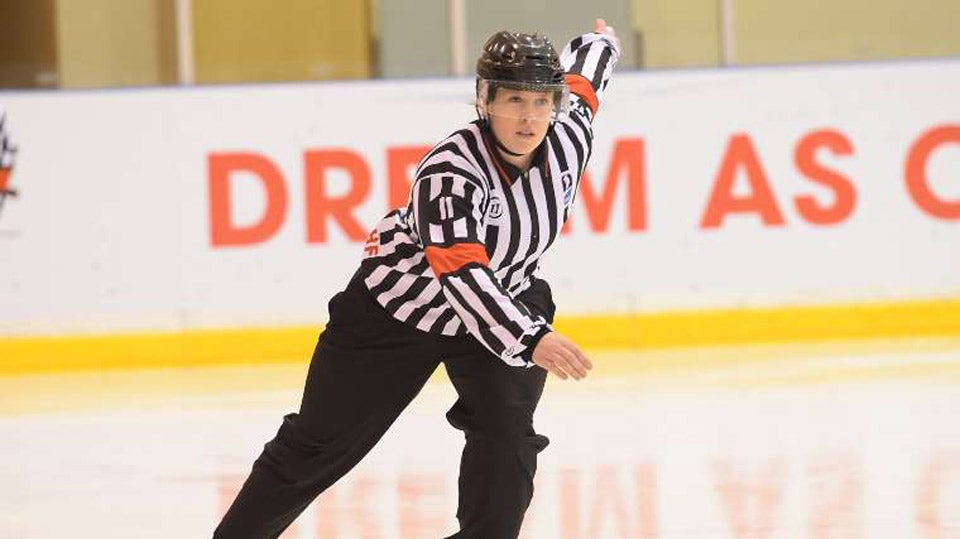 Elizabeth Mantha (Referee)
Hometown: Longueuil, Que.
With 11 years of officiating experience, Mantha works as a supervisor at Montreal's 911 emergency dispatch when she is not at the rink. While she has previously officiated U18 AAA and U21 AAA, earlier this season Mantha became one of the first women to officiate in the AHL and she is also the first woman to referee a game in the Quebec Minor Junior Hockey League (QMJHL).
"It's amazing," she says. "I'm seeing [officiating in the QMJHL] as very good practice, [they're] professional games that I can officiate during the season to get better for my international events."
Mantha began officiating in high school and university to earn money as she played. When her playing career finished, she continued to stay involved in the game through officiating. During the summer, Mantha enjoys paddleboard and camping.
Being one of the officials to work at the Olympics is a dream come true for Mantha.
"It's a lifetime goal," she says. "I was reaching for that as a player and when I realized I couldn't go as a player, I tried to reach that goal as an official. I worked so hard for 11 years just to get to that goal, so it's pretty big."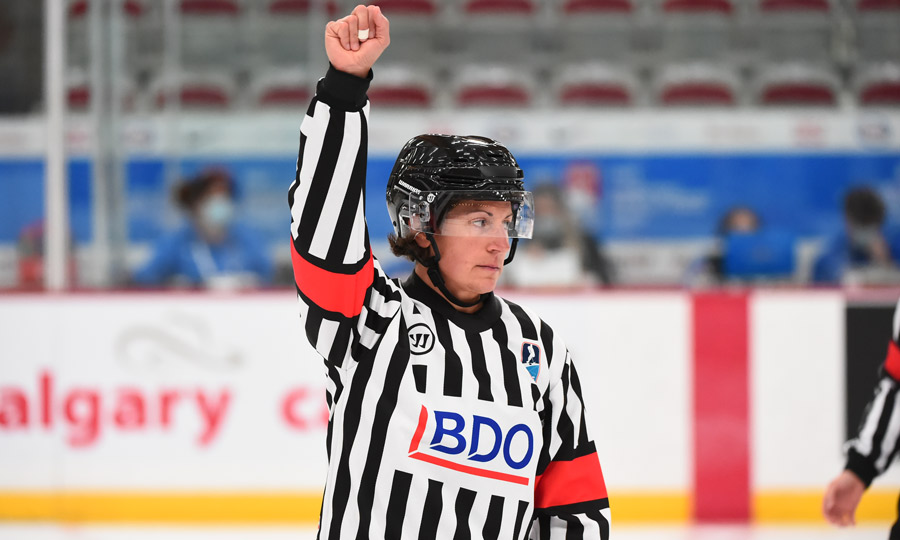 Lacey Senuk (Referee)
Hometown: St. Albert, Alta.
Senuk began her officiating journey during the 2008-09 season, and she currently officiates Alberta Junior Hockey League and U SPORTS games. Although she has 13 years of officiating under her belt, she was speechless when she heard she made the cut for the Olympics.
"It's totally surreal," she says. "I'm super excited and super pumped to represent all the different associations that have helped me along the way and all the different people that have played a factor in my development."
When she's not on the ice, Senuk is an avid cycler. She loves to ride her bike throughout the summer and says it's one of her biggest passions outside of hockey. For anyone interested in officiating, Senuk says to jump in feet first. For her, officiating has opened doors she never would have imagined could be on her bucket list.
"Try to go in with an open mind and see—you might enjoy it! The opportunities are endless," she says. "It's a different way to stay involved in the game without standing on the bench, and you get paid to do it."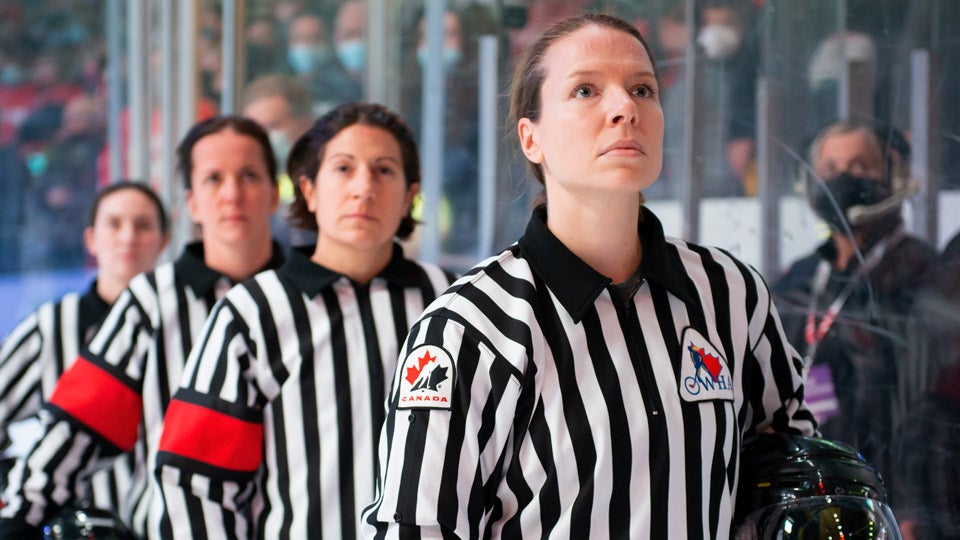 Justine Todd (Linesperson)
Hometown: Smiths Falls, Ont.
An Olympic veteran with 14 years of officiating experience, Todd is also an officer with the York Regional Police. That may sound like a lot to juggle, but Todd says the flexibility of officiating allows her to find balance between the two jobs.
"Officiating is a great way to compliment a full-time job, especially for those of us as females," she says. "We do work full-time jobs, some of us are moms… we have other commitments in life. But the beauty of officiating is that you get to make your own availability."
Todd officiated at the 2018 PyeongChang Olympic Games and was on the ice for the first game of the tournament: a sold-out game between Sweden and Korea.
"It's hard to put into words how important it was to the people of Korea," she says. "The rink was so loud, you couldn't even hear yourself blow your whistle… the excitement on the ice, you could just feel it. It was one of the few games in my life where I really felt more nervous than normal. It had so much meaning."
After PyeongChang, Todd knew she wanted to go to the 2022 Winter Games. Now that she's achieved her goal, she says it's "amazing" to share this experience with four other officials from Canada.
"The young officials that I work with are incredibly talented, and I knew I had a lot of hard work ahead of me [to return to the Olympics]," she says. "It means the world to me."
,