Recruiting remains difficult in the Canadian Armed Forces (CAF), to the point that, over the summer, the Specialized Recruiting and Attractions team stopped at large public events from coast to coast, introducing the public to military equipment. The goal is to introduce people to careers in the military, in hopes of meeting workforce needs.
At the FAC kiosks, the public was able to board military trucks, but also hold and test different types of firearms, unloaded of course.
Some even attempted a physical test that involves lifting sandbags weighing 20 kilograms more than 1 meter off the ground 30 times in a row.
For Craig Lommey, who undertook this physical ordeal, it was an experience that allowed him to immerse himself in military work.
It's difficult, the military goes through a lot. It's a lot of training and work.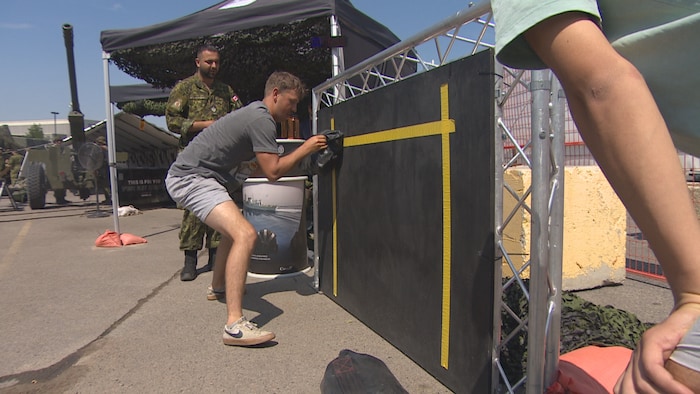 The team finished its summer tour on September 4 at the Canadian National Exhibition in Toronto.
For some it was surprising to observe and handle military equipment.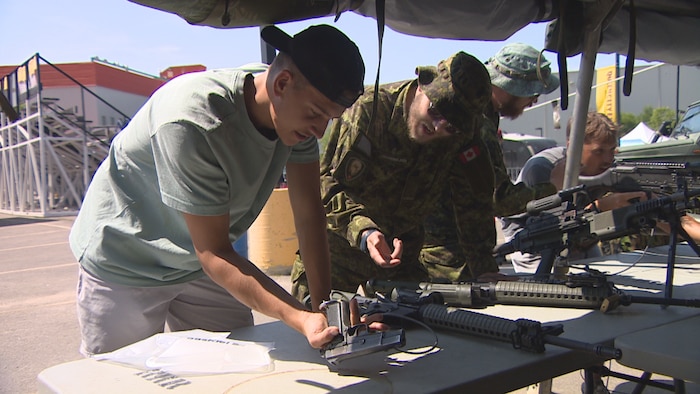 This participant was able to learn about and handle different types of firearms used by the Canadian Armed Forces.
The recruiting team traveled to seven Canadian cities for various events ranging from Canada Day celebrations in Halifax to the Penticton Peach Festival in British Columbia and the Queen City Ex fair in Saskatchewan.
The objective was not to enlist in the place, but to popularize the different professions. This effort is part of the goal of meeting personnel needs in the ranks of the Canadian Armed Forces, which are struggling to recruit.
As of June 30, 2023, there was a shortage of more than 8,000 soldiers in the regular force, or just over 11% of the total workforce. The regular force is made up of members of the Canadian Army, Royal Canadian Navy and Royal Canadian Air Force.
An opportunity to overcome prejudices
For Touon Nkoka, a leading sailor in the Royal Canadian Navy and a member of the recruiting team, the biggest challenge was overcoming public prejudices.
When we talk about the Canadian Armed Forces, people inevitably think it means going to war.
Therefore, according to him, it was a good opportunity to undo this type of thinking regarding the FAC.
Everything you can see in civilian life, we have the same jobs. It's really exciting, because you wear the uniform and go everywhere in Canada and abroad. holds.
According to Touon Nkoka, the other obstacle to recruitment is the balance between work and family life. He explains that it is a priority for most people he has met.
At the moment, the Canadian Armed Forces are finding it difficult to measure the effects of this new approach. Once they have evaluated its effectiveness, they will evaluate the possibility of continuing this approach in the coming years.
Recruiting Team Events:
Red River Expo – Winnipeg, Manitoba – June 16-25
Canada Day Celebrations – Halifax, Nova Scotia – July 1
Cavendish Beach Music Festival – Cavendish, Prince Edward Island – July 6-8
Montreal Comiccon – Montreal, Quebec – July 14-16
Queen City Ex – Regina, Saskatchewan – August 2-6
The Penticton Peach Festival – Penticton, British Columbia – August 9-13
FanExpo – Toronto, Ontario – August 24-27
Canadian National Exhibition – Toronto, Ontario – August 18 to September 4