In the wake of the pandemic, which saw savings surge, savings rates in the US, Europe and the UK have diverged somewhat from their respective peaks.
Saving rates were key to sustained post-Covid-19 growth. This is particularly important in developed economies, where consumption averages about 70% of GDP. As governments around the world provided support in different ways during the pandemic, savings rates in some countries doubled from previous record highs. It was a historic event.
This was because government transfers bolstered revenue while uncertainty and restrictions slumped spending. However, it is interesting to note this Saving rate trends in the US, Europe and the UK are deviating somewhat from their respective highs. Changes have occurred. And they are relevant. They indicate pattern changes.
Savings as a percentage of disposable income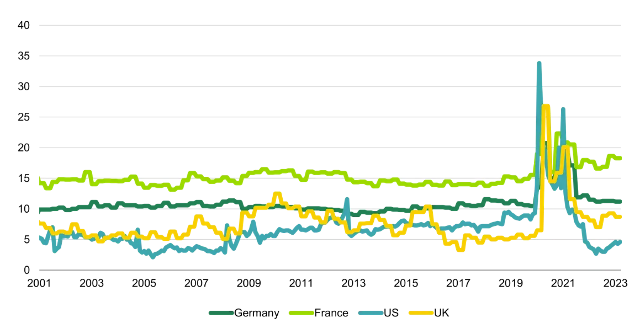 "American consumers have fallen below their pre-pandemic spending and savings guidelines, while German, French and British consumers have not. Given that consumption accounts for the bulk of GDP in these economies, the impact on growth is quite significant. This is one of the reasons why growth in the US has been stronger than in Europe in recent quarters," explains Felipe Villarroel, portfolio manager at TwentyFour AM (Vontobel).
The European case
The European case deserves a detailed investigation. The savings rate in the eurozone averaged 12.6% of disposable income between 2015 and 2019. That changed with the onset of the pandemic, rising to a record high of 25.4% in the second quarter of 2021.
During the pandemic lockdowns, people have been able to buy durable goods, but in most countries they have not been able to go to restaurants, go on vacation, or even go to the hairdresser's. Despite the slowdown in economic output due to Covid, most revenues remained intact… Also, there was no significant increase in eurozone unemployment rates as governments came to the rescue with lavish layoff plans.
As expenses fell and income was stable, savings multiplied. According to ECB calculations, the excess savings rate rose to 11.3% of gross disposable income between the first quarter of 2020 and the fourth quarter of 2022. "This was particularly important at the beginning of the economic recovery in order to boost private consumption," says Ulrike Kastens. It was a key factor.
As the DWS economist for Europe explains, the picture has changed since then. Households have invested their savings in homes and financial assets such as stocks and bonds and used these to pay off loans. Meanwhile, liquid assets such as cash or bank deposits, which are also readily available for consumption, have gradually dwindled, from a peak of 3.7% of disposable income in Q1 2021 to just 0.6% in Q4 2022. "That means there's hardly any savings or credit left that can be easily converted into pocket money." confirm.
Different pattern in wealthy households
The distribution of available savings is also important. "The Monetary Authority's calculations show that the wealthiest households are the most likely to retain savings in the bank. While the richest 10% of the population had less than half of the available savings in the first quarter of 2020, by the fourth quarter of 2022 this figure had risen to almost two-thirds.
However, wealthy households tend to have lower marginal propensity to consume and are slower to respond to changes in their wealth. The opposite is often true for the less affluent and lower-income groups. "If you have money, spend it."
Para boxes, "All of this means that available savings are unlikely to be an additional source of impetus for consumer spending and growth. But with inflation expected to fall significantly in the coming months, at least real incomes will pick up again, which should help consumers and the economy somewhat. But the Covid bonanza has ended," he concludes.
Distribution of accumulated excess savings by household group