Sometimes it's hard to believe that long ago (about 15 years) Detroit's Big 3 abandoned and despised the midsize pickup segment in America. They were so focused on their profitable full-size models that they stopped focusing on a segment that was soon left at the mercy of the Japanese, with the Toyota Tacoma and Nissan Frontier being the only options.
In the middle of the last decade, North American manufacturers realized that they were giving up all the tempting cakes to Japanese brands.And Chevrolet, which was the first to react, brought a new Colorado to market, followed by Ford, which modified the Ranger deeply to be able to sell it further north in our neighboring country.
We don't even talk about RAM, as the Dakota's alleged successor has been confirmed for years, but in practice we haven't seen anything concrete.
It is important to highlight that True global pickups are only medium ones, where the Hilux, L200, Frontier (Made in Mexico), among a few others, go really big. And incidentally, they have little or nothing to do with the US market.
Chevrolet Colorado 2023: Features and Versions
Well, Chevrolet presents a new generation of its Colorado medium pickup, It's clear that the 3.6L and 2.8L diesel V6 gasoline mechanics have been abandoned. Instead, a single turbocharged 4-cylinder block will now be offered. Which, depending on the version, will have different levels of power and torque. Available configurations will be double cabin and short box.
It looks a lot more aggressive in appearance, inheriting much of the design language first seen on the recently updated Chevrolet Cheyenne.
For this new delivery, Chevrolet will offer a number of versions starting with the Colorado WT (Work Truck), as indicated by its acronym, aimed at the purely utility market. Go Via LT for city and highway-oriented use, as well as 3 off-road-oriented variants; The Z71 and for the first time a Trail Boss (with a limited slip differential), as well as an extreme 4×4 version called the ZR2 that offers front and rear locking differentials.
In case of input versionThis new 2.7L turbo engine delivers 18% more power and 36% more torque Input-out model comparison
For its part, the eight-speed transmission was modified to provide smoother transitions, greater speed and efficiency while making a downshift.
The L4 2.7L turbo produces 237 hp and 259 lb-ft of torque and 1,500 kg of drag, as well as 764 kg of payload – standard on the WT and LT trims.

The L4 2.7L turbo with 310 hp and 3,492 kg of drag with 390 lb-ft of torque – standard on the Z71 and Trail Boss, optional on the WT and LT.

The L4 2.7 turbo with 310 hp and 430 lb-ft of torque with 3,492 kg of drag and 522 kg of payload – standard on the ZR2.
This New Colorado Is 78mm Longer Than Before on the WheelbaseThis is largely because the front axle was moved forward to improve the angles of attack as well as stance. In the case of the Trail Boss, to increase the height with respect to the ground, the height is increased by 50 mm and the width of the front track by 76 mm.
In the case of the ZR2, which is the most capable of all off-road, the height is 76mm higher, with high-performance suspension and multimatic dampers.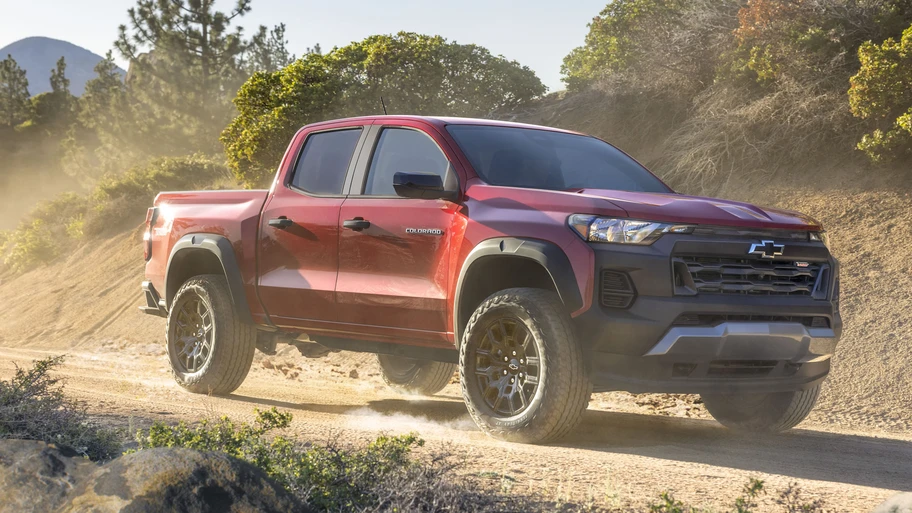 Measurement
Largo – 5,410 mm

Alto – 2,001 mm

Wheelbase – 3,337 mm
In the case of the ZR2 version, the 4×4 capabilities are:
Angle of Attack – 38.3°

Departure angle – 25.1°

Abdominal angle -24.6°

Floor height – 271 mm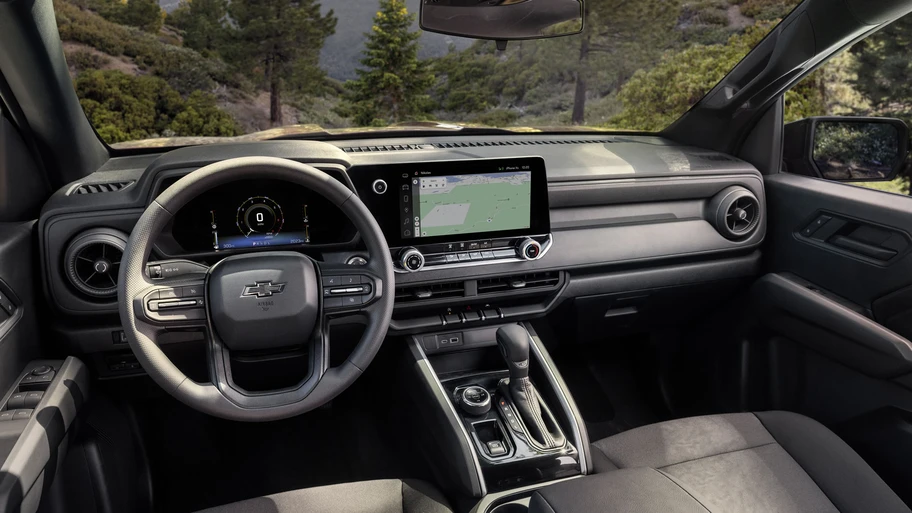 As for the driving mode, there will be different options depending on the variant that will be present or not:
General – for daily use

tow haul – Drag-oriented transmission and throttle response

off road – Traction settings and other driving parameters for off-road

the areas – Special calibration on throttle, brake, etc., special for rock climbing. 3 settings available

baja – Specialized for high-speed off-road driving
Chevrolet Colorado 2023: Interior
Inside doors, the availability of many different types of finishes varies, where The central touch screen can be up to 11.3″, as well as an 8″ digital cluster.
The central screen has a special app for 4×4 driving that provides information on altitude, GPS, longitudinal and lateral tilt, tire pressure monitor, G-force, tire slip and transfer case position.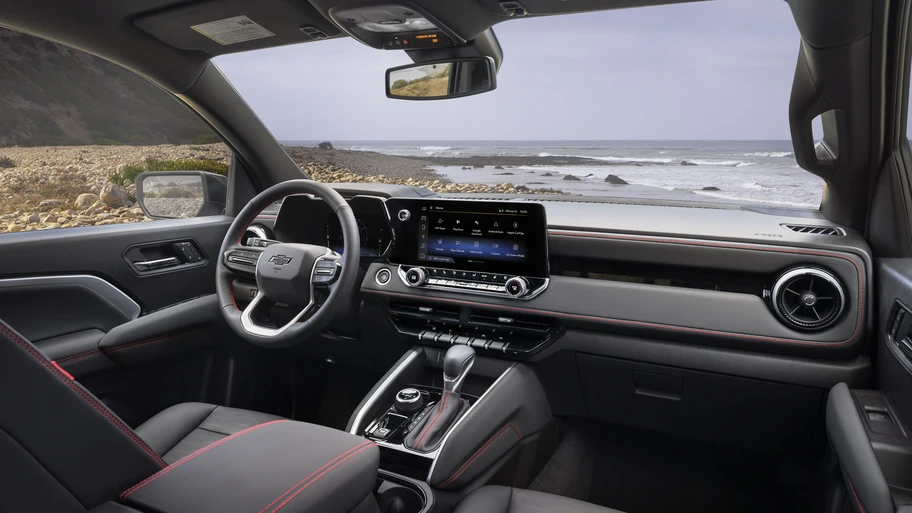 It also has Google services with 10 different perspectives for navigation, music, vehicle functions and cameras, some of which show off the bottom of the pick-up.
2023 Chevrolet Colorado: Safety
In addition to airbags, ABS and ESP, the Chevy Safety Assist ADAS assist package comes as standard, which includes:
Forward Collision Alert with Pedestrian Detection and Brake Assist

Lane Departure Alert with Lane Keep Assist

automatic high beam
and are also available optionally:
Cross traffic alert with emergency braking

blind spot monitor

adaptive cruise control

360° camera

rear pedestrian detection alert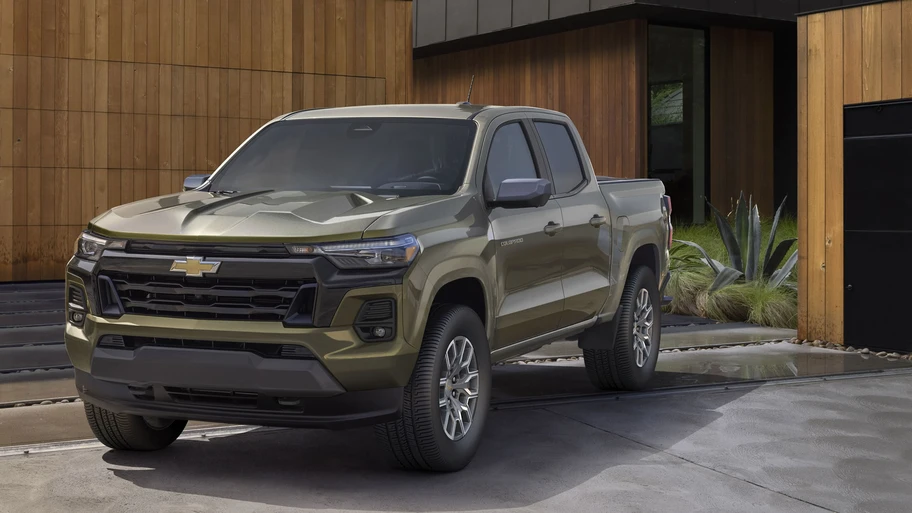 Chevrolet Colorado 2023: Arrival in Mexico
In the United States, the 2023 Chevrolet Colorado will be available in the first half of 2023 and although It is a fact that it will be available in Mexico, the dates are not yet known, which version, the prices are very low., If we had to guess, we'd most likely see the LT variant as an Access model and perhaps something more off-road oriented, which would either be a trail boss or why not, to compete with the Ford Ranger Raptor 2023. For the ZR2 that shouldn't take long to arrive.