China has hosted for the first time a major global event on desertification and land degradation, the Cop-13, United Nations Convention to Combat Desertification. The event took place in Ordos, Inner Mongolia, a region known for its water-restricted environments.
Such areas (commonly referred to as drylands) cover about half of the planet and are often sensitive and prone to change due to water constraints and extreme temporary volatility in rainfall. Drylands are home to more than a third of the world's population.
Over the year, China has successfully implemented several afforestation programs to make drylands viable for its economy, and will continue until 2050. But while planting more trees will further reduce emissions, it will also exacerbate China's water crisis as more trees require more water. . to grow.
China produces food for a fifth of the world's population with only 7% of the world's arable land, as 65% of its crops are located in the dryland region of northern and northwestern China. The Loess Plateau is part of this dryland region, an area the size of France. Löss is a wind-blown sediment that has been transported by wind from the Gobi Desert for millennia.
The Loess Plateau is the cradle of Chinese civilization because the soils formed on Loess are very fertile and easy to farm. But Loess soil is extremely susceptible to erosion by water and wind. Centuries of mismanagement led to degenerate soil and large sediment loads in the Yellow River. It is estimated that more than two thirds of the Loess Plateau region is affected by soil erosion. Up to three Gigatons per year sediment load was observed in the Yellow River in the late 1950s.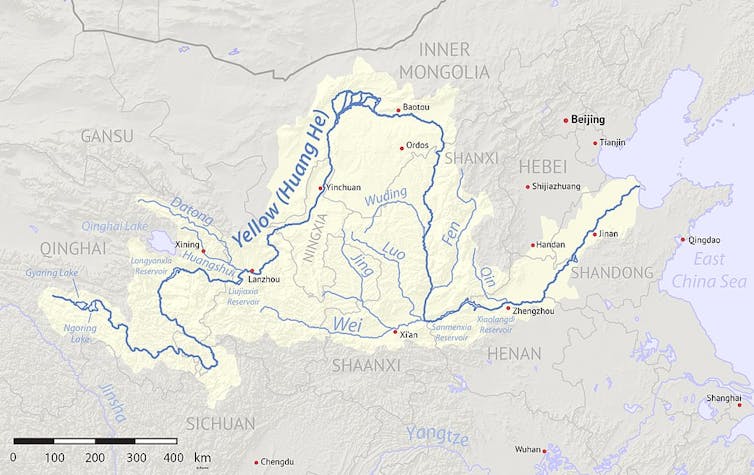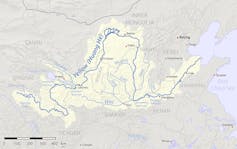 Soil erosion control
To control this soil erosion, various soil conservation programs consisting of terracing, construction of control dams and vegetation restoration, especially afforestation, have been implemented by the Chinese government since the 1950s.
Forests have been established not only to minimize soil erosion by water, but also to combat soil degradation in northern China, a pest that significantly reduces the amount of agricultural land and thus threatens sustainable regional development.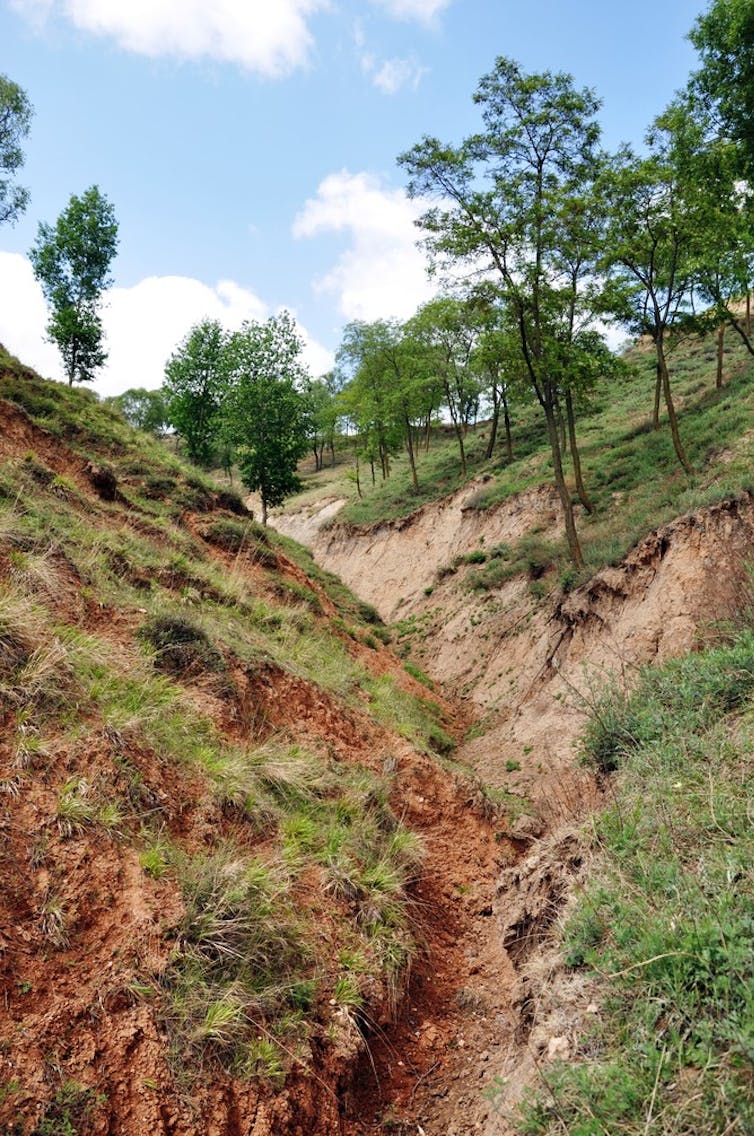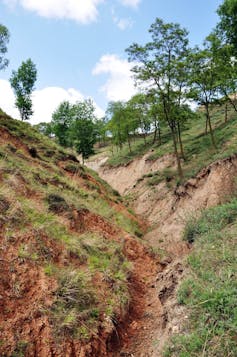 The Three North Shelterbelt project – better known as China's Great Green Wall – was established in 1978 to increase the forest cover rate in the Three North region (an area of ​​1.48 million km2) by up to 15% by 2050. But as soil erosion and sediment loading of the Yellow River declined, water drainage from the river, the third largest in Asia, declined significantly.
Yellow river dry
This could affect China's food security because agriculture is by far the largest water consumer in the Yellow River basin, accounting for 80% of total abstraction. During 2000–2010, the average annual output was only 60% of that of the average values ​​from 1950 to 1999.
Afforestation also had an important impact.
The forest cover in the Loess Plateau was 6% in 1949, and increased to 26% in 2010. This increase contributed greatly to the decrease in water resources in northern China because forests evaporate more water than other ground covers. And the newly established forests generally develop more slowly due to water shortage, are prone to disease and show poor vegetation stability.
As droughts and floods are expected to be more frequent and intense and the growing demand for water in a growing society further threatens water and food security, social vulnerability and instability in China's dryland regions will increase.
Improving water management
To prevent further decline in water resources, China needs to establish integrated forest, land and water management. Implemented measures must be adapted to local environmental conditions. For example, there should be no afforestation in regions with rainfall of less than 450 mm per year.
For such drought-sensitive zones, the establishment of grassland will be a better solution because it stabilizes the soil while also ensuring the replenishment of depleted water resources. The introduction of native tree species that use less water or the establishment such as the Savannah-like forests, which have fewer trees, can also alleviate drought conditions.
Changing the forest structure of the existing plantations by changing or thinning the tree species' composition (fewer trees), increases the stability of the forests and will help reduce their water consumption. Lastly, natural re-vegetation should be promoted as it creates more stable forests.
The Chinese government plans to invest US $ 9.5 billion in afforestation on the Loess Plateau by 2050, but China needs to learn the lessons from its previous efforts to combat soil erosion. A more sustainable way to reduce land degradation would be to establish management approaches that can ensure synergies between environment, economy and society.