grin is a fictional character who hates Christmas, From the gifts, to the decorations and even to the people celebrating it. Andrés Bolaños admitted that he was one of them for many years, until he 'rehabilitated' himself.
The 37-year-old muse assures that it was something wonderful that made him change his mind: the birth of his daughter.
He remembers that the first year he celebrated it, he felt awkward because he didn't know how to behave. I didn't know the words to the Christmas carol, I was hesitating prayed The place of the characters in the ninth and in the manger was also not known.
However, the illusion of seeing the light of his little girl christmas tree This prompted him to change his mind. It made him nostalgic for not celebrating with his family for so many years and he stopped hating this holiday.
The Child Traveler Pass once again colors Cuenca with spirituality
read more
Now you know who the wise men are, you know how the manger moves and what it's like to play the role of a secret friend. But, despite the fact that, according to him, he became a less bitter man on these dates, it does not teach him to question his daughter about Christmas, as he once did.
Andres remembers being younger when he was 15 Grinch Who stopped going to the party. He locked himself in his room to play on his computer and waited until Christmas Eve was over to eat some turkey, alone and 'Descolado'.
According to the museographer, at the time he was in a transitional stage in which he thought about everything. He examined the celebration and noted that "it was a business date in which the most important thing is to give the best gifts and look good in front of others."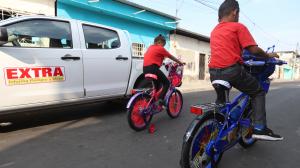 Kale's miracle: scars that fade with love and caress
read more
Andres, on the other hand, says that religious people usually take advantage of these days to send a message of reconciliation and love. "As if it could not be done every day. Besides, this celebration was pagan and the church appropriated it to its advantage.
However, since he was a father, he says that he should have accepted Christmas and joined those who celebrate it. learned that part of paternity Don't crush the dreams of children. "You have to let them live that magical state."
He assures that he doesn't assemble the Christmas tree or manger, but he will "stick" a lot of turkeys and sing My Sweet Jesus.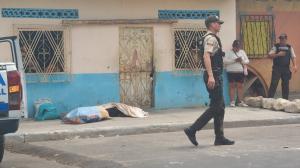 Guasmo was painted red for 'lead' and not Christmas
read more
helping the congregation
Andres rents an apartment in La Floresta in north central Quito with Colombian Elizabeth Gia. She is the female version of the Grinch and the museographer aims to 'rehabilitate' her so she can find 'the Christmas spirit' as he did.
The 30-year-old says she has hated the holiday ever since she moved to the capital with her family as a child. According to him, celebration in Ecuador It's so sad compared to Colombia. "There they decorated all the houses. Neighbors block off streets, set up a stage and have a big party.
Eli, as they fondly call him, confirms festival It's an excuse to be a 'nice guy'. "I don't understand how they can spend money they don't have, on things they don't want to give to people they don't even know," she thinks.
For this Christmas, the Colombian intends to get a grin costume and walk through La Carolina to take pictures with people who identify with him. Meanwhile, Andres will insist until the very last moment to share the arrival of Jesus together.