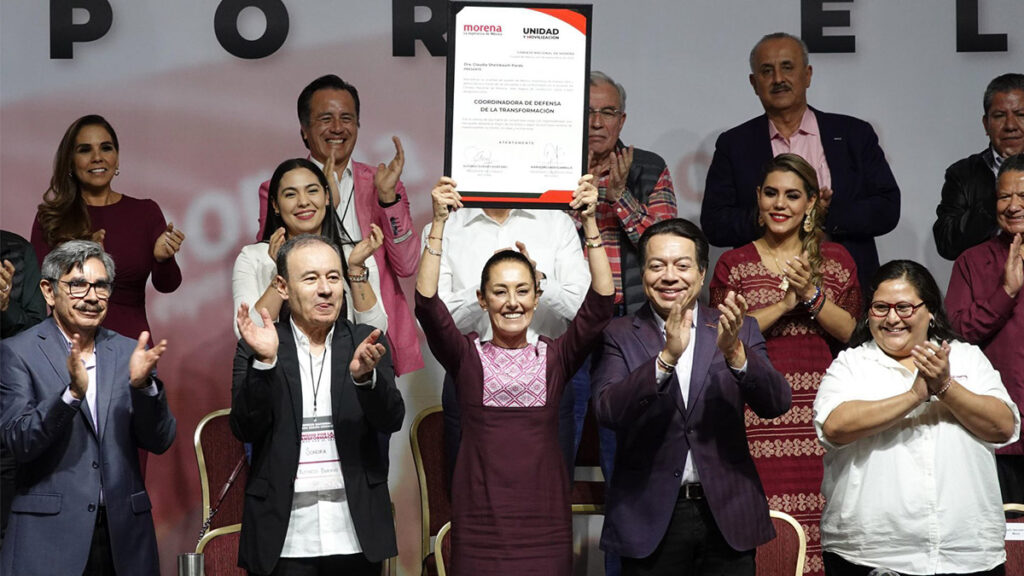 Claudia Sheinbaum Pardo received the certificate accrediting him as Coordinator of the 4T Defense Committees for the 2024 elections and to receive the document, He called on everyone to join his movement before about 1,500 attendees gathered at Pulong Trade Center.
Accompanied by the president of the National Council of Morena, Alfonso Durazo and the national leader of the party, Mario Delgado, the former head of the Government of Mexico City outline 5 tasks for the entire leadership and the national Morenoist structure:
Strong organization of the movement and formation of committees
Integrating sustainability programming with innovation
Disseminate the achievements of 4T and the suggestions for the continuation
Set the unit task
And consolidate the alliance with PT and PVEM
"We will build the second floor of the transformation All women, men and diversities are welcome here, the poor, the middle classes and business people, all faiths, all forms of hope, all people of good will. want to participate, regardless of their ideology, religion, social position or party affiliation.

Claudia Sheinbaum Pardo
With many stops where shouted the president, Claudia Sheinbaum Pardo He promised not to fail the movement and called strengthening internal unity and to reach out to anyone who wants to continue and be part of the change movement.
"When I had the honor a few days ago to happily accept the slender stick in the hands of President López Obrador in our movement, I said and I say it now, that I will not let them down and that I will rise to the occasion, I repeat this because I understand the historical moment we are experiencing and I know that our movement has deep reasons that we cannot betray."

Claudia Sheinbaum Pardo
In a speech at half time and before the ex-aspirants, Ricardo Monreal, Gerardo Fernandez Norona and Manuel Velasco They expressed their support, Claudia Sheinbaum He pointed out that his opponents are still there today with the mask of change formed in Broad Front for Mexico.
"They are the same PRI and the same PAN, they are the PRIAN who now have no ideology or anything to offer except to speak against our movement and return to the old business model under the protection of public power."

Claudia Sheinbaum Pardo
SAYS once again with the people of Mexico "We will make history, we will win in 2024, we will go for local representatives, for municipal presidencies, for 9 governorships, for senators and federal representatives and for the Presidency."
The meeting of Morena National Council It ended an hour after the talks in which the Labor and Green Ecologo parties concluded an agreement to run together for the 2024 elections.