Microsoft is working on a complete overhaul of the File Explorer interface, it reports exclusively. windows central, it's a complete redesign This will improve its visual appearance.but also integrating the Microsoft 365 and OneDrive options to match the design across the operating system.
The new design resembles the rest of Windows 11, with changes ranging from more rounded buttons to increased attention to tactile elementsOne of the biggest changes to the browser since Windows 8.
what will change in explorer
This can be seen in the views received by the medium a redesigned window headerWhich will now display navigation buttons, a directory bar, and a search box above context menu options like "New," "Copy," and "Paste."
Something that will now play a major role will be the integration with Microsoft 365, which will show the recommended files at the top. they will have bigger thumbnails to see what documents they are. In addition, this new link will also allow viewing via the details panel, email threads, comments or attachments via the cloud.
The redesign also covers the display of images, as Explorer will have a new "Gallery" area, where with mouseLarge previews will appear.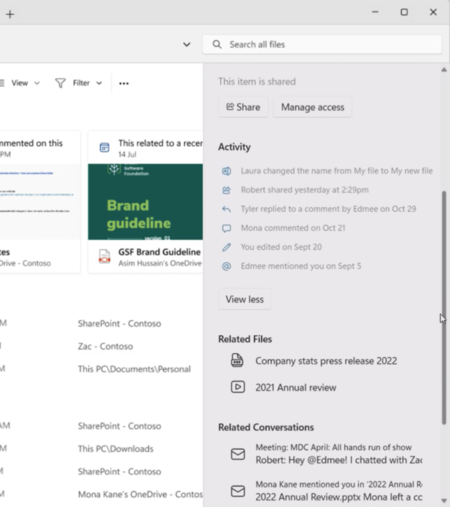 Another change goes in favor of file labeling in Explorer, which will allow Organize and categorize specific documents Using keywords or colors is something macOS allows from the Finder.
it will come sometime in 2023
for now no specific date for the arrival of this new interface, but according to windows central It will be released to the users before the end of 2023.
This means that there may be Explorer enhancements appear as a feature update During the summer (same as when the Tabs arrived) or directly be part of the great innovation that will lead to the 23H2 version coming in the autumn.