The infamous drowning of Dr George Ian Ogilvie Duncan in May 1972, as he sank beneath the surface of the River Torrens and his lungs filled with water, is a moment of both terror and tenderness in the new oratorio Watershed,
'There's a moment I know that I'm ending
There's a second I know that I'm passed
Going down in the river of no return
Drowned in the river of no return…'
But as Duncan dies, the river knows him. The city of Adelaide knows him. We know him.
'There's a space in our hearts for your name Ian
And we're holding you up in our lives
Safe in the river of no return
Sound in the river of no return…'
The Torrens, Karra Wirra Parri and Tarndaparri in the language of the Kaurna people, embraces Duncan and delivers him to his god. And now it is our turn, as an audience, to embrace Dr Duncan. To know him. To bear witness. To never let his name be forgotten.
A potent act of remembering and communal outrage, Watershed tells a complicated story of murder, politics, legal drama and social change. That it does so clearly and cleverly, with barely a lull over 100 minutes while utilizing a range of projections, musical styles and choreographic vocabulary along the way, is testament to the uniting vision and sensitive, lucid direction of Adelaide Festival co-Artistic Director Neil Armfield and the diverse skills of its creative team, especially composer Joseph Twist and librettists Alana Valentine and Christos Tsiolkas.
Read: Hate crime inspires new oratorio
Watershed begins with black and white footage of the river at night projected onto a stage within a stage, with the massed voices of the Adelaide Chamber Singers articulating the rituals of cruising and the language of queer desire: 'Night's offerings are those of sweat and spit and cum.'
Almost shockingly, a body – that of dancer Mason Kelly – descends from above, drowning in the air. The story of Dr Duncan's murder at the hands of the police unfolds. We are quickly reminded that the circumstances of his death were far from unique. It was his position as an Adelaide University law lecturer, his class and social privilege, which helped fuel outrage over his death and transformed Duncan from being just another victim into a queer martyr: the catalyst for gay law reform in South Australia.
The oratorio is traditionally a religious form, and this production references passions both spiritual, political and physical in its staging, its libretto and its music. Twist's compositions range freely across genres, referencing a requiem here, a rock song there, and the work is thrillingly sung. Not every line in the libretto rings true – the rhyming of 'spunk' with 'skunk', for instance, feels a trifle forced – but at its best, Watershed Wrings intense and well-earned emotion from every word and scene.
It is not a comfortable or easy production. Lines sung by the police who threw Duncan and other men into the Torrens ('We thought faggots floated') prompt fury and disgust, as does the appearance of the three vice squad officers accused of Duncan's death when their photographs are projected onto the rear screen of the stage.
At other times, as the soaked body of Mason Kelly is carefully and tenderly arranged where it lies in a pool of water at the front of the stage, Watershed prompts grief and hot tears.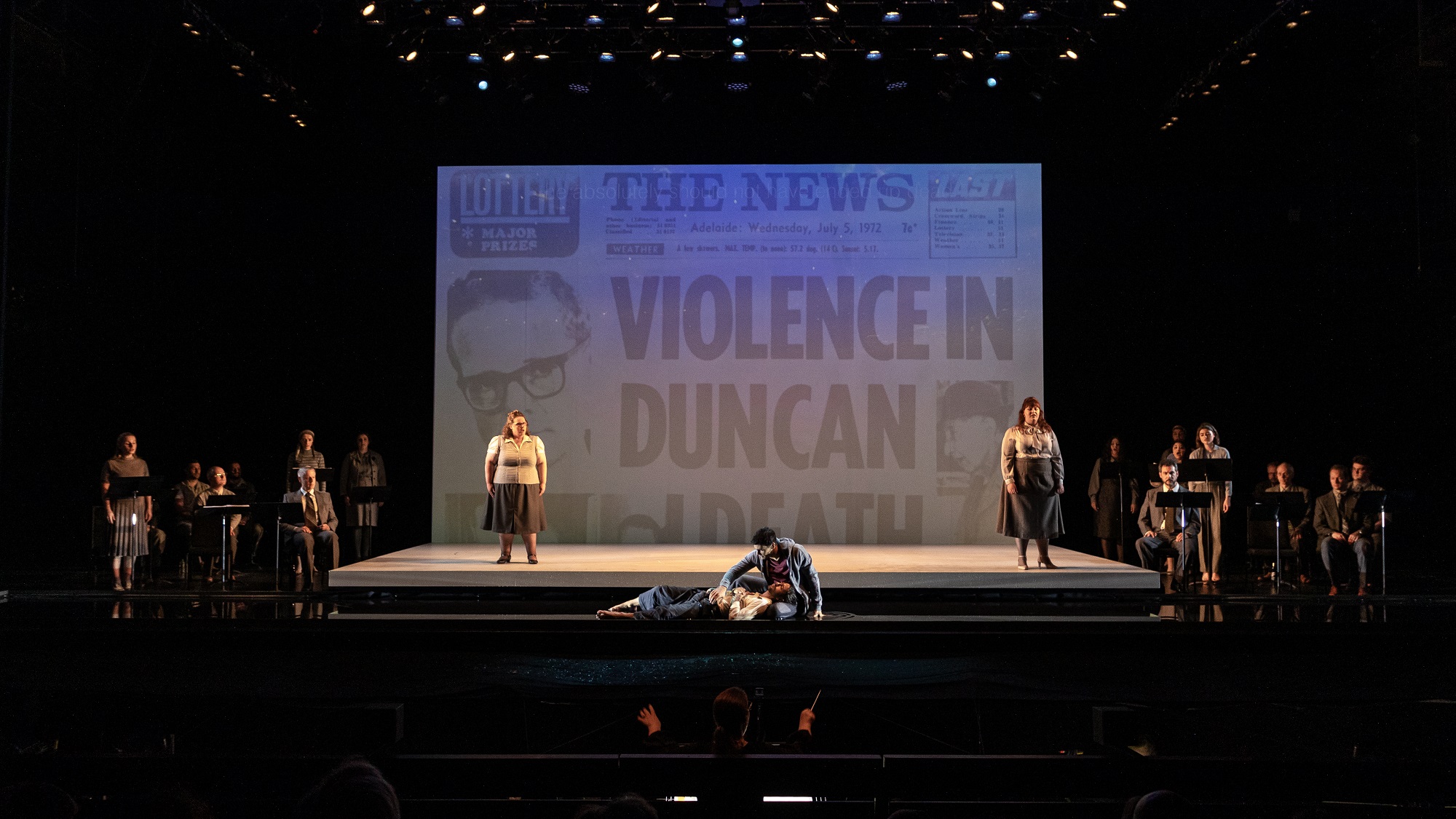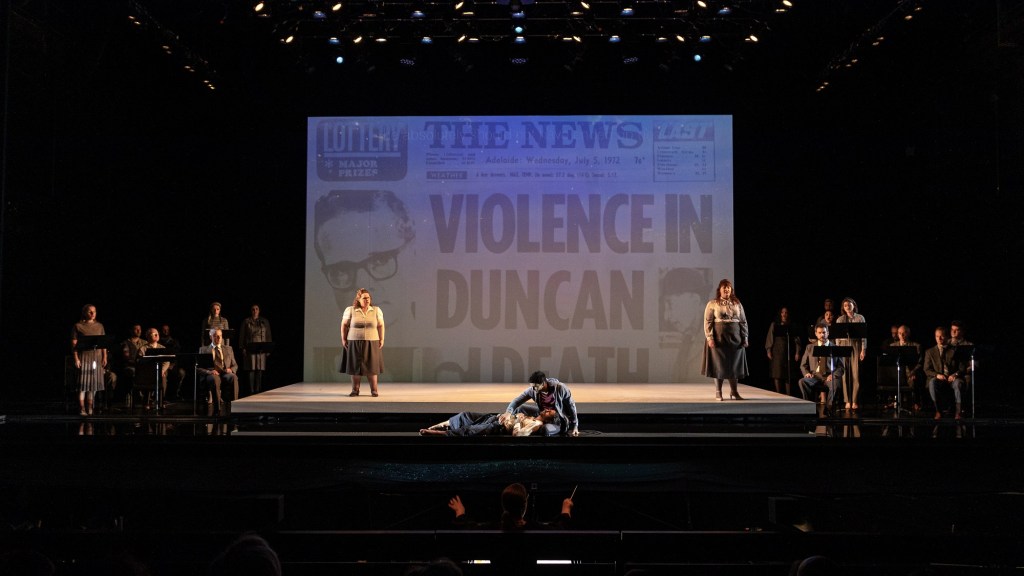 Lewis Major's choreography articulates and emphasizes Duncan's plight, with an extended sequence where Mason Kelly hangs impossibly at the edge of the river especially striking. Performances from the various soloists, including accomplished tenor Mark Oates as Dr Duncan and Premier Don Dunstan, and saturnine bass Pelham Andrews as a brutal cop (and later as Mick O'Shea, the policeman who broke with the ranks and gave evidence against his colleagues ) are equally fine.
Watershed is narrated by a character called the Lost Boy, who represents the many other victims of gay bashings whose names have long since been forgotten. Ainsley Melham plays the part with just the right balance of cheek and charm, swagger and anger, and when he sings, his voice is pure and true.
Other aspects of the projection, including Ailsa Paterson's carefully observed period costumes and Nigel Levings' exquisite lighting, are equally strong and beautifully integrated into the production as a whole.
Towards the end of Watershedwe see and hear from the many people who have been affected by the Duncan case over the years, including the researcher who discovered that some of Dr Duncan's belongings are still sitting on a police evidence rack in Adelaide:
'His watch is antique and his wallet exists
An old Smiths Everest that stopped on his wrist (at 11.07)'
Justice for Dr Duncan may be a long way off, but as long as we have works like Watershed to save and grieve over, his memory will never be forgotten.
Watershed: The Death of Dr Duncan
Co-commissioned by Feast Festival, Adelaide Festival and State Opera South Australia
Composer: Joseph Twist
Libretto: Alana Valentine and Christos Tsiolkas
Director: Neil Armfield
Conductor: Christie Anderson
Choreographer: Lewis Major
Adelaide Chamber Singers
Adelaide Festival Centre, Dunstan Playhouse
2-8 March 2022
The writer visited Adelaide as a guest of Adelaide Festival.