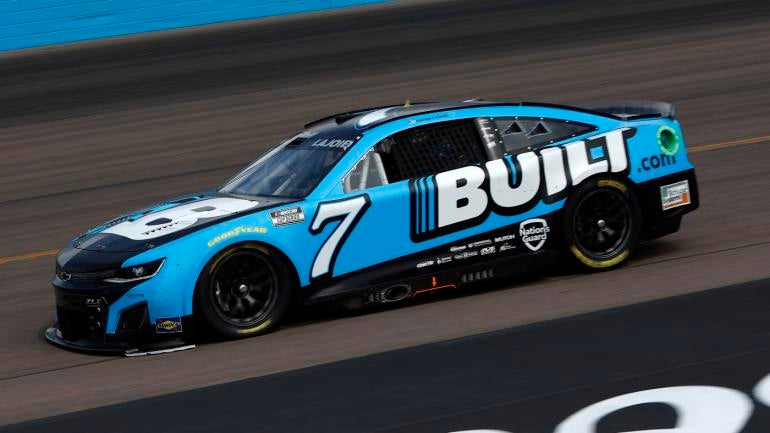 Getty Images
NASCAR announced Tuesday that it has suspended multiple members of the Spire Motorsports No. 7 team over the loss of a wheel on their car, continuing what has been a trend of four-race suspensions for losing an improperly installed wheel on the Next Gen car.
On Lap 45 at Phoenix, the right front tire on Corey LaJoie's car fell off going down the frontstraightaway, sending him into the outside wall as the tire carcass and parts of the wheel assembly were struck by the oncoming car of Cody Ware. LaJoie was the first car out of the race, and he has now lost crew chief Ryan Sparks as well as crew members Blaine Anderson and Allen Holman for the next four races.
LaJoie's team now becomes the fourth in four races this season to suffer crewmember suspensions as the result of a lost wheel.
The Money Team Racing and Kaulig Racing's No. 31 team both were hit with suspensions after losing wheels in the Daytona 500
Front Row Motorsports' No. 38 team was levied the same penalty after Fontana.
While Kaulig and Front Row have both appealed their penalties, it is unclear whether or not Spire will do so as of Wednesday afternoon.
Speaking on SiriusXM NASCAR Radio, LaJoie disagreed with NASCAR's rule in principle, pointing out that it was created as a deterrent to crew chiefs having their tire changers fasten only a few lug nuts when the wheels of Cup cars had five. With the Next Gen car's wheels featuring only one lug nut, LaJoie believes there is nothing a crew can gain from leaving it loose or halfway installed.
"There was way too many penalties and way too many conversations we had about lug nuts, cutting threads, lug lengths, and all this stuff that teams were fooling around with to try and find two or three tenths during a pit stop. The rule was made to deter crew chiefs from telling the tire changers to hit three and send it because it made the pit stop a second faster," LaJoie explained, "Now you're gonna suspend a crew chief four races for what the tire changer thinks (is) getting it tight…
"With a one lug nut, it is either on there or it's not on there. It's not a competition advantage to not get a wheel tight anymore."
Should NASCAR uphold the suspension against LaJoie's crew, they will not be eligible to participate in a Cup Series race until Bristol in mid-April.