Here's your daily update with everything you need to know on the coronavirus situation in BC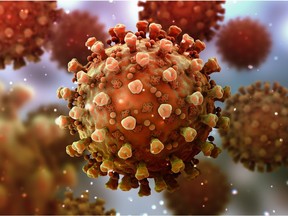 Article content
Here's your daily update with everything you need to know on the coronavirus situation in BC for March 21, 2022.
Article content
We'll provide summaries of what's going on in BC right here so you can get the latest news at a glance. This page will be updated regularly throughout the day, with developments added as they happen.
Check back here for more updates throughout the day. You can also get the latest COVID-19 news delivered to your inbox weeknights at 7 pm by subscribing to our newsletter here.
---
BC'S COVID-19 CASE NUMBERS
Here are the latest figures given on March 21:
• Total number of confirmed cases: 354,084
• New cases: 506 over the past 72 hours)
• Total deaths: 2,974 (eight in the past 72 hours)
• Hospitalized cases: 271
• Intensive care: 49
• Total vaccinations: 4,525,281 received first dose (90.8% of eligible pop. 5+); 4,338,756 second doses (87%); 2,644,222 third doses (57% of those 12+)
• Long-term care and assisted-living homes, and acute care facilities currently affected: Eight
Article content
IN-DEPTH: Here are all the BC cases of the novel coronavirus in 2021 | in 2020
---
BC GUIDES AND LINKS
• COVID-19: BC's vaccine passport is here and this is how it works
• COVID-19: Afraid of needles? Here's how to overcome your fear and get vaccinated
• COVID-19: Here's where to get tested in Metro Vancouver
• BC COVID-19 Symptom Self-Assessment Tool
---
LATEST NEWS on COVID-19 in BC
Eight deaths reported in past three days, hospitalizations still dropping
British Columbia recorded eight deaths from COVID-19 in the three days since health officials last reported on Friday. A total of 2,974 people have died from the virus since the start of the pandemic.
A downward trend in hospitalizations continues, with 271 in hospital on Monday, a drop of 19 from the end of last week; 49 of those patients are in intensive care, which is up three from Friday.
Article content
There was one new outbreak reported at Selkirk Seniors Village in the Island Health region. There are currently eight outbreaks in acute and long-term care across the province.
The percentage of the eligible population (age five and over) who are now double vaccinated has edged over 87 per cent, while those who have also received a booster (age 12+) hit 57 per cent.
Over 23 per cent of those hospitalized with COVID-19 in the two weeks ending March 17 were unvaccinated, despite that group representing less than 10 per cent of the population.
— Joseph Ruttle
Rapid tests now available for those age 30+ in BC pharmacies
BC is now making rapid antigen test kits available to people aged 30 and older at pharmacies.
People can pick up one five-test kit every four weeks from participating pharmacies at no cost. You need to present a personal health number, and if someone is picking one up on your behalf, your name, health number and date of birth must all be supplied.
Article content
Officials recommend you pick up a kit while asymptomatic to use in the future. Health guidelines still call for testing for COVID-19 only if you're experiencing symptoms.
Almost 7.6 million tests have been distributed and 2.3 million have been given out by 1,300 pharmacies. In total, BC has distributed more than 30 million tests to high-priority populations as well as pharmacies.
Another 2.5 million tests are expected from the federal government in the next few weeks.
— Joseph Ruttle
Parents twice as likely to test positive for COVID-19 than the child-free: poll
While more than half of parents say their children are ending the COVID-19 pandemic well, a majority also confess that remote learning has been a challenge in their households and a third say their child's academic performance has suffered in the last two years.
Article content
In a new Angus Reid study released Monday, seven in 10 parents say their household has struggled with remote learning, with three-quarters noting their kids are getting more screen time and less in-person socializing compared to before the pandemic.
When it comes to academic performance, 36 per cent say their kids' grades have suffered as a result over the past two years, while half say their children have maintained their grades. Just 14 per cent say their kids have excelled.
–Staff Reporter
BC records 199 new cases, six deaths
BC reported 199 new cases on Friday, along with six deaths.
There are 290 people hospitalized with Covid-19 in BC and 46 of those are receiving treatment in intensive care.
There are now 353,578 Covid-19 cases in the province.
Article content
Five of the six deaths were in the Island health region and one was in Fraser health.
The government update said: "There have been no new health-care facility outbreaks. The outbreak at Sidney Care Home (Island Health) has been declared over, for a total of seven facilities with ongoing outbreaks.
"From March 10-16, people not fully vaccinated accounted for 17.2% of cases. From March 3-16, they accounted for 26.2% of hospitalizations."
Airline industry happy to see end of COVID testing requirements for Canadians
Vaccinated travelers will no longer need a negative COVID test to get into Canada, but rules around masking and vaccines are staying in place for now.
The federal government confirmed Thursday the new rules will start April 1 and will mark the first time in two years Canadians have been able to travel and return without any testing or mandatory requirement.
Article content
Health Minister Jean-Yves Duclos said the country is past the Omicron wave and Canadians have done their part.
"We are in a much better position now in March 2022 than we were in March 2020. High vaccination rates and strong adherence to public health measures have pushed us through the peak of the Omicron wave," he said.
The new rules remove the requirement for travelers to get a COVID test before they return to Canada. The government had previously removed the requirement for testing on arrival. Travelers will still have to use the ArriveCan app to upload their vaccine information.
Read full story here.
— The National Post
(INSERT RECENT NEWS BRIEFS HERE)
---
---
DEATHS BY HEALTH AUTHORITY
---
WHAT'S HAPPENING ACROSS CANADA
---
LOCAL RESOURCES for COVID-19 information
Here are a number of information and landing pages for COVID-19 from various health and government agencies.
• BC COVID-19 Symptom Self-Assessment Tool
• Vancouver Coastal Health – Information on Coronavirus Disease (COVID-19)
• HealthLink BC – Coronavirus (COVID-19) information page
• BC Center for Disease Control – Novel coronavirus (COVID-19)
• Government of Canada – Coronavirus disease (COVID-19): Outbreak update
• World Health Organization – Coronavirus disease (COVID-19) outbreak
–with files from The Canadian Press