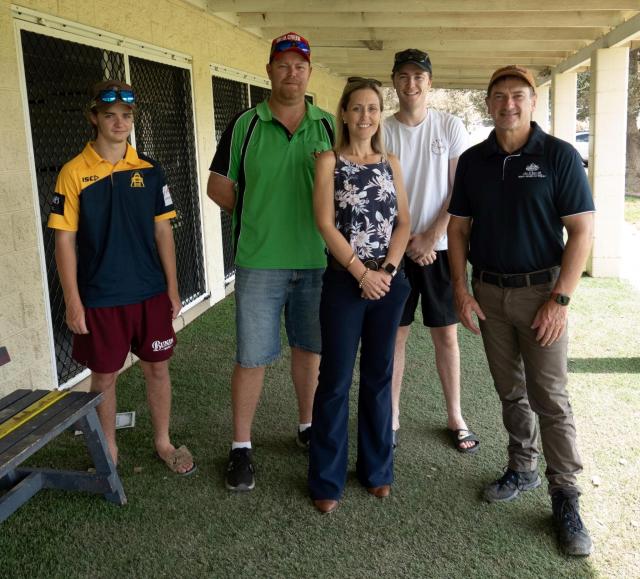 A solar panel system at the One Mile Cricket Clubhouse will help Gympie Regional Cricket Association save on electricity costs, Federal Member for Wide Bay and Deputy Speaker of the House of Representatives Llew O'Brien announced.
The Gympie Regional Cricket Association has received $6,583 towards solar panels for its clubhouse through the Liberals and Nationals Government's Powering Communities Program.
"Electricity bills are one of the biggest overheads for clubs like the Gympie Regional Cricket Association, so this funding for solar panels will help them reduce their power bills and emissions while also supporting local jobs," Mr O'Brien said.
"The Gympie Regional Cricket Association has more than 300 players of all ages throughout the region, so by saving on their electricity costs, the club will be able to do what they do best – promoting a love of sport and making Gympie a stronger and more vibrant community."
Minister for Industry, Energy and Emissions Reduction Angus Taylor said that lowering the energy costs of community groups would have positive effects both locally and nationally.
"This funding of between $5,000 and $12,000 to community groups from all the 151 federal electorates of Australia will allow them to spend more on their essential activities," Minister Taylor said.
"At the same time as these groups are providing increased assistance to their local communities, they will be playing a part in our national efforts to reduce emissions.
"Local jobs will be created through the energy-efficiency measures undertaken by the successful funding applicants under the program.
"These include installing solar panels or a battery, replacing lighting with LEDs, conducting an energy audit and upgrading air conditioners, hot water systems or a refrigerator with more efficient models.
Applications for grants under the program opened in March 2021. Each Federal MP, with the assistance of a committee representing the local community, nominated projects and invited groups to apply for the grant funding.
The Department of Industry, Science, Energy and Resources selected the successful applicants after considering them for eligibility and completeness.