penile curvature or curvature is a condition in which the penis has an abnormal curve during erection. This problem causes pain and difficulty in satisfying sexual relationships.
To find out everything we need to know about this healthy male problem, we asked Xavier Bonet, urologist and andrologist at the Barcelona Andrology Clinic, Barcelona's reference center for the treatment of male sexual dysfunction, to tell us all about it.
What types of congenital penile curvature are there?
There are two types of curvature according to the moment of their presentation;
– Congenital, which is called congenital curvature of the penis.
– Acquired, known as Peyronie's disease.
What is congenital penile curvature (PCI), who does it affect and why?
ICP is a rare condition that affects <1% of the population and usually presents between the 2nd and 3rd decade of life.
Due to the alteration in the development of the cavernous bodies of the penis, the proportion of length and elasticity is altered, causing curvature during erection.
70% of this type of congenital curvature is ventral (below) and 25% lateral and 5% dorsal (up). They are usually menses of normal length, elastic and without problems associated with erection. They usually present with plaques or nodules on palpation.
How is congenital penile curvature diagnosed?
A man suffering from ICP usually explains the "normal" curvature during erection with a completely normal flaccid penis.
The diagnosis is usually made with self-photographs in 3 axes (superior, lateral and frontal), called the Kelami Test. It can be confirmed by the induction of pharmacological erection in the office.
How is congenital curvature of the penis treated?
In general, curvatures <30º, without pain and without repercussions in the functional joint, are usually not treated. Except for patients who want a solution for medical reasons.
In curves <30º and/or functional repercussions, treatment is always by surgery. It is recommended to delay treatment until after puberty, full development of the penis has been completed.
The principles of surgical treatment are the same as in Peyronie's disease (to be explained in that section).
What is Peyronie's disease (PD), who does it affect and why?
PD is a benign disease of the penis, of an inflammatory origin, which produces a fibrous plaque in the corpus callosum, which can cause the curvature of the penis, and pain during erection to decrease or diminish.
The average age of presentation is over fifty years and its prevalence increases with age; from 1.5% at the age of 30 to 6.5% at 70 and above.
The cause remains uncertain, although there are several hypotheses that suggest a change in healing as the most likely cause.
How is Peyronie's disease diagnosed?
PD typically presents in 2 phases:
Inflammatory phase (6-12 months): pain with erections, progressive deformity and the appearance of plaque on the penis.
Stabilization phase (from 12 months): removal of pain, stabilization of deformity and hardening of the plates.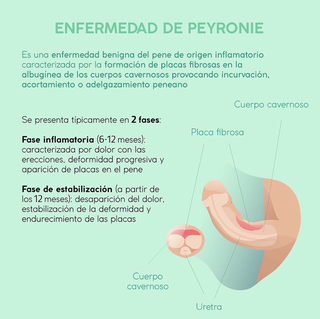 Andrology Clinic Barcelona
Diagnosis is by:
Physical examination: unlike PCI, one or more plaques/nodules are often palpable resting on the surface of the corpora cavernosa.
3 self-images (Kelami Test) were provided by the patient
Doppler ultrasound of the penis + intracavernous injection (ICI): confirming the number and nature of plaques (calcified or not). With IIC, a vasodilator drug can bring erection to the consultation, which confirms the curvature and its size, and investigates the state of the vessels. This is important, because a significant proportion of these patients can connect the present and from this also depends in each case the most indicated type of treatment.
How is Peyronie's disease treated?
There is progression without care in 48%, stabilization in 40% and spontaneous improvement in 12%.
Treatment of PD takes place in the stable phase, when the deformity can no longer progress. Treatment during the inflammatory phase is aimed at pain control with analgesic medication.
During the stable phase, no oral treatment has been shown to decrease the degree of curvature. The most accepted treatments are as follows:
1. Penis stretching machines (penis extenders) and vacuum machines;
Penile traction devices, alone or in combination with intraplate treatments, manage to reduce curvature and extend the penis. The only treatment shows efficacy in acute disease, but during the day 4-8 hours (not at night), for 6 months. Although this procedure is difficult with many patients, they can save up to 40% of surgeries.
Vacuum machines apply the same principle as traction machines. 10 minutes are applied, 2 times a day, 6-12 months.
2. Intraplate treatment
Clostridium collagenase injection (approved by European and American drug agencies – FDA, EMA) is indicated in mild curves. It reduces the collagen layer material, reducing the degree of curvature up to 34%.
3. surgical treatment
It is indicated in mild / moderate curvature (<60º). Plastic surgery is done to correct the deformity. The most used techniques are Nesbit, Yachia and the 16 point technique.
This type of technique is used in almost all PCI cases.
Incision / cutting of plates and grafting techniques
It is indicated in severe curvatures (> 60º). the plate must be cut or removed and a substitute implant is placed.
In the two previous techniques (puncture and implantation) it is recommended to use traction or vacuum devices to reduce retraction and reduce the loss of penile length.
In severe deformities and/or patients with erectile dysfunction (ED) associated with no response to medical treatment, placement of a penile prosthesis is indicated. Mild deformities (<60º) cum ED, plerumque sufficit ut prosthesin ponat et exemplar, quod "exemplar" vocatur, per chirurgicam exsequatur, sine plicatione opus sit. In gravibus deformitatibus (>60º), in the same act are also necessary the cutting of the board and the insertion of the implant.
Gustavo Higueruela Gustavo is an expert in current affairs, entertainment and technology with a background of more than 20 years of experience in digital media.