What is the meaning of diet in diabetes?
Choosing certain foods when you have diabetes means your diabetes ends up keeping your blood sugar close to the normal range and reduces your risk of diabetes-related secondary illnesses and injuries. Fundamental health risk conditions that make diet essential with a fundamental role in health are:
Extremely high or low blood sugar levels can lead to acute and life-threatening conditions.
⦁ A normal blood sugar level is also important to avoid long-term damage such as nerve, kidney or eye complications.
⦁ Diabetes is accompanied by an increased risk of cardiovascular diseases, which carries special requirements that the diet should also have a beneficial effect on other established risk factors such as obesity (obesity), elevated levels of blood fats and arterial hypertension and, most Preferably, reduce the risk of morbidity and premature death.
⦁ Maintaining a normal body weight, or losing weight if you are obese, can reduce your risk of developing type 2 diabetes. Specific foods may prevent or delay its onset in people with glucose intolerance. Blood sugar levels can be improved with weight loss, especially in people with type 2 diabetes who have abdominal obesity. Diet in diabetes may also affect other risk factors, morbidity and premature death, regardless of weight loss.
Dietary Nutrients: Theory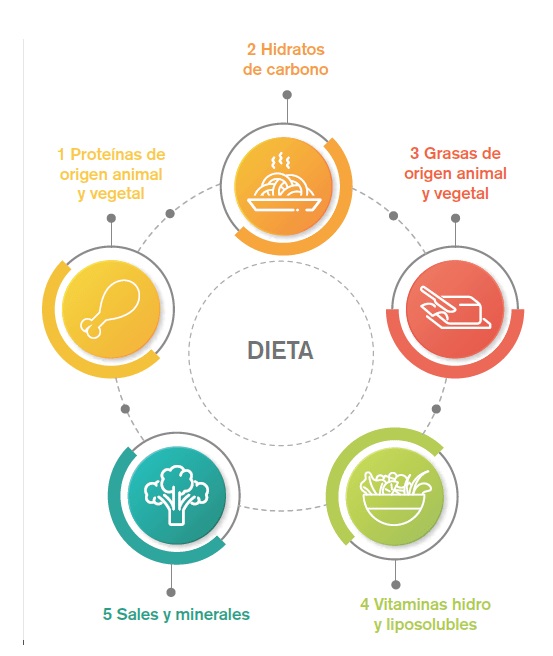 The food we eat consists of energy nutrients, such as proteins, fats and carbohydrates, and non-energy nutrients, vitamins, minerals and water. Foods are usually characterized by a certain nutrient content, for example, bread (carbohydrate), meat (protein) and cooking oil (fat). The reality is that they contain not only this nutrient, but also other nutrients such as vitamins and minerals.
Energy-providing nutrients are also available in a variety of qualities, determined primarily by their chemical composition. Carbohydrates exist in the form of simple carbohydrates; For example, sugar (sucrose), which only contains energy, and more complex carbohydrates, which may also contain fiber, whole grains, vitamins and minerals.
Proteins are usually divided into two main groups: animal proteins (meat, fish, poultry, eggs, dairy products) and vegetable proteins (legumes, grains and cereals) which contain various amino acids, along with fats, vitamins and minerals. There is a difference in acid composition. , The market for meat substitutes continues to grow. For example, one option is Quorn microprotein which can be compared to tofu and soybeans, seitan or tempeh, and allows for the creation of a wide variety of dishes and products with different textures and tastes. The name Quorn corresponds to a registered trademark by Marlow Foods, and covers a wide variety of products made from the original microprotein.
Its principle is simple: through industry, convert carbohydrates into proteins, into protein food; A process that allows in the end to obtain a biomass rich in proteins. And within the biological world, the great candidate was a fungus, Fusarium venenatum. Since then, his career in the food industry has been to develop a new source of high-quality protein that is affordable, accessible and sustainable, versatile and suitable for feeding entire populations.
Not everything has a happy ending when it comes to high-tech processed foods. Ultra-processed are still low-quality foods. The nutritional benefits of a product are not based on the absence of something, but on the total composition and availability of nutrients in its ingredients. Although food companies are increasingly promoting their products focused on healthy eating, they continue to offer alternatives to popular processed meats: sausages, hamburgers, nuggets, and prepared dishes such as curries or pre-cooked pasta. . Finally, they are a more sustainable option in that the ecological footprint of obtaining microproteins and manufacturing an industrial product is lower than that of more sustainable natural alternatives and they are not recommended for regular consumption.
But let's keep talking about the big families of nutrients
Fats are divided into saturated and unsaturated fatty acids, and unsaturated fatty acids can be further divided into monounsaturated and polyunsaturated fatty acids. This means that when the composition of energy-providing nutrients changes, attention must be paid to the amount or proportion of the energy content of each nutrient. The quality of the nutrients in the diet in question must also be taken into account, that is, how the composition of saturated and unsaturated fatty acids, as well as simple, complete, and fiber-rich carbohydrates, varies. If you increase the amount of dietary fat in the form of dairy and meat products, you increase the amount of saturated fat in the diet, which is unhealthy in the long run.
A theory of energy in diet
The energy content of a given diet acts as a function of increasing or decreasing the amount of one nutrient, which will simultaneously affect at least one of the other energy-providing nutrients. The potential health effects of diet are influenced not only by the increase or decrease of nutrients, but also by the change in nutrients. In addition, food choices may change as the ratios between different nutrients in the diet change, which may also have an impact on health. Simply put, our health is affected by what we eat, but also by what we don't eat.
vitamins and minerals
Vitamins and minerals play different roles in our body. They generally act as essential coenzymes and cofactors for metabolic reactions and thus basic cellular reactions (i.e., glycolysis, citric acid cycle, lipid and amino acid metabolism) necessary for energy production and sustaining life. help support.
Micronutrients have been investigated as potential preventive and treatment agents for type 1 and type 2 diabetes and common complications of diabetes. However, it is unlikely that we will have conclusive data until these methodological concerns are resolved. In patients with diabetes who do not have obvious deficiencies, there is no benefit or harm. In pregnant women with diabetes, vitamin and mineral supplementation has shown significant improvements in glycemic control and attenuation of inflammation and oxidative stress. Then and finally, it is advisable to adapt nutritional recommendations to each individual's nutritional, genetic and health makeup, thus increasing the potential benefits and positive results of medical nutrition therapy.