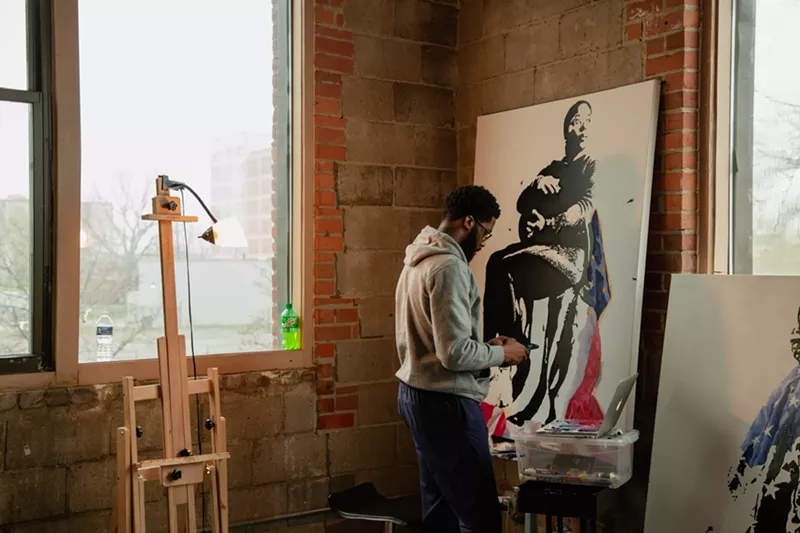 Detroit artist Jonathan Harris was thrust into the national spotlight in 2021 after his "Critical Race Theory (CRT)" painting went viral.
The piece shows a white man "erasing" prominent black figures such as Harriet Tubman and Martin Luther King with white. The message was loud and clear, and after such a powerful piece, everyone waited to see what Harris would build next.
A new exhibition titled by Harris pledge allegiance was scheduled for Thursday June 23 but has been pushed back to July 21 at the David Whitney Building in downtown Detroit.
The exciting news about the opening of the exhibition has been capped by a dramatic fall with the Irwin House gallery, which previously represented Harris.
Irvine House alleges that Harris refused to pay for services provided before and after the success of "CRT". This includes "writing and developing his own promotional material, giving the artist zero to ten months of subsidized rent accommodation, and giving him or her unlimited access to spaces to create, self-promote, do business, and socialize for approximately two years." involves doing."
The details of the feud are given in a letter published by to rollAlso sent by Misha McGlaughn, director of Irwin House Gallery Metro Times,
"All of this culminated in the whirlwind success of his 'Critical Race Theory' painting in late 2021 – which was painted, exhibited, and eventually sold on the Irwin House property, and through Misha's focused writings to the press. Brought to the attention and extensive outreach," the letter reads. Refused to pay for a plethora of services, requested, accepted and received."
The gallery also alleged that Harris paid them a commission fee from the "CRT" prints sold, and is asking for a percentage of sales from an upcoming exhibition, which was originally to be held at the Irvine House.
McGlone declined to give the exact amount demanded by the gallery, but says she spent countless hours doing administrative work for Harris, including developing her website, scheduling media appearances, and general management of her affairs. Is.
"It's almost as if he has committed a crime that we believe we are entitled to with what we helped him create and make, dare I say, not be possible without us," she explains. Metro Times, "That painting that went viral did not happen in a vacuum. This happened as a result of the continuity of work from the day I met him."
McGlone says she feels blindsided by Harris pledge allegiance As for another gallery – the Nicole Tamer Art Gallery to be precise – that will now benefit from her hard work.
"I look at the overall relationship with the artist and the success he has achieved from the level of support that was provided to him over an extended period of time," she said. "His end result is he's now turning all those resources around and has the potential to eventually benefit another gallery—a white gallery that has no stake in building that momentum."
Harris had also been renting a house owned by Irwin House, several doors down from the gallery, since June of 2021. He left in April when the lease expired and has since cut ties with the gallery.
Disputing the allegations, Harris says he paid McGlaughn for his services and feels the letter was "malicious."
"He sent me an invoice for administrative services, which was paid for," Harris says over the phone. "And I was paying rent at the time, so if that's the number we agreed on, I don't understand why it's being brought back."
He adds, "I didn't betray him by taking my work to another gallery. I'll just tell him to be honest about what [Irwin House] It was like before I got there. ,
McGlaughn explained that Irwin House had received a $3,000 check from Harris, "a portion of his invoice." She says the check came only after the press got to know about her complaints.
"I appreciate the gesture, the timing is ambiguous, but it's only about 1/6 of the amount we're asking," she says. "He likes to state that he paid his rent, but I have to constantly remind him that his rent was subsidized and initially unpaid. He paid about $2500 for five months. , Utilities with full governance of the house, full use of the gallery, full use of all our resources and support with everything they do.
Irwin House is asking for five percent of sales from the "CRT" print, to which Harris says he never agreed.
"Anyone has the right to accept or decline a contract and I don't like how it's being put on hold as if it was on the contract," he says. "If I don't agree with other things, of course, I won't sign it."
He declined to go into detail about what was included in the said contract. He also does not feel that Irwin House should charge any commission fee from his upcoming show.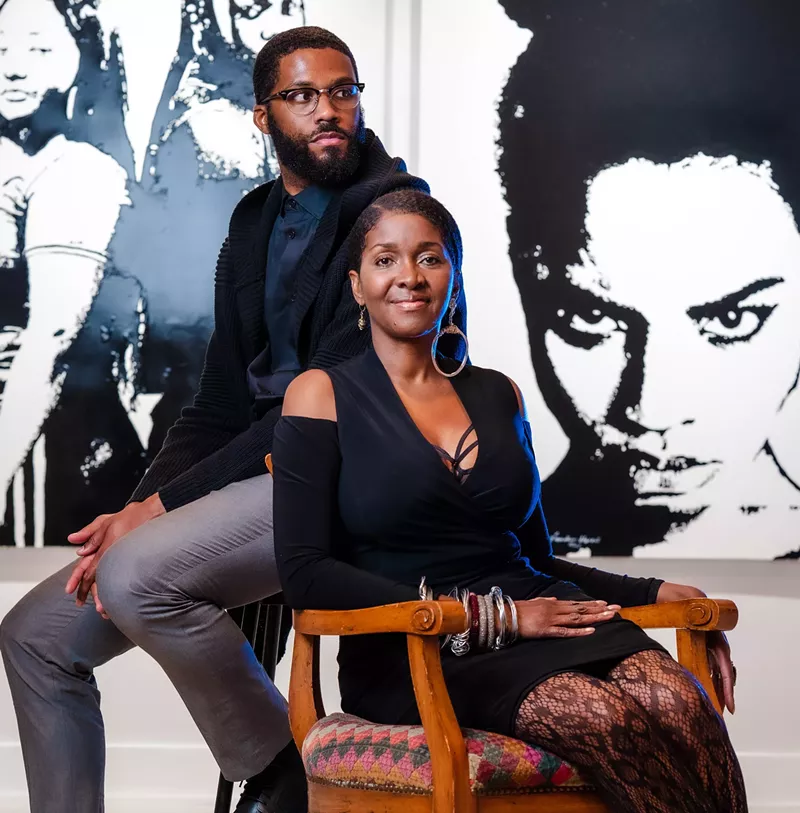 "She Wants A Big Piece Of Me" pledge allegiance body of work because he found out I was going to show it somewhere else," he says. "How do you say you want a piece of sale from a body of work that hasn't been fully finished, not shown, not sold? I don't even have the price for them myself, but he has it." High is the four-digit number she believes she deserves. It tends to show you the kinds of things on that invoice. That's stupid."
McGlone says he owes a percentage of those sales because most of the work was built on the property of the Irvine House and there was an understanding that the show would be held there.
"First and foremost, his follow-up show to 'Critical Race Theory' was expected to be here and I kept those dates open to him," she explains. "Those are the dates we could have given another artist or brought in revenue from something else. He never told me that he was planning to move it to another location and that this is a revenue opportunity he took away from us.
She adds, "All that work was created here. Here it was promoted. Here it was photographed. If you want to come in and do video shoots and photoshoots for your body of work, those are things people pay us for. These are the things he got for a fee. So, yes, I feel entitled to it."
McGlown admits that the initial working relationship between Harris and Irwin House when he visited the gallery in 2020 was informal.
"I shouldn't have worked a second without formal agreement," she says.
While it is clear that neither Harris or McGlaughn wants to continue a professional relationship due to complaints (which both declined to specify), the brawl felt like an episode of "he said, he said", in which no Neither side seemed to move.
Does an artist benefit from the gallery that helped build his professional career behind the scenes, even if he is no longer with said gallery? McGlone says it's a matter of principle.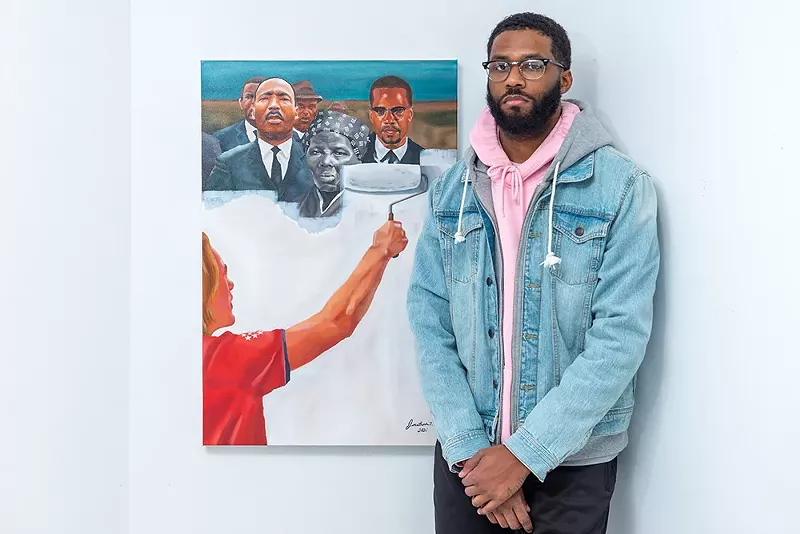 "The bigger than this one relationship between a gallerist and an artist that has gone bad is how are we going to work here as black people and with so many businesses in dire need of all our support," she says. Huh . "Is this really how we're going to do each other? A city like Detroit doesn't have as many black businesses as there should be, so we really need to be more deliberate about how we're supporting each other." Or not supporting each other."
Although it seems counterintuitive given what happened, both Harris and McGlone insist that there is no grudge against each other. Harris, however, is hurt by the idea that he is somehow inflicting black trauma by working with a white gallery.
"I was given a chance," he says. "I didn't come to this gallery because it's a white gallery. It's all about the location and the foot traffic. If the black gallery was there, I would have worked with them too. There are a lot of people walking around the David Whitney building and If they see this Black Art that way, they will come in and look at it and question their own privileges and their freedom.
Harris just wants to move on with his career, which he hopes to do pledge allegiance,
pledge allegiance Will display 12 illustrations based on photographs with the subject holding the American flag. One painting depicts a black man with a flag wrapped in handcuffs.
Harris explains, "I chose 12 different individuals, male and female, white, black, Asian, Hispanic, Chaldean, and I gave them a flag and asked them to show how they felt about being American. Huh." "The whole premise is that everyone is pledging their allegiance to the flag, saying that I am here and I want to be treated as an American, to be loved as an American, a To be treated with respect and dignity as a human being."
Like "Critical Race Theory," the message is heavily political.
"I want black people to know that we are powerful, that we are brothers and sisters and that we have to treat each other with grace," he says. "And I want white people to know that their ancestors did things that still affect black people today. They always say you have to pull yourself up by your bootstraps, but for a lot of us Don't even have shoes. I just want them to understand that this system is holding people back and we are seeing it manifest every day. [Pledge Allegiance] Changes a person's heart, a person's mind or soul who doesn't look like me, I'm done.
pledge allegiance is being presented by Nicole Tamer Art Gallery in the David Whitney Building; 1 Park Avenue, Detroit. The show opens with reception from 6 pm to 9 pm on 21st July and will go on till Labor Day.
Stay connected with the Detroit Metro Times. Subscribe to our newsletters, and follow us on Google News, Apple News, TwitterFacebook, Instagram, Reddit, or TikTok.