December 30, 2022 – 01:01
In recognition of the completion of professional bromatology practices in the previous patron festival.
In the Microcinema of the Municipality of Palpala, with the presence of the directors of the Faculty of Agricultural Sciences and municipal officials, certificates were distributed for the work of 18 advanced university students of the Bachelor's degree in Bromatology of the National University of Jujuy (Unju) . who practiced professionally during the patron saint festival in October in honor of the Virgen del Rosario de Rio Blanco and Papaya. Activity that is part of a mutual agreement made between the executive and the faculty.
The management, headed by Mayor Rubén Eduardo Rivarola, works in a clear and joint way with community institutions with the aim of directing the resulting benefits in the field of social and community activity. In this sense, advanced students of bachelor's degree in Bromatology of Unju were recognized, who carried out their practices.
It should be noted that 18 students participated in this action during each Sunday of the religious activity.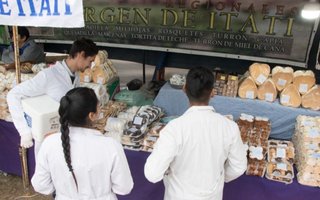 In this line, Graciela Simón, secretary of the University Extension of the Faculty of Agricultural Sciences of Unzu, pointed out that "for many years we have been working in a clear way with the municipality of Palapala, with the activity of professional practices for advanced Rio Blanco and Papaya degree students in Bromatology in the framework of the patron saint celebration in honor of the Virgin of.
This activity has a double benefit for both the university and the municipality, taking it as a training in an opportunity where they will be able to get tools for their future professional activity," he commented.
For her part, Lila Jiménez, coordinator of the bachelor's degree in Bromatology, explained that "there are a total of 18 students who participated in professional exercises during the Rio Blanco festival. They carried out control activities, food quality controls at the stalls, storage , processing, sales, food conditions and expiration dates. We work in agreement with municipalities and institutions in Jujuy Province, who request the professional cooperation of our students," he said.
Finally, the reference of the chairman expressed that "from the municipality we are already working on this activity, receiving formal requests for participation from the students, we make a list, based on the progress of the boys One extension, the municipality organizes a training so that they know how the municipality works and from there we carry out specific activity," he concluded.