In the early hours of Friday, November 18th, A boat carrying some 30 irregular Ecuadorians sank in the Pacificnear Puerto Aristas in the state Chiapas, Mexico,
29,859 Ecuadorians have been deported from the US.
read more
"My wife, a son and two brothers along with other Ecuadorians escaped my family because they were able to capture gallons of gasoline that were floating. But one daughter drowned (9 years old) and another missing (5 years old)prompted Luis Elvis, an Ecuadorian migrant who arrived in the United States just 10 months ago.
Ecuadorians started the journey on October 27, they did it on foot, they crossed it ColombiaThe darien strait, and throughout Central America until reaching Chiapas. The purpose of going to the water was to avoid tighter border controls.
"The shipwreck happened around 2 in the morning, and they clung to that plastic container for several hours, until some fishermen helped them to land on some island, then they found my daughter's body, but it was before He was already swollen, they wanted to take him away." But they couldn't because it had already started to decompose, they had to throw it away and bury it, who knows where my daughter is," Elvis lamented.
Once on the ground, the people were counted and they found 8 Ecuadorians missing., many of them children. Not much information is known about the other Ecuadorians.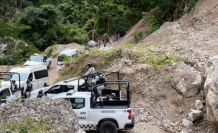 Ecuadorians rescued from a secret camp in Mexico
read more
"Currently these Ecuadorians are in urgent need of consular protection because they are in a completely vulnerable situation, without documents, in a state of shock and with strict Mexican immigration officials, in two different states, a large group seeking asylum. are in oaxacaand in a hospital in Chiapas" 1800 was highlighted in the statement of the migrant organization.
William Murillo asked the Chiapas State Attorney General's Office to initiate related procedures and to find out about the fate of the Ecuadorians who disappeared in this shipwreck. He also urged Ecuadorian families to avoid irregular travel because of the danger that has become apparent.