A western North Carolina job fair promoting employment opportunities with salaries starting at $18 an hour revealed an ongoing need for local businesses to hire workers.
Barbara Darby, one of the organizers of the job fair, told The Epoch Times, "This job fair is being offered due to outcry from local employers from all regions who are begging for workers."
Darby, regional business services coordinator for the Mountain Area Workforce Development Board (MAWDB), an employment center in Asheville, North Carolina, said the job fair involved 70 companies from seven surrounding counties.
In partnership with the Asheville area, Brevard/Transylvania, Henderson County, and the Madison County Chamber of Commerce, MAWDB hosted an "$18 per hour and beyond" job fair on Tuesday, August 10 at the Western North Carolina Agricultural Center in Fletcher. North Carolina.
"We're trying to provide an opportunity for both the job-seeker and employer populations in our area," Darby said.
In North Carolina, a maximum of $350 per week can be withdrawn for unemployment.
Enhanced federal benefits are $300 per week. Those benefits expire in September.
According to a report by the Bureau of Labor Statistics, there were 10.1 million job opportunities in the country at the end of June.
According to an August 9 press release from the US Chamber of Commerce, that number is a record amount of job openings.
In addition, the Chamber reported that 10.1 million job openings are 590,000 more than in May, which was a record in itself, however, the growth of openings is "increasing."
"Businesses have had 3.3 million openings since the beginning of 2021," the chamber explained in the press release. "Openings continue to rise because job-takers are simply not keeping up with openings. The job dropout rate in June stood at 2.7, which is also historically high.
The chamber reported that there were 9.5 million unemployed workers in June, down from the peak in April 2020, when more than 23 million were out of work.
According to the Chamber, there are now 589,000 more job opportunities than unemployed workers.
A New Experience for Veteran Business Owners
"I've been a businessman for 40 years, and I've never seen it so bad before," Bruce O'Connell told The Epoch Times at the job fair.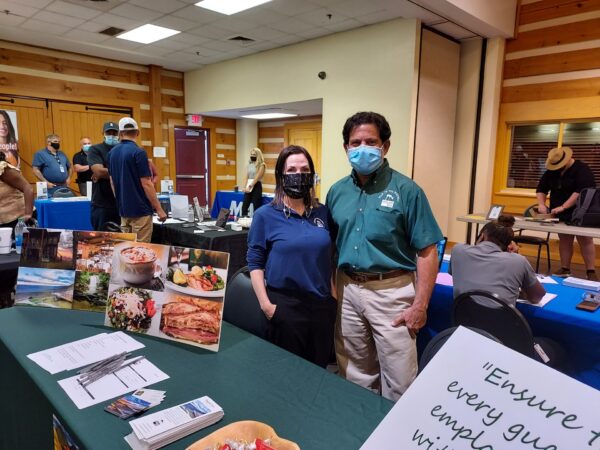 O'Connell owns and operates the Pisgah Inn, a restaurant and resort located at an elevation of 5,000 feet on Mount Pisgah within the Pisgah National Forest off the Blue Ridge Parkway.
"We can't find anyone to do the job," O'Connell said.
People fill out applications, get hired, then disappear, O'Connell explained.
"It's been going on since unemployment benefits increased and free money started, and it's certainly related to the start of the pandemic, but certainly people now have incentives to come to work. No, and I'm afraid people are getting out of the habit of working out," O'Connell said.
With the federal and state government "paying extra money," he said, apply to potential hires, work for a short time, then leave to receive benefits.
"The whole working mentality seems to be missing in this country," O'Connell said, adding that it's not even about pay rates.
"Look what we're doing here," O'Connell said. "It's an $18 and beyond concept, and nobody's getting any action."
O'Connell said the reason is "partly political", adding that he does not understand why anyone "wants to weaken the country like this."
O'Connell said the economic climate has prompted O'Connell, a Republican, to run for Congress against Rep. Madison Cawthorne (RN.C.) in North Carolina's 11th Congressional District.
O'Connell said, "I'm running as a businessman with the view of a businessman, not a politician." "I'm not going to take the pay and I'm out to commit to more than three terms of Congress, so I'm out."
A believer in small government, O'Connell said he also believes in "common sense and financial responsibility".
"I've run a business in a national park under contract with the federal government for over 40 years," O'Connell said. "I have experience not only with the business-side of things, but also dealing with the National Park Service, which is a part of the Department of the Interior, which qualifies me, and I want to take that approach to Washington."
not business as usual
Lasonde Pappas & Company, Inc., a juice maker in Hendersonville, North Carolina. K production manager Scott Ricard was offering a $1,000 sign-on bonus at his company's booth.
He told The Epoch Times that "in more than 30 years of construction," he's never seen a workforce situation like the current one.
"It's definitely not business as usual," Ricard said. "As you can see, incidents like this don't happen when employees are readily available and actively watching."
As for the reason, Ricard speculates that there could be a number of factors, from unemployment benefits to a lack of childcare options, to a parent who has to stay at home.
Jane Grabow, a human resources director at Snow Creek Landscaping in Arden, North Carolina, said Snow Creek is offering a $400 sign-on bonus that will be paid within the first 90 days of employment, plus a $550 referral bonus . In the form of incentive programs, such as appreciation days consisting of cookouts and raffle giveaways "to help reduce the stress of younger employees."
"From California to the East Coast, I've been doing this for 20 years and I've never seen anything like it before," Grabo said. "I've seen it bad, but I've never seen it so bad."
Grabo said the "running theory" of the workforce shortage is that it is the result of a pandemic shutting down the economy, however, other factors may be why, over time at home, people reconsider what their purpose is. and made changes in his life and career.
"And that's great, but harmful to the economy," Grabow said, adding that he thought stimulus checks "and other payments" had hurt the economy "as far as getting people back into the workforce." "
Legislation
A bill was passed in the North Carolina General Assembly that would give a $1,500 re-employment bonus to workers returning to work who accepted jobs 30 days after the bill became law.
Employees who accept the job for 60 days after the job is done will receive $800.
The money would have been provided through the federal Pandemic Unemployment Compensation Program if the US Department of Labor had approved it, but the bill was not signed by Gov.
In a June press release, Republican NC Senator Chuck Edwards said the restaurant and housing industry was "devastated" by a staff shortage.
"But they are not alone," Edwards said. "Every industry has told me they are very concerned that they can't hire the people they need. Manufacturers are now sending jobs overseas, and we see prices skyrocketing for almost everything. "
.
This News Originally From – The Epoch Times