The rally will be held at Place du Canada, near the intersection of Peel St. and René-Lévesque Blvd., at 5:30 pm on Thursday.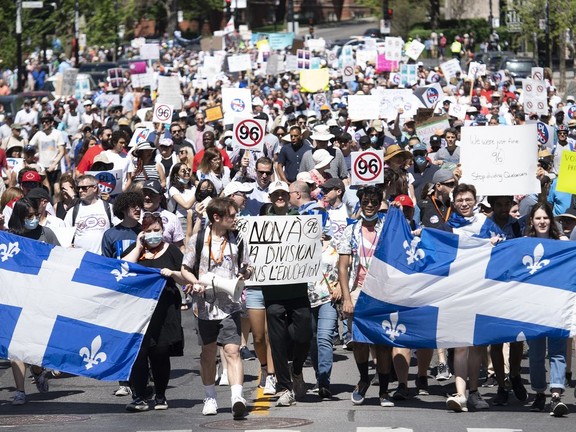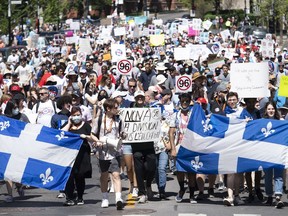 Article content
Leaders of the province's English-speaking community vowed to speak loudly and often against Bill 96, which was passed in the National Assembly on Tuesday.
Article content
They have planned a rally for 5:30 pm Thursday at Place du Canada near the intersection of Peel St. and René-Lévesque Blvd. downtown.
The law, which will be enacted in phases over a period of three years, aims to update and strengthen the French-language charter, known as Bill 101. The law was slammed by anglophones, allophones and Indigenous communities, who are concerned about sweeping changes that will affect immigration, education, health care, businesses, municipalities and the judicial system. They also worry about increased powers given to the province's language watchdog to carry out search-and-seizures without the need for a warrant, among other measures.
"We are very concerned about the erosion of rights of all Quebecers that were introduced by a government that seems to care more about scoring political points for the upcoming election than it does about good governance," said Matt Aronson, a spokesperson for the Quebec Community Groups Network. "We hope citizens will recognize that this bill is bad law and we hope provincial and federal politicians will do something about this bad law before it goes any further."
Article content
Aronson said Thursday's rally is the first of many actions, the community is planning. The rally is being organized by the Quebecers Against Bill 96, which was created by the QCGN, English Parents' Committee Association, Quebec English School Board Association, and Quebec Federation of Home and School Associations.
Premier François Legault has defended the legislation, calling it "responsible and moderate," and said the government had to take action to protect the French language.
The city of Cte-St-Luc has also sent a notice in its newsletter to citizens Wednesday urging them to join the protest.
"We've made our position very clear," Mayor Mitchell Brownstein said. "We're very opposed to the bill and we have great concerns for the residents, not just of Côte-St-Luc, but everywhere, including francophones."
Article content
The Mohawk Council of Kahnawake issued a statement Wednesday evening vowing to fight the law, which the council said shows a "complete disregard towards all Indigenous as distinct and living peoples in our traditional territories."
The council said it is developing plans to fight the implementation, and will make those plans known in the near future.
"We are not going to lay down while the Quebec government takes another stab at pulling our futures out from under us," Grand Chief Kahsennenhawe Sky-Deer said. "We are prepared to keep fighting the imposition of this legislation in any way our community feels necessary. Quebec's actions to proceed with the passage of this Bill despite our noted concerns have placed our relations into an extremely strained state and forced us to consider whether discussions to date were in good faith.
Article content
Thursday's rally will be the second demonstration against the law this month. A march ahead of the bill's adoption drew thousands of people into downtown Montreal on May 14.
In the meantime, CEGEPs will begin the painstaking work of preparing for the implementation of the law, which will come into effect for the academic year starting in 2024, while caps for enrollment take effect for the 2023 school year.
"We need to start planning, pretty much right away for the implementation of this bill," Vanier College director general John McMahon said. "It's a very complex process."
The implementation of the law is complicated for CEGEPs, because there will be students with two different requirements: French and allophone students who must take three of their core courses in French, and anglophones who can opt to take three core courses in French, or three additional French second-language courses.
That means changes must be made to upwards of 30 programs, which will require changing the course requirements, as well as the teaching staff.
"We will continue to express our concerns (to the government) for the implementation date," McMahon said. "Two years may seem like a long time, but in our view, it's not sufficient. We had been lobbying to get that date changed to at least 2025."
Tap here for more on Bill 96

With Bill 96 adopted by National Assembly, Legault preaches Quebec unity