Research published by the Banco de la Republica develops the development and financial burden of Chronic Noncommunicable Diseases (CNCDs) and how they can affect the economic burden of the country's health sector.
Information collected from the Health Information System (RIPS) includes cancer, diabetes, cardiovascular disease, chronic respiratory disease and chronic kidney disease, from 2010 to 2021.
You may be interested: drug consumption after the Covid pandemic
How are CNCDs made?
The evidence shows that over the years the number of people seen in clinics has increased for all CNCDs, with cardiovascular diseases being the biggest, as we can see in the following graph:
Cardiovascular diseases share risk factors with other diseases such as cancer. In this sense, people with chronic respiratory diseases are more likely to develop heart diseases. But chronic kidney disease is the one with the highest annual increase (27%) between 2010 and 2019, followed by diabetes (14%) and cancer (14%).
Women are the ones who have the most consultations between 2010 and 2021, 61% of patients are women, 38.9% are men and 0.1% others. During this period, 60% of cancer consultations correspond to women, 59% to diabetes, 63% to cardiovascular disease, 54% to chronic respiratory disease and 54% to chronic kidney disease.
The research indicates that although consultations are mostly government sponsored, in recent years there has been an increase in affiliates who consult with government assistance.
The share of cancer patient consultations in government support went from 21.8% in 2010 to 35.1% in 2019; diabetes increased from 25.7% to 38.4%, for cardiovascular disease from 29.6% to 40.6%, for chronic respiratory disease from 33.4% to 45.% and for chronic kidney disease from 20.1% to 26.2%, respectively.
The table shows that in 2019 the departments of greatest concern to CNCDs are Antioquia, Risaralda, Valle del Cauca, Caldas and Bogotá. However, there are departments that provide an annual increase in consultations for these diseases, between 2010 and 2019, higher than 20%.
In terms of hospitalizations and accidents, the number of people treated showed an increasing trend until 2019 in all CNCDs, cardiovascular diseases and chronic respiratory disease. Between 2010 and 2019, people in the accident season and hospitalizations have grown at an annual average of 9% and 16%, respectively.
In relation to the distribution by sex, in the time resolved, the demand services and hospitalizations handled more than men, 55% and 52% respectively. However, differences were observed between CNCDs, as far as chronic kidney disease, which is on average, 13 percentage points higher in men than in women.
Who uses the health system?
The use of the system by personnel indicates the demand that exists, which, when increased, represents a financial burden for healthcare. Between 2010 and 2019, consultations for cancer cases increased from 2.9 institutions to 4.0 institutions, and for chronic kidney disease, from 2.6 institutions to 3.2 institutions.
Regarding procedures and hospitalizations, those who used the services the most were patients with cardiovascular disease. Meanwhile, in the emergency room, there was an increased concern for chronic respiratory diseases, from 1.38 visits to 1.43 visits.
What was the combined cost of the CNCDs?
To estimate the health system costs associated with CNCDs, information from the RIPS, tariff manuals, and the sufficiency base were drawn as a basis. The total cost associated with CNCDs was then projected through 2003 to determine the future financial burden for the health sector.
Expenditures per person, which are increasing until 2018, will decrease in 2019 and increase from that year.
Projections to 2030 of Chronic Noncommunicable Diseases
The total costs in the 3 missions projected the study; first, from the increase of the people; second, taking into account more than the inflation that is estimated in economic expectations; and finally, an increase of 0.456% was added to the technical change corresponding to these variables.
It was concluded that the total costs of CNCDs attributed in trillions of pesos in 2021, without considering medicines, $9.3 trillion in mission 1, $9.8 trillion in mission 2, and $10.2 trillion in mission 3 from 2030. In 10 years the total costs would grow by about 40%.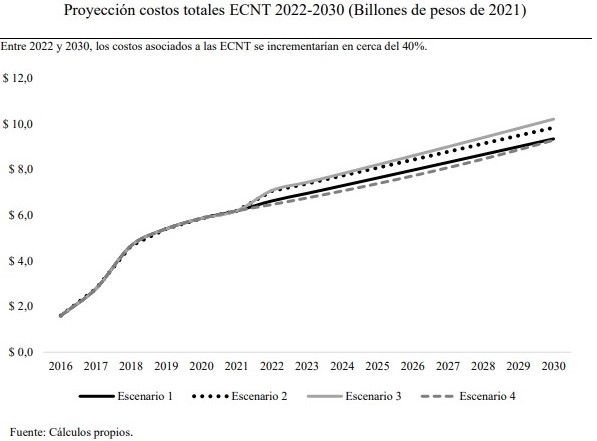 You can view the entire document below: