Peruvian pride! The National Library of Peru (BNP), an institution that is part of the Ministry of Culture (Mincul), inaugurated at the "Martha Fernández de López" Public Library Station (EBP) of RIMAC, the exhibition "100 years of Victoria Santa Cruz. Humanity Heritage for", where a journey through the life and work of one of the great women of our culture is proposed.
During the opening ceremony, Fabiola Vergara, institutional head of the BNP, confirmed that "with this exhibition it will be possible Learn more about Victoria Santa CruzA multifaceted and visionary artist who led a resurgence of Afro-Peruvian arts and is a reference for women's assertions.
"This exhibition was made possible through the Ministry of Culture's Directorate of its Policies for the Afro-Peruvian Population, the French Embassy and the Reparcute Cultural Association, Afrocultural Entertainment, which joined forces with the National Library", he narrowed down.
He added that "this exhibition is a meeting place, which also allows us to recognize the relevance of public library stations as part of the community fabric, where information and books are brought to the public And also makes reading possible.
The mayor of Rimac, Nestor de la Rosa, for his part specified: "With this exhibition our district promotes more culture; if we bet on culture Also through sports and education, we will have a better country; Our city has a great heritage and deserves to be known by all".
were also present Letitia Quilichini (Consultant of Cooperation and Cultural Action of the Embassy of France), carla salazar (Cultural and Linguistic Attaché of the French Embassy), Julie Guillerot (curator of the exhibition), Claudia Cabezas (attributed to "Martha Fernandez de Lopez" EBP from remake) and Ruth Alejos (Coordinator of EBP of BNP).
Similarly, a A group of older adults from the district, and students from the symbolic Ricardo Bentin School, Elementary and Elementary Level.
The exhibition is given within the framework of the "BNP a tu encuentro" program and is part of the recognition that Mincul, the BNP and the French Embassy in Victoria Santa Cruz undertake. This remake will contain EBP "Martha Fernandez de Lopez" by June 1. (Avenida Felipe Arancibia, ex Tarapacá, Block 2 s/n), Monday to Saturday, 9:00am to 6:00pm.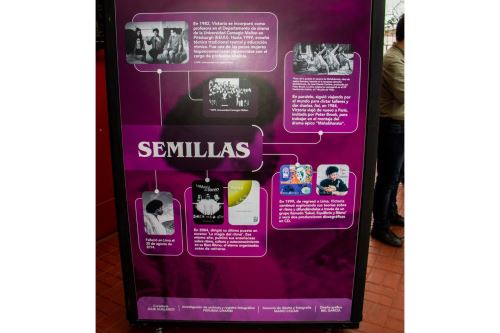 About his biography
Victoria Eugenia Santa Cruz Gamarra was born in Lima on October 27, 1922, Composer, Choreographer and Designer. Considered one of the main scholars and disseminators of Afro-Peruvian art. Daughter of Nicomedes Santa Cruz Aparicio (writer and playwright) and Victoria Gamarra (zamacueca and sailor dancer). older sister of Nicomedes and Raphael Santa Cruz.
He entered the world of tables Dance and Theater Group "Kamanana" (1958). She received a scholarship from the French government, traveled to Paris to study at the University of Theater of Nations and the Higher School of Choreographic Studies, where she appeared as a producer and designer of costumes.
He returned to the country and founded the company "Teatro y Danzas Negras del Peru" in 1968, performing in national theaters as well as on television. The group represented Peru in the celebration of the 1968 Olympic Games in Mexico. Receive a medal and diploma for your work.
In 1969 he was appointed director of the "Centro de Arte Folklorica". Once out of office, he served as Visiting Professor (1982), Adjunct (1983–1989) and Life Professor (1989–1999) at Carnegie Mellon University (United States). He has led workshops in Russia, Israel, Canada, Denmark, Spain, Italy and Argentina. He died on 30 August 2014 in Lima at the age of 91.