Vives Saint-Laurent Interior Design Studio, established in 2018 and specialized in the design of residential and commercial spaces, has been commissioned to renovate this 290-m² house located in Saint-Bruno, in the South Coast. of Montreal. Their approach combines aesthetics and functionality to create quality, simple and well-organized spaces, and seeks to listen to the needs of their clients in order to create efficient and comfortable work areas.
Set in a picturesque setting with winding streets, the Montpellier residence was built in the late 1960s by a local architect. Today, it is part of Quebec's cultural heritage as an iconic example of mid-century aesthetics. When the clients approached the Vives Saint-Laurent team, they expressed a desire to achieve a space that reflected their identity in a way that was both timeless and unique. Furthermore, as an additional request, they were also asked to live in the house for a few days to better understand its environment and functionality.
The main challenge for the design team was to achieve a substantial change that would preserve the architectural aesthetic established by the home's original architect. "This modern residence, characteristic of North American bungalows, stands out for its large play and its clean lines," he explains from the studio. The project mainly focused on the renovation of the daytime areas: lobby, kitchen, dining room, lounge and bathrooms. On the other hand, several improvements were also made to enhance the feeling of comfort and convenience, such as opening the kitchen to give a view of the courtyard and increasing the penetration of natural light into the house.
Stone Detail Photo: Alex Lesage
The improvements began with the lobby, which adjoins the property's patio, defining the division between day and night areas. As for the floor of this room, the slate stone was restored to maintain its natural and timeless texture. It's also important to highlight the fact that they chose to keep the skylights and the dark wood floor covering in order to respect the original finishes of the house. In addition, he created new openings in the rear façade to illuminate the residence while offering views of the surrounding nature.
The end result has been a passionately renovated home, designed for a family of four, that perfectly preserves mid-century charm and style while enhancing and enhancing the interior spaces.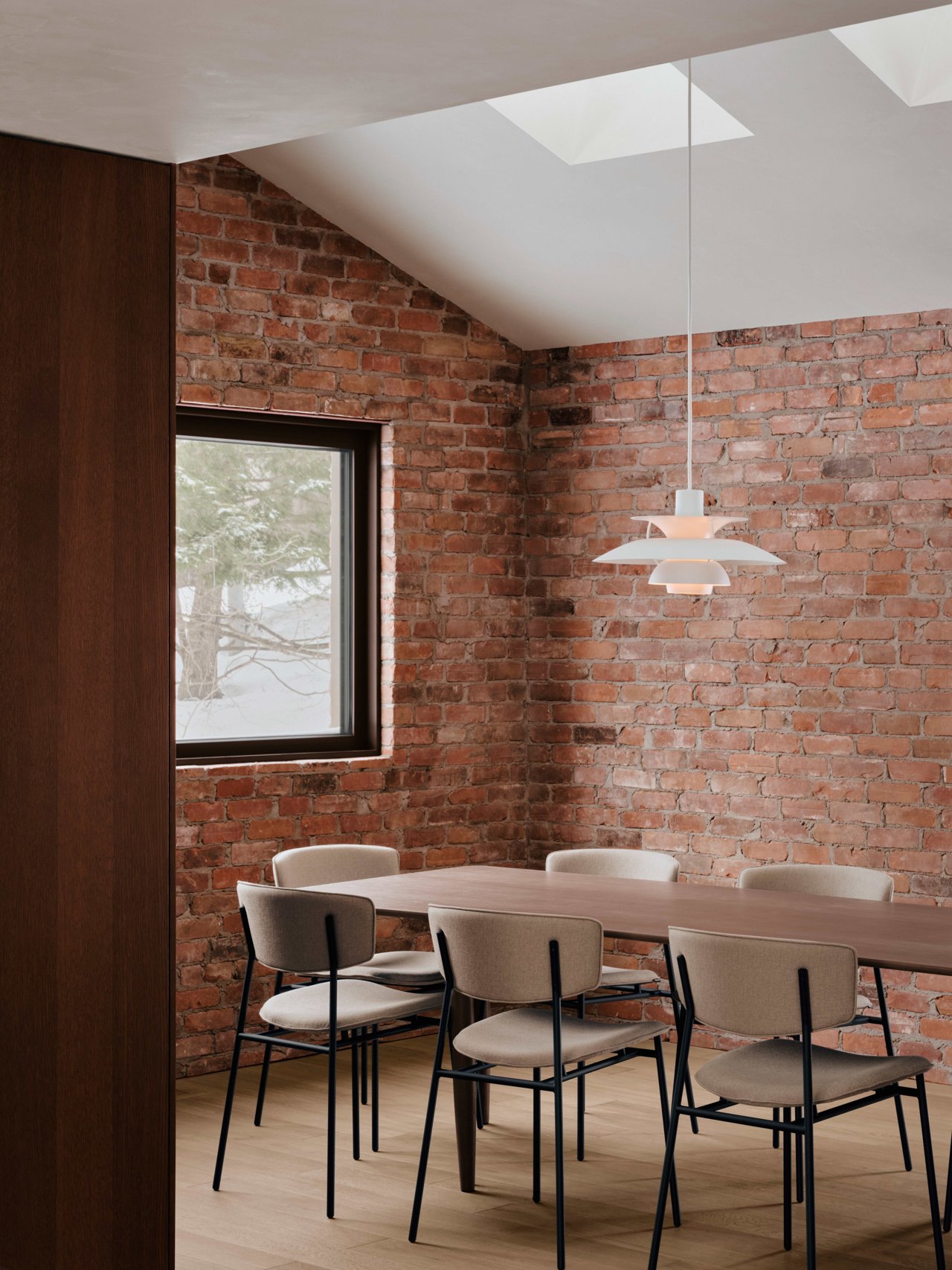 Dining room with brick wainscoting and natural oak floors. Photo: Alex Lesage