In 2020, only 28% of youth between the ages of 15 and 29 were considered part of the economically active population.
Among girls aged 3-5, Disney (29%) is the clear winner, while Barbie (17%) is a close second.
9 out of 10 Mexican children and teens trust a brand.
In Mexico, teenagers are an important demographic group and their consumption of products can be influenced by many factors, such as their social environment, their income level and their personal interests. Some of the most popular products among teens in Mexico include:
Technology: Smartphones, computers, game consoles, and other electronic devices.
Fashion and beauty: clothing, footwear, accessories and personal care products.
Fast food and drinks: Junk food, soft drinks and other processed foods.
Entertainment: Movies, music, video games, and other entertainment media.
It is important to note that the consumption of these products can have a negative impact on the health and well-being of adolescents, therefore it is essential to encourage conscious and responsible consumption.
Kids Corp presents Top Brands Report 2022. The report on the U18 segment and its brand preferences in Mexico was created with data and insights from Askids, the platform that annually surveys more than 70,000 children, teens and their parents in the US.
"The impact in households and the purchasing power of the U18 segment is on the rise. Parental persuasion in categories such as toys, entertainment, clothing, shoes and fast food is over 70% in LATAM. Similarly, more than 40% of children and adolescents have their own money, and they use it mainly for food and drink, buying clothes, toys, and going out with friends. In an increasingly connected world, 86% of children and teens in Latin America have access to a smartphone, and are in constant touch with brands, creating favorite and trusted links. Both functional and emotional experiences become relevant and important when building these links; They feel drawn to brands that entertain them, have quality, and that make them happy," said Gaston Stochik, Chief Data Officer at Kids Corp.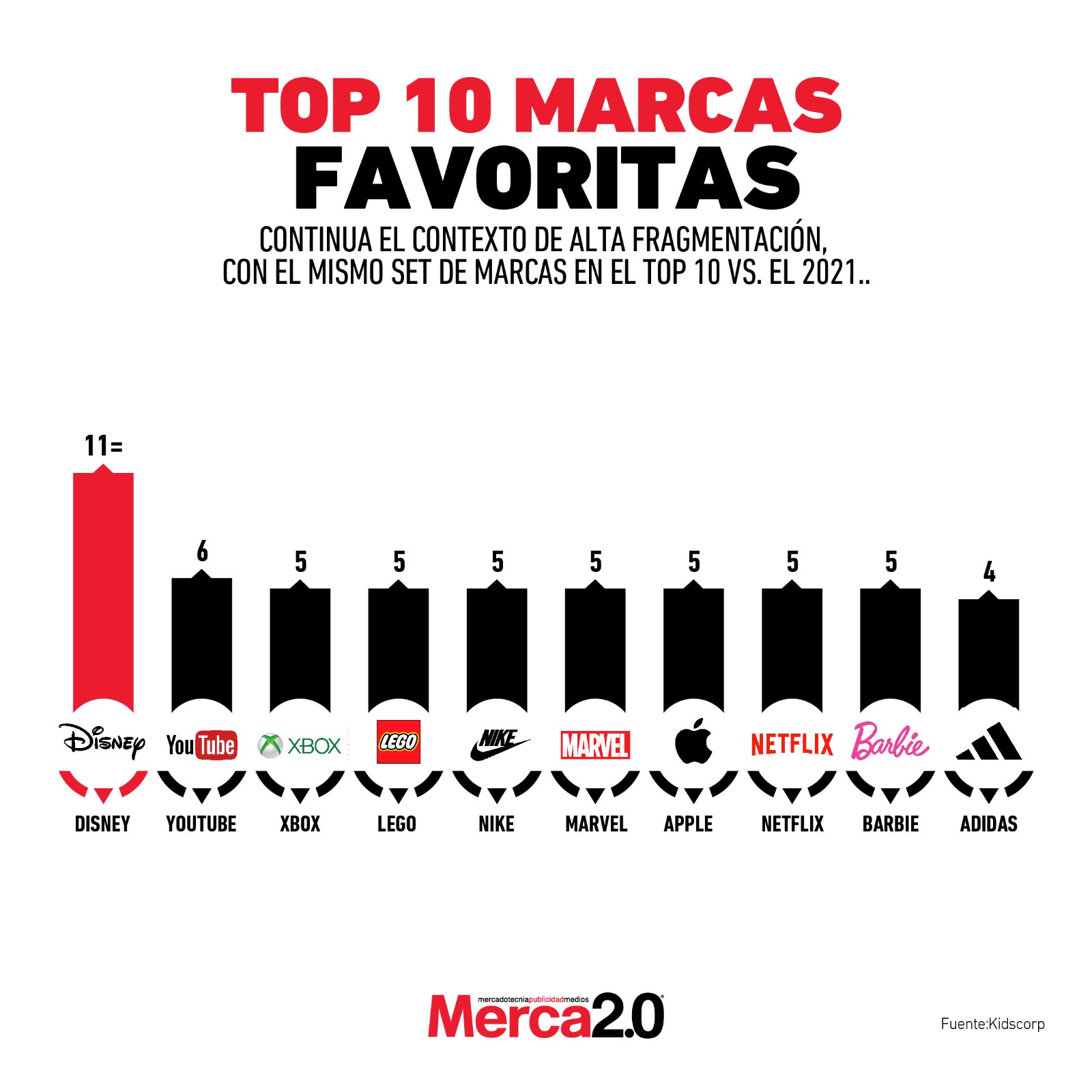 Among children, the favorite children's brands are:
xbox
lego
Miracle
Among girls, brand preferences are:
barbie
disney
in the range of technology The brands that ranked first were: Samsung with 25 percent, followed by Huawei with 11 percent and Apple with 10 percent. While Adidas (17%), Nike (27%) and Converse (12%) remain the same as of 2021, lead the category Shoes, in the range of Entertainment Disney follows with 41% and YouTube follows with 24% and this time around Marvel (17%) shares a spot with Netflix (17%).
According to Kids Corp, some highlighted The most important of the study are: Advertising: 78 percent of Mexican children saw their favorite ad in a format
online, and 4 out of 10 ask their parents to buy the products they see in ads. Plus the reasons why they choose them: The things most valued by children and teens in Mexico are that brands are fun (39%) and that they make them happy (33%). They also value quality (25%).