at the weekend, there was CINCO deaths due to Covidwho were older adults who did not have their full immunization schedule, for which the Secretary of Health, José Antonio Martínez, released the report on an active population of 1440 people from 57 municipalities and a total of 33 hospitalized patients, of which five required attention from a mechanical ventilator,
the dead were adults over 60 years oldwho had other chronic diseases and who they didn't have a full vaccination schedule, Therefore, they pointed out that despite the fact that the cold front will soon dissipate, the low temperatures may affect the most vulnerable populations, so you shouldn't let your guard down In taking care against the virus, which is serious for those who do not have an optimal health plan.
multiple organ donation
The Health Secretary also revealed that today, at the General Hospital in the South, a a kidney transplant for a 43-year-old man who need kidney To continue with the good quality of life, charity The multiorganic was from a patient who was brain dead due to a car accident, at the hospital that day.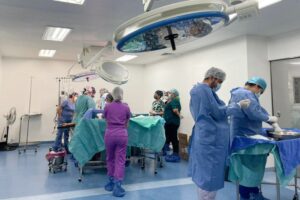 "The patient who received the kidney at the Hospital General del Sur, originally from Tezutlán and having limited financial resources, was treated six years ago with a diagnosis of kidney failure," said the secretary.
Antonio Martínez García specified that the multi-organ procurement was carried out by the specialists of the said hospital. Donated organs were sent to the following institutions: the other kidney to ISSSTEP, the liver to the "Salvador Zubiran" National Institute of Nutritional and Medical Sciences, and a cornea to Cholula Hospital for analysis.