The old refractory brick kiln is operational at more than two hundred degrees. First came the consignment of artisan sweet bread and then it was the turn of biscuits. Cheesecake, one of the most famous treats at Florida Garden Confectionery, "She is an icon. It should not be confused with cheesecake or ricotta cake as they are completely different", explains Javier Fernandez, its manager. times notableVisiting the production area.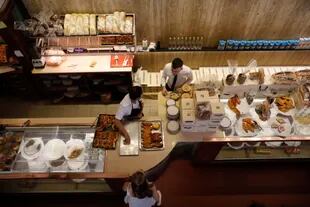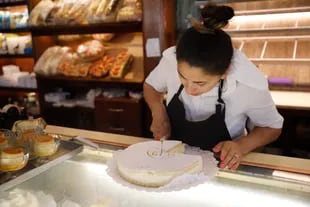 The formula is simple: An airy sponge cake, a soft cream cheese filling filled with a handful of raisins (and some mystery), another layer of sponge cake, a dusting of powdered sugar and the inevitable seal on fire with the initials of the house. Over the years, it became the flagship cake of "El Florida," as the regulars call it. "They marked many generations. The recipe is always the same. Therefore, There are customers who wouldn't change it for anything", he assures and begins to recall the origins of the already considered classic from Buenos Aires.
History of Florida Gardens It begins to be written in early September 1962. It was always located at the same corner: Florida and Paraguay. It is no coincidence that its famous slogan (present on the napkin) is "identity of a corner". Since its opening, it has surprised customers with its variety of artisanal pastries: croissants, English puddings, Florentines, palmaritas and cakes with strawberry, lemon or even chocolate mousse. "The one that ignites the passion of the crowd and is on the podium is always the cheesecake," says Fernandez.
It was his father Don Jovino, a late immigrant, who along with other partners founded "Florida" With a completely new architecture for the time: the central staircase, a large marble mural and a high bar. "My father worked as a woodworker in a sawmill in Spain. At the age of 25, he came to Argentina and a brother suggested that he engage in gastronomy "so as not to starve." Years later, with other partners, he opened this bar", recalls the man in charge of this legendary Buenos Aires redoubt for almost 28 years.
Cheesecake became a star right from the start. Don Jesus Cerezo and Pedro Aguirre were in the pastry field at the time, who gave the specialty its "magical touch". "The recipe is of Swiss origin. According to what he told me, he had previously worked in a family home, where it was one of the typical desserts for dessert or with tea or coffee in the afternoon. It was there that he discovered the formula. learned," says Fernandez, who acknowledges that he is a diehard fan,
Currently pastry chef Claudio Navarro, with more than twenty years in the business, is one of the keepers of that legendary recipe. "We do everything out of love, as if it were for one. It's one of the secrets", he confesses, as he takes the sponge cake out of the oven with a dough similar to piñono. Once it cools, cut it in half to reveal the soft and delicious filling. It has several stages: Beat cream cheese and add vanilla essence and lemon zest. "Then, when we add the Chantilly cream, we'll whip again. Lastly, comes a handful of hydrated raisins. It's by eye and they fall randomly", explains the expert, placing the second layer of dough into a circular mold. Then comes the powdered sugar and the final touch: the confectionery branded stamp. "The heat causes it to caramelize . The aroma is delicious," he says. Every day they make 20 to 30 units of this specialty. Apart from the traditional version, they have another version with strawberries.
Being super light and airy, many regulars say it's "like a fluffy cloud." Some of his secrets? "Freshness and unique taste," says Fernandez proudly, who admits that he has tried it on more than one occasion. "Copy Recipe". "Those who have tried it once, do not change it for anything. The hand of the pastry chef, the raw materials and the oven of yesteryear are also essential", he says, looking at the display fridge full of freshly made cakes it is said.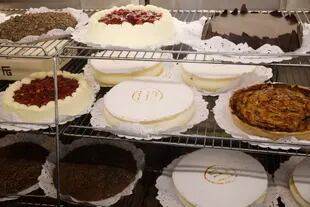 one of the war horses Chocolate Mousse Torta: An ultra-fine sponge cake, decorated with handmade mousse and chocolate flakes. "It comes out a lot. Take three cocoa. In winter it is preferred with coffee. Many regulars take it whole and keep it in the freezer. It never fits. cool, rich"says Fernandez, who recommends trying it with mint ice cream.
In "El Florida" he has lifelong customers who claim to be fans of his mysticism. "We have a regular from the Belgrano neighborhood who orders two cheesecakes for takeout every week. Javier says "it never failed him". Others make pilgrimages from different provinces of the country and many foreigners also come. "This handwritten letter was sent to me by a gentleman from the United States, Whenever he comes to Buenos Aires, he goes to have coffee with his family", he added. Many have tales from their childhood and now bring their children or grandchildren along to continue the tradition. Many celebrities paraded through its tables: Jorge Luis Borges, Diego Armando Maradona, Victor Martin, artists Federico Peralta Ramos, Marta Minujín, Fernando Bravo, Cacho Fontana, among others. ,film director sergio renan I was a fan of cheese cake and the artist Bergara Luhmann used to come by taxi in his last days and always ask for a piece", Fernandez recalls. Silvina Escudero used to come with her father when she was little. There is weakness.
"A jar and a croissant," sings Don Pedro Tiburcio Cruz, 74, one of the bar's historic waiters, dressed in a handsome white jacket and black bow tie. He is quite a character: everyone knows him and greets him. "A lot of loyal customers come here. What I like the most is dealing with the public", he says, holding a metal tray with orders in his hand. A customer at a table near the window asked "Normal": coffee with milk and a portion of cheesecake, The symbol of that corner of Buenos Aires with great identity.