Much was said or is the same at the beginning of the Hyperloop, ultra-fast trains that seek to deflect aviation in motion without contributing to climate change. But Elon Musk or his similar projects in Spain don't offer much to talk about now, which doesn't mean there's no progress or new projects such as This Canadian "wingless aircraft" Fully powered by renewable energy.
In its latest announcement, the TransPod company celebrates the creation of a tube train that will fly from Calgary to Edmonton (Canada) at high speed in just 45 minutes. It is a distance of 299 km and passengers will travel Three times faster than today's high speed train, It's a new proposition for this futuristic means of transportation that doesn't stop joking with devouring the competition.
The train, named Fluxjet, is designed to be faster and cleaner than planes, as they ensure that it will only use renewable energy to transport goods and passengers. without creating a carbon footprint, The project and its illustrations show a fast and spectacular journey, but there is still a long way to go to achieve it. Other companies with similar aims are still mired in prototype testing and mired in endless regulatory hurdles.
travel by fluxjet
Companies such as SpaceX's Hyperloop, the most famous of which, offer trips as fast as those advertised by Transpods. In this case, the model train is bigger than the train being built by Elon Musk's company, an approach Canadians joke about on social media. Fifty passengers will travel in luxury cars like existing long-distance trains, except for a substantial gap.
One of the features highlighted by the company is the ease and speed of charging of the Fluxjet and its stations. ,every 80 secondsA capsule can leave the station and travel to new destinations. In this way, the current waiting time for passengers on boarding trains or planes is reduced. The system will be similar to the Metro, but for longer distances.
https://t.co/0JYtHSJJqE pic.twitter.com/dG15rfQylu

— TransPod Inc. (@TransPod_Inc) July 23, 2022
Passengers climb onto the ends of the car, first passing through the barrier that protects the encapsulated track. When everyone is assembled, the entrances to the platform are closed and the ramps that allow access to the wagon are withdrawn, the wagon doors are also tightly closed to begin the journey.
The same will happen with the transportation of goods, it will be fast and efficient in both travel and assembly. Each train or capsule contains one 54 passenger capacity Maximum, with space for 2 wheelchairs and four luggage racks. Depending on the type of travel, the interior space can be adapted with more seats or more tables and allowed to work while traveling.
How does it fly?
fluxjet It can travel at a speed of more than 1,000 km/h on road, faster than an airplane and three times faster than the current high-speed train. Although the company does not give many clues about the innovative technologies it intends to use, it, like other trains, is based on impulse through a magnetic flotation system through a network of low pressure tubes.
TransPod also uses magnetic levitation technology To eliminate rolling resistance, but they decide to implement it when the train is already out of town and decides to reach a very high speed. Between urban stations, this mode of transport has to be adjusted for a more discreet speed.
That is, the landing gear of this "wingless aircraft" would not retract until the capsule had reached at least 300 km/h, at which point it would be ready for a top speed of 1,000 km/h. 1,200 km/h.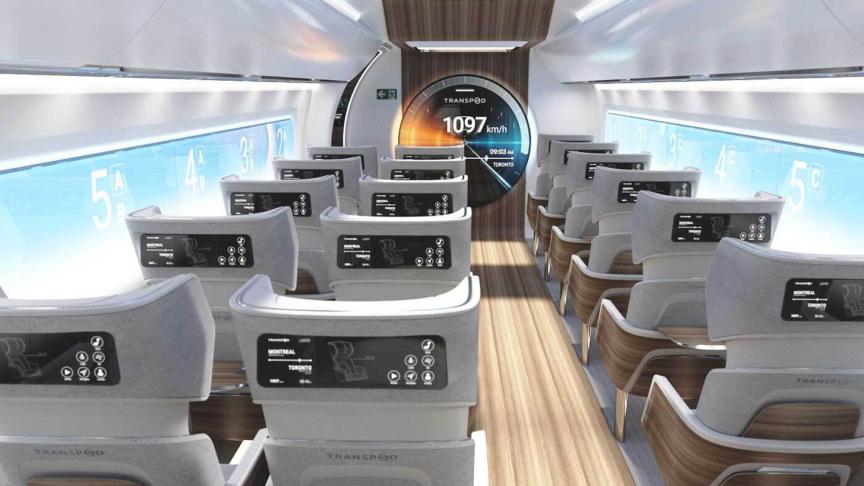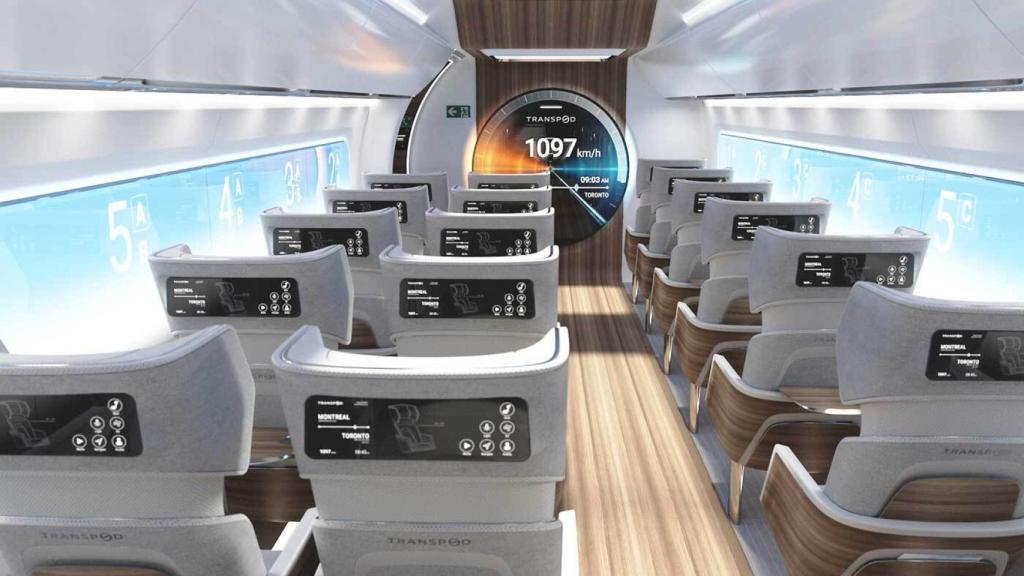 The system appears to be based on what they describe as a new branch of physics, the valence flux. something that is related to the way it is measured in other studies Recognition capability of cameras and sensors, It may be referring to the Vision Positioning System which further scans the tube and adjusts the position of the capsule in the tube accordingly. In the demonstration video, it can be seen how at the front, the capsule houses a scanner system that analyzes what is in front of the car.
The capsule will include a backup battery on board. However, at the time of reaching maximum speed, one unit is increased to capture energy without contact You are 'flying' through the tube. The plasma is part of the system, an acceleration mechanism similar to the one produced at CERN in Switzerland, but on a more basic scale for moving a train. All this energy will come from renewable sources, although this is not yet determined.
Will it come to an end?
"Transpod differentiates itself from other vacuum tube train systems by its low infrastructure and maintenance cost." This is one of the company's promises, even though no train has been built yet. To function, it needed its own infrastructure, the so-called transpod line: a network of tracks with stations in major cities.
According to Transpod, using it between two Canadian cities would cut traffic by about a third from the freeway that currently connects them, and each passenger would save so much carbon from their green energy that the effect would be like planting a tree. so they wait Reduce carbon dioxide emissions by 636,000 tons per year.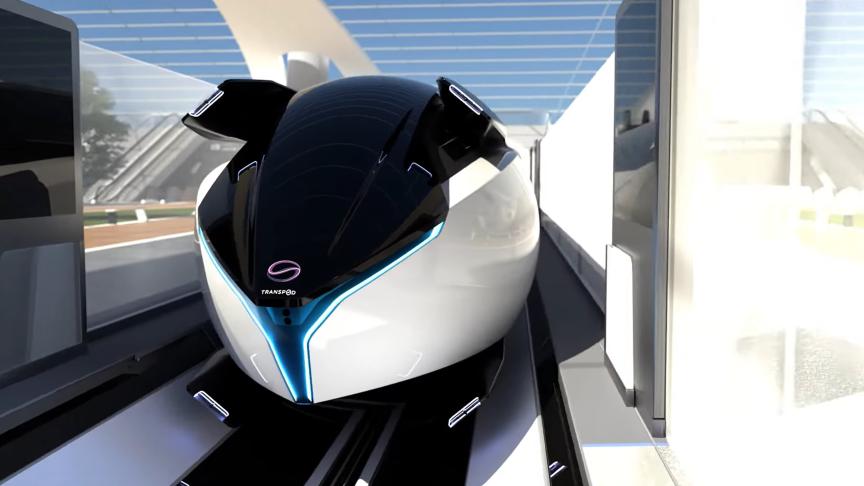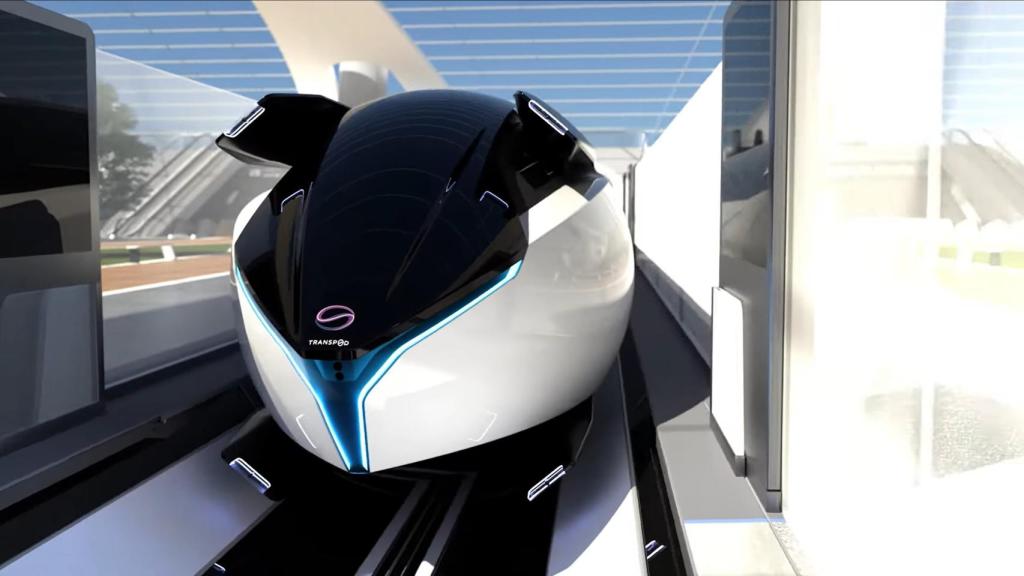 It is too early to appreciate the progress of this mode of transport, especially if we take into account the rest of the high-speed projects that have not yet fulfilled a great deal of their promises. Virgin Hyperloop has changed course towards freight traffic this year ledge, causing safety and regulatory problems for carrying passengers. Meanwhile, Elon Musk's company conducted the first tests with passengers in 2020, albeit without reaching the 1,000 kilometers per hour it has set since its inception.
Besides developing technology, there is another missing step Integrate parameters before starting to build disparate networks in each country, To this end, the JTC committee was formed in Europe in 2020, which includes the European Committee for Standardization (CEN), the European Committee for Electrotechnical Standardization (CENELEC) and companies trying to promote this mode of transport in each country. Made from: Hardt Hyperloop (from the Netherlands), Hyper Poland (from Poland), Transpod (from Canada, with offices in Italy and France) and Zelleros Hyperloop (from Spain).
The bet is firm and the investment is high. transpod says has raised $550 million in funding, The company is offering a connection between the two Canadian cities for US$18 billion, which would be US$60 million per kilometer. The road stretches long until you can see these trains flying at breakneck speed to connect the cities.
You may also like…
Follow topics that interest you