Waiting for official data on August inflation to be released this week, a private consulting firm that usually does weekly surveys of foods released the results for the beginning of September.
ACCORDING LCG, Food prices rose 1.6% in the first seven days of September. This means a slowdown of 0.6 percentage points compared to the previous week. Fruits, condiments and takeaways increased at the beginning of the ninth month of 2023.
With this result, the food inflation accumulated a monthly increase of 10.4% on average in the last four weeks, mainly due to the increase in meat.
According to the work, in the last seven weeks the acceleration of food basket prices has been generalized.
Food: what products were added in the first week of September
By analyzing only the first week in September, the fruits are the products that increase in a 7%. The podium was completed by seasonings (3.9%) and ready meals (3%).
According to the consultant LCG, five out of 10 categories analyze located in above the monthly average WHAT is 1.6%. Meanwhile, the weekly increase of baked goods meant almost a third in overall distinction.
Besides,The report highlights that the differences in the price of the week presented extreme values with high dispersion, relative to the previous seven days.
So, the percentage of products that have weekly increase reached the 21%, 7 percentage points below on average for the last four weeks.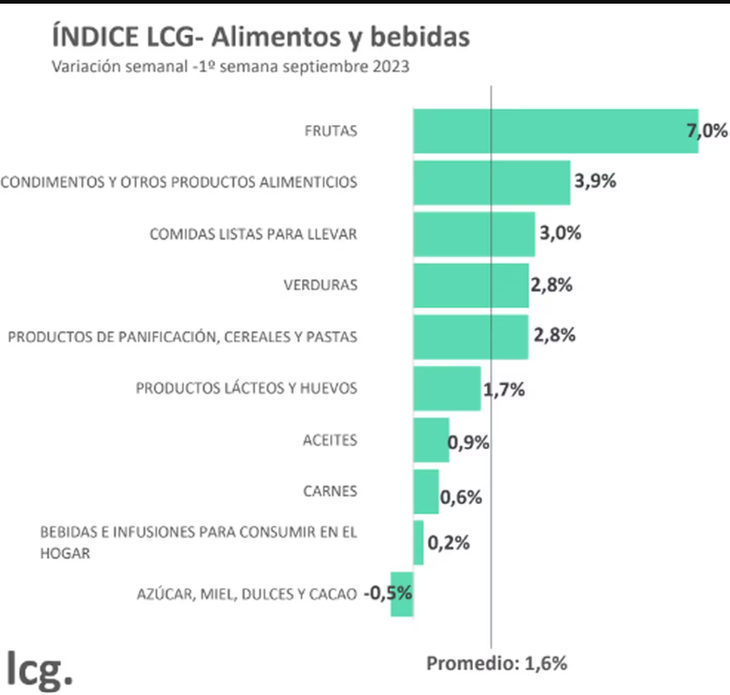 Foods: which ones have increased in the last month
According to the survey, the foods presented a average increase of 10.4% in the last four weeks. Meanwhile, basket products rose 10.2% measured from end to end of the same period.
For the fourth week in a row, the meat STUCK the category that contributes the most to monthly inflation, which shows an acceleration of 3.7 percentage points.
In the last four weeks, five from 10 categories shown in the survey high rise al 10.4%which is the average increase in food at that time and some more than 6%.
According to LCG, The monthly price differences are as follows:
Carnes: 11.9%;
Fruits: 11.7%;
Beverages and infusions: 11.1%;
Bread, cereal and pasta: 10.9%;
Vegetables: 10.9%;
Sugar: 9.4%;
Takeaway food: 8.6%;
Condiments and other food products: 7.3%;
Oils: 7.2%;
Dairy and eggs: 6.5%.