Derived from intelligence work to prevent crime, elements of the Secretariat of Security (SS), in coordination with agents of the Office of the Attorney General of the State of Mexico (FGJEM), arrested four potentially involved in crimes against health and cover-ups. ,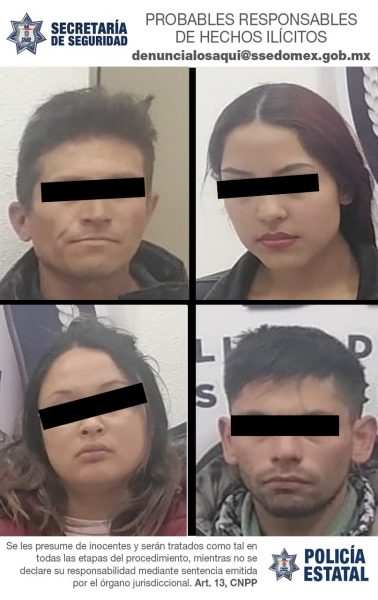 Members of both agencies were patrolling Bugambilias Street in the city of Ejido de Miraflores in Isidro Fabela, because they knew that a group of people was apparently causing violence in the said area, as well as drug distribution and robbery. related to .
While they were at the above location, the uniformed officers observed two men and two women, potential targets, who were traveling on an Italica motorcycle, Type TC-250, and a Bajaj brand, Type Pulsar 200, for which they flagged them. Contacted to carry out a protocol review.
As a result of such action, they found among the belongings of potential criminals 20 wrappers with green and dry grass similar to marijuana, 14 white wrappers with a white substance with characteristic features of cocaine, two red plastic wrappers with a white substance. Get it. Features of a drug known as crystals, 10 cell phones of different brands, cash and a grammage scale.
In addition to the above, the security body confirmed from the state monitoring center that two motorcyclists have reported dacoity with violence. Therefore, after reading to them the rights that the law provides, Eric "N", Ricardo "N", Katia "N" and Maria "N" were 28, 43, 28 and 18 years old respectively, they were charged with the confiscated goods. was transferred along. and two units to the Prosecutor's Office of the Municipality of Atizapán de Zaragoza, where their legal status will be determined.