The 40 most anticipated cars of 2023: features and price
The 5 Chinese brands that bet the most on electric
Recently, Chinese manufacturers have been seen from Europe as a strong competitor in the burgeoning market for affordable electric cars. However, companies like Geely are also pursuing positions in segments that are considered premium.
With this premise, the Asian giant has just presented "Yinhe". This is a new range that will consist of a total of seven luxurious and ambitious models, the body of which will take the form of large sedans and SUVs. Four of them will have hybrid mechanics, the remaining three will be purely electric.
The first two models in this series to appear are the Yinhe L7 SUV and the L6 sedan, two hybrids that should hit the Chinese market between summer and autumn 2023. They will be followed by the E8, the first of the electric vehicles. which is scheduled to launch before the end of the year.
Autonomy in power
According to the Geely statement, the Yinhe will be the group's first models to integrate "Aegis" technology into their batteries. This is a new safety mechanism designed to ensure proper protection of the cells in the event of an accident, preventing possible component leakage, fire or explosion.
Geely
Likewise, the other function of the Aegis system is to guarantee that the battery always remains within the optimal operating temperature, aided by its own artificial intelligence with cloud backup and predictive functions.
For their part, the hybrid engines of the "NordThor" family promise to provide the L7 SUV with performance worthy of a sports car: a top speed of 200 km/h and an acceleration from 0 to 100 km/h in just 7.5 seconds. But its strongest point will be refuelling, with fuel consumption calculated by Geely at 5.23 l/100 km and an estimated range of up to 1,370 km in hybrid mode with a single tank of fuel.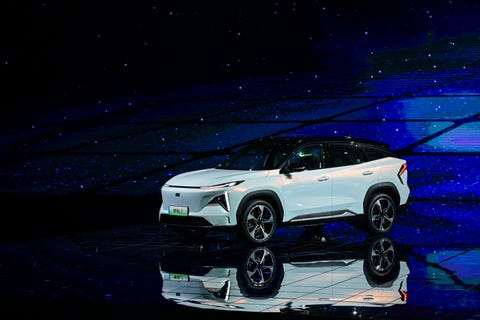 Geely
Finally, the Yinhe will also be the most intelligent vehicles of the Chinese manufacturer, as they will have an electronic "brain" based on the Snapdragon 8155 chip, one of Qualcomm's most powerful. These chips will form an on-board connectivity environment that will use Geely's proprietary satellites to provide full coverage for its navigation systems and driver assistants, as well as multiple entertainment and multimedia functions.