A company spokesperson said they paused the campaign in order to give organizers time to plan the distribution of funds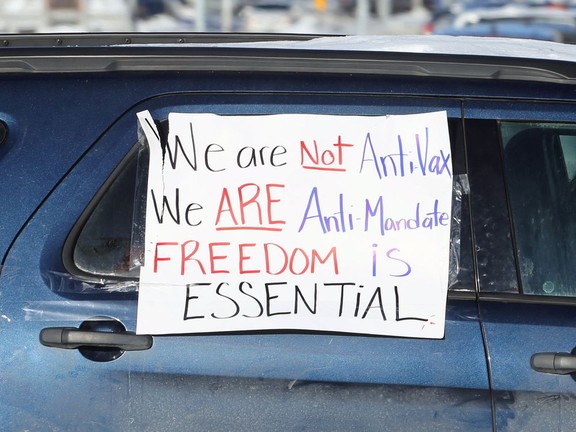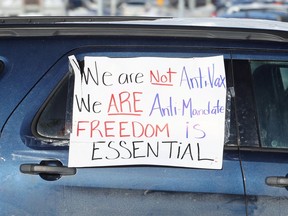 Article content
A GoFundMe campaign for a massive transport truck protest convoy has reached almost $5 million — but there are conflicting reports the money may have been frozen.
Article content
The fundraiser, started Jan. 14 by Tamara Lich — an official from the western separatist Maverick Party — is proving wildly successful, recording nearly 58,000 donors over the past 10 days, with at least seven giving in excess of $10,000.
The largest donation so far, made early Tuesday evening, was for $13,000.
Organizers of the campaign said on the GoFundMe page, "Our current government is implementing rules and mandates that are destroying the foundation of our businesses, industries and livelihoods.
"We are taking our fight to the doorsteps of our Federal Government and demanding that they cease all mandates against its people."
On Tuesday, the Canadian Press reported that the Freedom Convoy 2022 campaign had been put on hold by the online crowdfunding platform. But the fundraiser's website appears to be running as normal and accepting new donations — sitting at just shy of $5-million by Tuesday afternoon.
The Canadian Press reported a GoFundMe spokesperson said they halted the campaign until organizers could provide a plan on how funds would be disbursed.
Article content
Rex Murphy: Truckers are the proxy protesters for a lot of angry Canadians

FIRST READING: The giant trucker protest Ottawa is strenuously ignoring
The campaign's GoFundMe description originally claimed the funds would be disbursed to truckers to cover the cost of fuel for truck drivers taking part in the convoy, but on Sunday that was changed to state an arrangement was made with GoFundMe to send the money directly to a bulk fuel supplier and not the organizers, and that excess funds would be donated to a veteran's organization.
Repeated inquiries to Lich and convoy organizers by the National Post went unacknowledged.
Requests for comment to GoFundMe likewise went unreturned.
The convoy is expected to arrive in Ottawa on Saturday to rally against mandatory vaccine mandates.
It is shaping up to be one of the largest the country has seen in years. Cities across Canada are now regularly witnessing scenes of kilometres-long convoys of trucks being greeted by crowds of flag-waving supporters.
A video on Twitter showed the convoy taking 30 minutes to pass by Okotoks, Alta. Other social media posting estimated the convoy at 70 kilometers.
James Bauder the founder of a group called Canada Unity Foundation which is the main organizer of the "Freedom Convoy," said it could involve a million people by the time it reached Ottawa.
"We're done with mandates. This entire nation is rising up, standing up…. We as Canadians have made the decision for ourselves, to stand in unity together," said Bauder. "Minimum 500,000 to a million for sure are going to be in Ottawa, coast to coast by the time we get there."
Support for the convoy continues to grow among Canada's conservative politicians.
Former Conservative Party leader Andrew Scheer tweeted his support, thanking truckers and accusing Prime Minister Justin Trudeau of putting the liberty of Canadians at risk.
"Trudeau is attacking personal liberty and threatening everyone's ability to get groceries because of his overreach on vaccine mandates," Scheer said on Twitter.
Bow River MP Martin Shields posted a video in front of the Centennial Flame on Parliament Hill, saying he's looking forward to the convoy once they arrive in Ottawa on Saturday.
"There's a lot of challenges with COVID-19, and border crossings are one of them," he said. "Many people have been vaccinated, but there's exceptions for those in our economy that are essential — and crossing the border to bring supplies north and south is critical for our industries."
Saskatoon-Grasswood MP Kevin Waugh saw the Saskatoon leg of the convoy off as he began their journey to Ottawa.
"I supported our local truck drivers as they hit the road in Saskatoon today," he tweeted. "It should have never come to this for them."
Saskatchewan MP Brad Redekopp, tweeted, "I'm proud to support our truckers both in Saskatoon and across Canada against government overreach. We need all of our truckers working to keep groceries on the shelves!"
Not all observers are convinced the convoy will accomplish its goals.
Sylvain Charlebois, senior director of Dalhousie University's Agri-Food Analytics Lab, said while he's glad to see Canadians taking food security seriously, he's concerned it'll end up just being a distraction.
"I actually think the convoy itself is creating more disruptions than the vaccine mandate itself," he said.
"We're going to see some bottlenecks and traffic jams generated by the convoy, and seeing a lot of energy invested in something that will likely not have much of an impact from a policy perspective."
— With additional reporting from Rachel Parent
• Email: [email protected] | Twitter: bryanpassifium